MikroTik CSS610-8G-2S+IN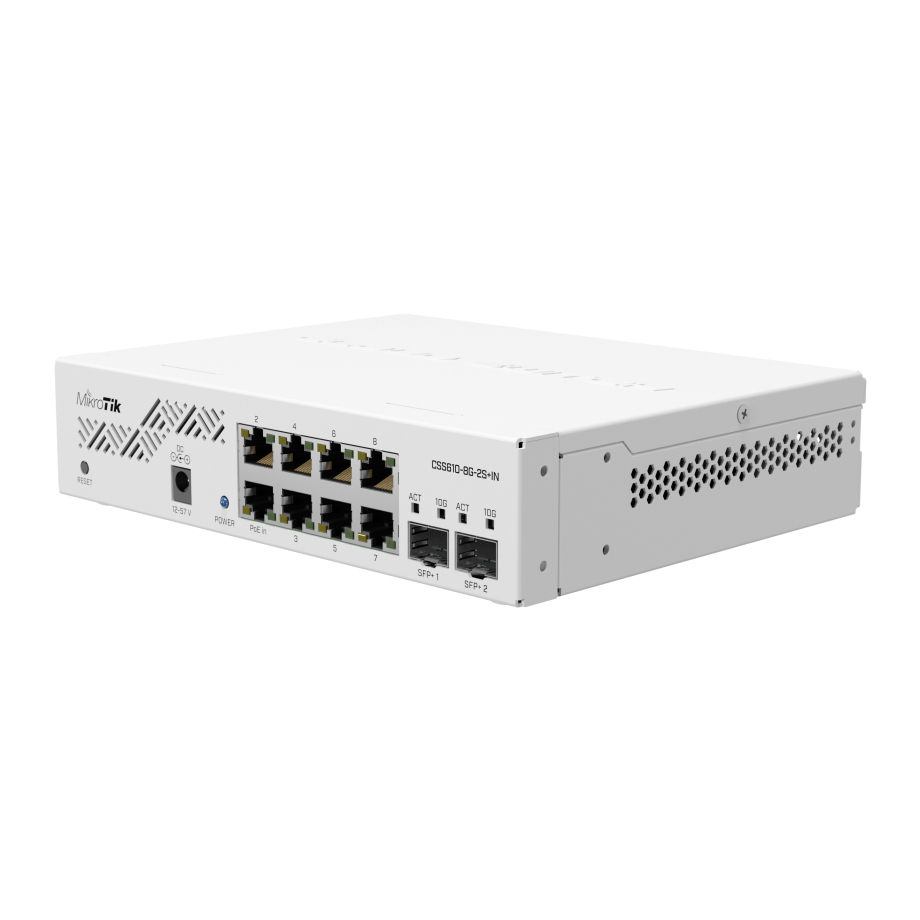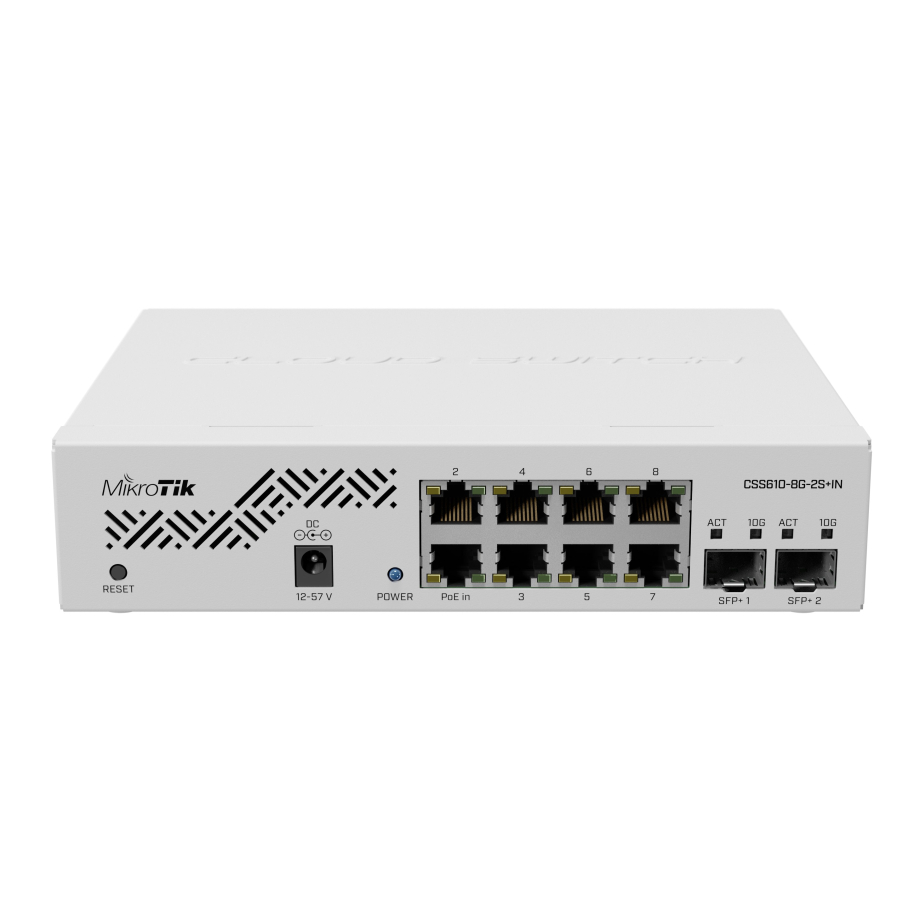 MikroTik MTCNA Certificate
MikroTik Value Added Distributor
MikroTik MTCNA Certificate
MikroTik Value Added Distributor
Available product variations
Detailed description
Powerful and Cost-Effective
The MikroTik CSS610-8G-2S+IN is a versatile networking switch that offers an exceptional combination of portability, power, and cost-effectiveness. Designed to meet the growing demand for high-performance networking solutions in a compact form factor, this Cloud Smart Switch is an instant classic.
High-Performance Networking
The CSS610-8G-2S+IN is equipped with eight Gigabit Ethernet ports, offering high-speed data transfer rates of up to 1 gigabit per second. These ports support versatile connectivity for various devices, ensuring faster data transfers and reliable network performance. Whether you're connecting computers, servers, or other networking equipment, these Gigabit Ethernet ports provide the speed you need for seamless operations.
In addition to Gigabit Ethernet, the switch boasts two 10G SFP+ ports. These ports deliver fast data transfer rates of 10 gigabits per second, making them perfect for bandwidth-intensive applications. Whether you're running a data center or managing high-performance networking tasks, these SFP+ ports ensure exceptional speed and efficiency.
User-Friendly SwOS
The CSS610-8G-2S+IN is powered by SwOS (SwitchOS), a lightweight and user-friendly operating system. SwOS simplifies network management, offering an intuitive web browser interface that allows users to configure and monitor their network with ease. This user-friendliness is particularly beneficial for users with varying levels of networking expertise.
SwOS also equips the switch with an array of advanced features, including port-to-port forwarding, broadcast storm control, MAC filtering, VLAN configuration, traffic mirroring, bandwidth control, and the ability to adjust certain MAC and IP header fields. These features empower network administrators to customize their network, optimize performance, and enhance security effortlessly.
Compare with similar products
 
Ethernet Ports
8 x 1 Gbps

8 x 1 Gbps

8 x 1 Gbps

8 x 1 Gbps

PoE Out Ports

8 x Passive PoE, 802.3af (PoE), 802.3at (PoE+)

8 x802.3af (PoE), 802.3at (PoE+)

SFP Ports
2 x 10G SFP+

4 x 1G SFP

4 x 1G SFP

2 x 10G SFP+

Chipset
88E6193X

QCA8511, 1 core, 400 MHz

QCA8511, 1 core, 400 MHz

88E6193X

Software
SwitchOS

RouterOS Level 5

RouterOS Level 5

SwitchOS

Max Power Consumption
11 W

13.5 W

10 W

12 W

Environment
Indoor

Indoor

Indoor

Indoor

Mounting Method
RackMount, Tabletop

RackMount, Tabletop

RackMount, Tabletop

RackMount, Tabletop
|   | | | | |
| --- | --- | --- | --- | --- |
| Ethernet Ports | 8 x 1 Gbps | 8 x 1 Gbps | 8 x 1 Gbps | 8 x 1 Gbps |
| PoE Out Ports | | | 8 x Passive PoE, 802.3af (PoE), 802.3at (PoE+) | 8 x802.3af (PoE), 802.3at (PoE+) |
| SFP Ports | 2 x 10G SFP+ | 4 x 1G SFP | 4 x 1G SFP | 2 x 10G SFP+ |
| Chipset | 88E6193X | QCA8511, 1 core, 400 MHz | QCA8511, 1 core, 400 MHz | 88E6193X |
| Software | SwitchOS | RouterOS Level 5 | RouterOS Level 5 | SwitchOS |
| Max Power Consumption | 11 W | 13.5 W | 10 W | 12 W |
| Environment | Indoor | Indoor | Indoor | Indoor |
| Mounting Method | RackMount, Tabletop | RackMount, Tabletop | RackMount, Tabletop | RackMount, Tabletop |