UISP EdgeRouter 4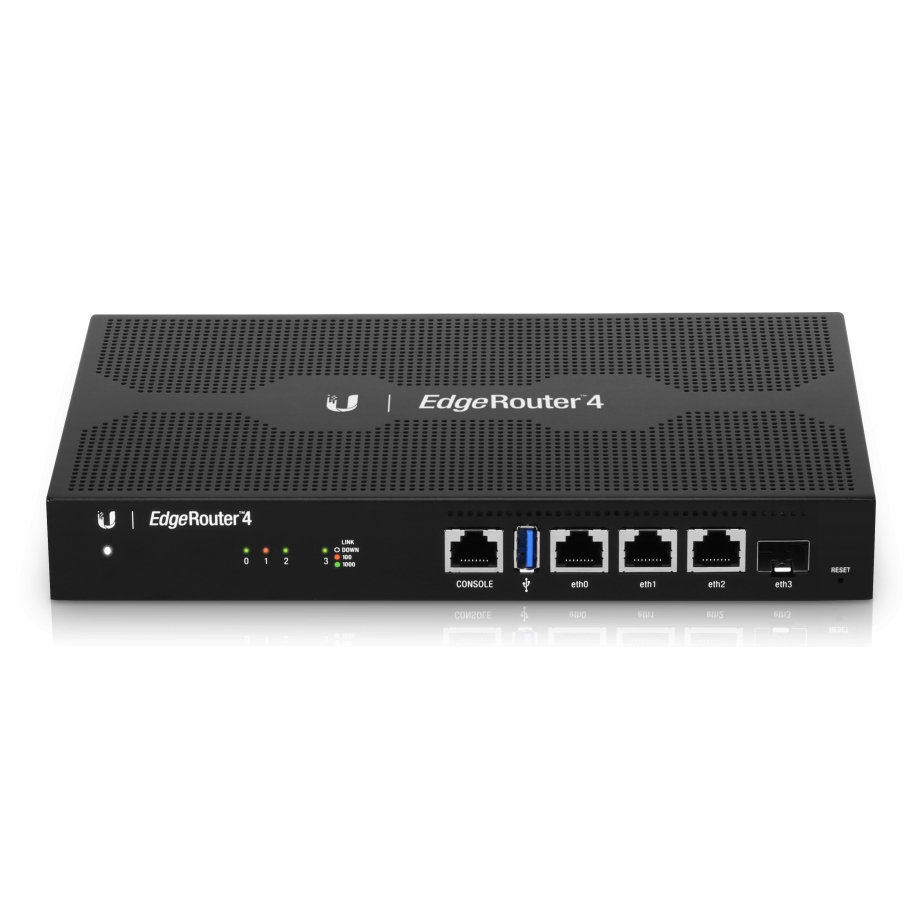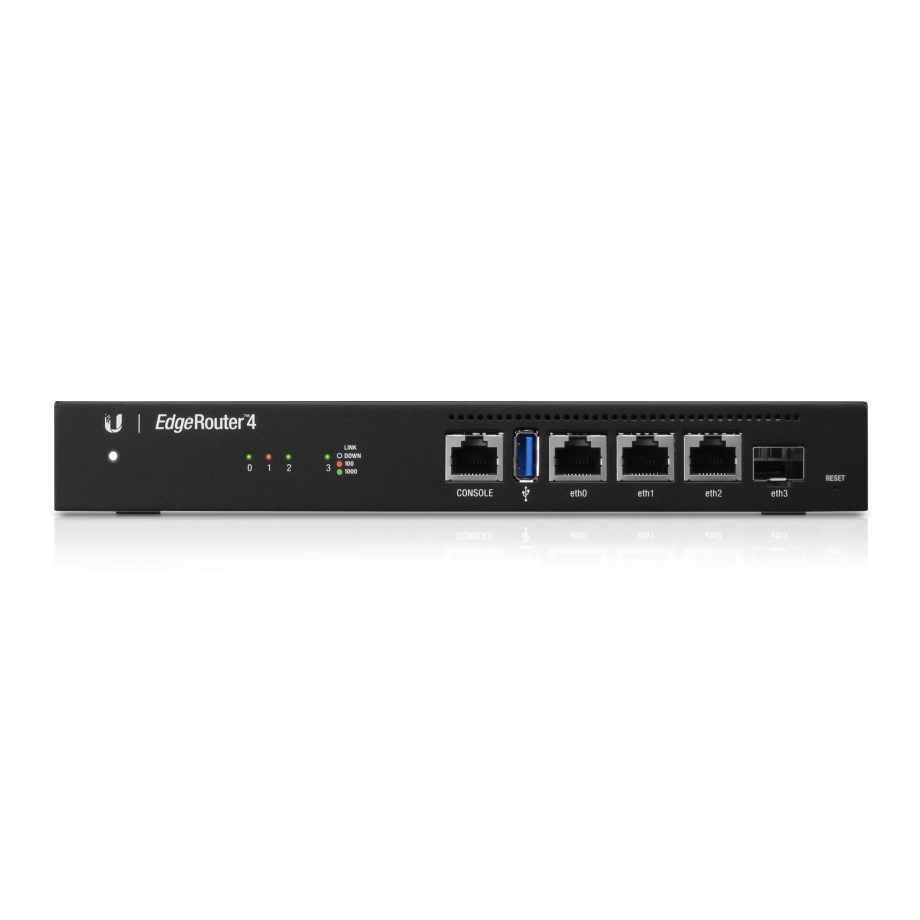 Ubiquiti Elite Distributor
Ubiquiti Elite Distributor
Detailed description
Price/Performance Breakthrough
The EdgeRouter™ 4 offers next-generation price/performance value: up to 3.4 million packets per second processing with a line rate of up to 4 Gbps.
Versatile Design
The EdgeRouter 4 can be rack-mounted with the use of the EdgeRouter Rack Mount Kit, model ER-RMKIT (sold separately).
Centralized Management
The EdgeRouter 4 is supported and managed by UNMS™ (Ubiquiti® Network Management System), a comprehensive controller with an intuitive UI. A single control plane manages registered EdgeMAX® devices across multiple sites.
Compare with similar products
 
Ethernet Ports
3 x 1 Gbps

10 x 1 Gbps

6 x 1 Gbps

1 x 1 Gbps

5 x 1 Gbps

5 x 1 Gbps

PoE Out Ports

1 x Passive PoE

5 x Passive PoE

1 x Passive PoE

5 x Passive PoE

SFP Ports
1 x 1G SFP

2 x 1G SFP

1 x 1G SFP

8 x 10G SFP+

1 x 1G SFP

USB Ports
1 x USB-A 3.0

1 x USB-A 2.0

1 x USB-A 2.0

1 x USB-A 2.0

Chipset
4-Core 1 GHz, MIPS64

4-Core 1 GHz, MIPS64

4-Core 1 GHz, MIPS64

MIPS64 16 Core 1.8 GHz

Dual-Core 880 MHz, MIPS1004Kc

Dual-Core 880 MHz, MIPS1004Kc

RAM
1 GB

1 GB

1 GB

16 GB

256 MB

256 MB

Storage Memory
4 GB

4 GB

4 GB

8 GB

256 MB

256 MB

Max Power Consumption
13 W

24 W

90 W

100 W

5 W

55 W

Mounting Method
Tabletop

Tabletop

RackMount, Wall Mount, Tabletop

RackMount

Tabletop

Tabletop
|   | | | | | | |
| --- | --- | --- | --- | --- | --- | --- |
| Ethernet Ports | 3 x 1 Gbps | 10 x 1 Gbps | 6 x 1 Gbps | 1 x 1 Gbps | 5 x 1 Gbps | 5 x 1 Gbps |
| PoE Out Ports | | 1 x Passive PoE | 5 x Passive PoE | | 1 x Passive PoE | 5 x Passive PoE |
| SFP Ports | 1 x 1G SFP | 2 x 1G SFP | 1 x 1G SFP | 8 x 10G SFP+ | | 1 x 1G SFP |
| USB Ports | 1 x USB-A 3.0 | 1 x USB-A 2.0 | 1 x USB-A 2.0 | 1 x USB-A 2.0 | | |
| Chipset | 4-Core 1 GHz, MIPS64 | 4-Core 1 GHz, MIPS64 | 4-Core 1 GHz, MIPS64 | MIPS64 16 Core 1.8 GHz | Dual-Core 880 MHz, MIPS1004Kc | Dual-Core 880 MHz, MIPS1004Kc |
| RAM | 1 GB | 1 GB | 1 GB | 16 GB | 256 MB | 256 MB |
| Storage Memory | 4 GB | 4 GB | 4 GB | 8 GB | 256 MB | 256 MB |
| Max Power Consumption | 13 W | 24 W | 90 W | 100 W | 5 W | 55 W |
| Mounting Method | Tabletop | Tabletop | RackMount, Wall Mount, Tabletop | RackMount | Tabletop | Tabletop |
Technical Specs / Datasheet