UniFi AC Pro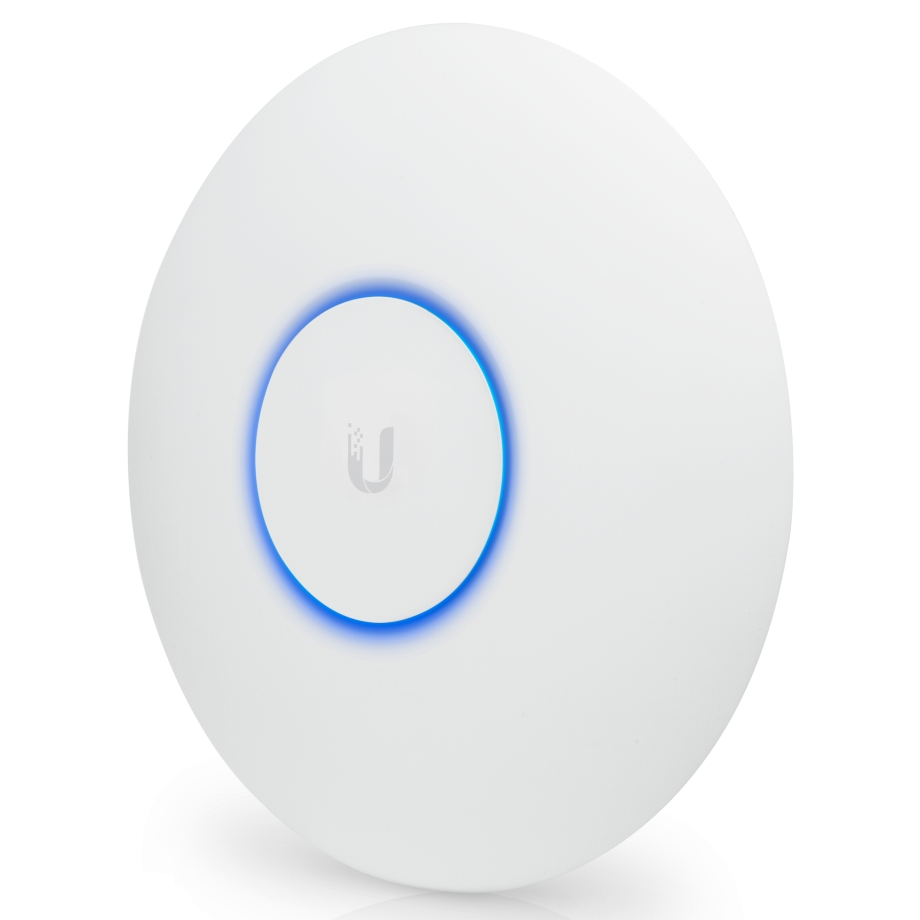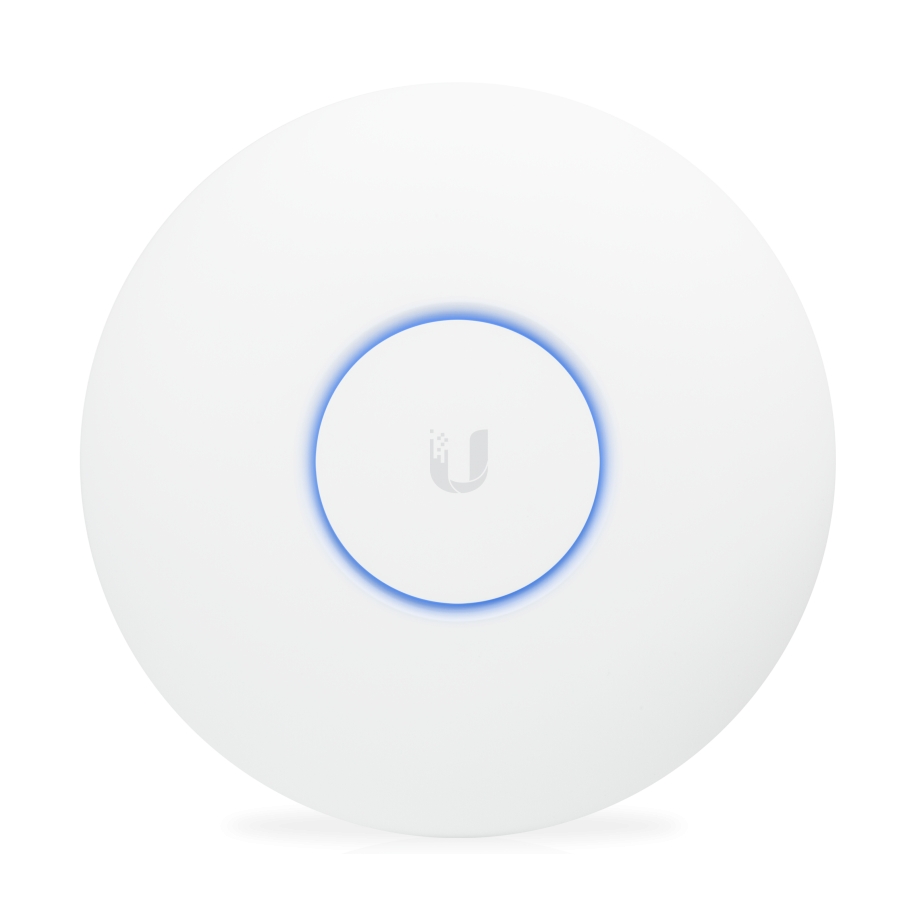 Ubiquiti Elite Distributor
Ubiquiti Elite Distributor
Available product variations
Detailed description
Up to 5X Faster with Dual-Radio 3x3 11AC MIMO Technology
The UniFi AC Pro AP supports simultaneous dual-band, 3x3 MIMO technology in the 5 and 2.4 GHz radio bands.
Designed for Optimal RF Performance
Advanced RF performance and configuration features include spectral analysis, airtime fairness, and band steering. Use the RF map to monitor and analyze radio frequencies for optimal AP placement, configuration, and troubleshooting.
Versatile Design
The UniFi AC Pro AP is a gigabit, 802.3af-powered access point suitable for indoor or outdoor use.
Scalable Enterprise Wi-Fi Management
The UniFi Network Application is a powerful, enterprise wireless software engine ideal for high-density client deployments requiring low latency and high uptime performance. With its software-based capabilities, the UniFi virtual control plane allows for unlimited scalability under one centralized controller. Remotely access the UniFi Network to upgrade deployed UniFi APs while in the field.
Compare with similar products
 
Wireless Standard
802.11a/b/g/n/ac

802.11 a/b/g/n/r/k/v/ac

802.11 a/b/g/n/r/k/v/ac

802.11 a/b/g/n/r/k/v/ac

802.11 a/b/g/n/r/k/v/ac

802.11 a/b/g/n/r/k/v/ac

MIMO
2.4GHz 3x3, 5GHz 3x3

2.4GHz 2x2, 5GHz 2x2

2.4GHz 2x2, 5GHz 2x2

2.4GHz 3x3, 5GHz 2x2

2.4GHz 2x2, 5GHz 2x2

2.4GHz 3x3, 5GHz 3x3

2.4GHz Radio Rate
450 Mbps

300 Mbps

300 Mbps

450 Mbps

300 Mbps

450 Mbps

5GHz Radio Rate
1.3 Gbps

867 Mbps

867 Mbps

867 Mbps

867 Mbps

1.3 Gbps

Wireless Antenna Frequency Range & Gain
2.4 - 2.4 (GHz) 3 (dBi), 5.0 – 5.0 (GHz) 3 (dBi)

2.4 - 2.4 (GHz) 1 (dBi), 5.0 – 5.0 (GHz) 2 (dBi)

2.4 - 2.4 (GHz) 3 (dBi), 5.0 – 5.0 (GHz) 3 (dBi)

2.4 - 2.4 (GHz) 3 (dBi), 5.0 – 5.0 (GHz) 3 (dBi)

2.4 - 2.4 (GHz) 3 (dBi), 5.0 - 5.0 (GHz) 4 (dBi)

2.4 - 2.4 (GHz) 8 (dBi), 5.0 - 5.0 (GHz) 8 (dBi)

Antenna range
140 m²

25 m²

115 m²

185 m²

140 m²

185 m²

Ethernet Ports
2 x 1 Gbps

3 x 1 Gbps

1 x 1 Gbps

1 x 1 Gbps

1 x 1 Gbps

2 x 1 Gbps

PoE Out Ports

1 x Passive PoE

Management
Ethernet

Ethernet

Ethernet

Ethernet

Ethernet, Bluetooth

Ethernet

Max Power Consumption
9 W

7 W

6.5 W

6.5 W

8.5W

9W

Operating Temperature
-10 °C to 70 °C

-10 °C to 50 °C

-10 °C to 70 °C

-10 °C to 70 °C

-30 °C to 70 °C

-40 °C to 70 °C

Dimensions
Ø196.7 x 35 mm

139.7 x 86.7 x 25.75 mm

Ø160 x 31.45 mm

Ø175.7 x 43.2 mm

353 x 46 x 34.4 mm

343.2 x 181.2 x 60.2 mm

Weight
0.450 kg

0.200 kg

0.185 kg

0.315 kg

0.152 kg

0.633 kg

Environment
Indoor, Outdoor

Indoor

Indoor

Indoor

Indoor, Outdoor

Outdoor
|   | | | | | | |
| --- | --- | --- | --- | --- | --- | --- |
| Wireless Standard | 802.11a/b/g/n/ac | 802.11 a/b/g/n/r/k/v/ac | 802.11 a/b/g/n/r/k/v/ac | 802.11 a/b/g/n/r/k/v/ac | 802.11 a/b/g/n/r/k/v/ac | 802.11 a/b/g/n/r/k/v/ac |
| MIMO | 2.4GHz 3x3, 5GHz 3x3 | 2.4GHz 2x2, 5GHz 2x2 | 2.4GHz 2x2, 5GHz 2x2 | 2.4GHz 3x3, 5GHz 2x2 | 2.4GHz 2x2, 5GHz 2x2 | 2.4GHz 3x3, 5GHz 3x3 |
| 2.4GHz Radio Rate | 450 Mbps | 300 Mbps | 300 Mbps | 450 Mbps | 300 Mbps | 450 Mbps |
| 5GHz Radio Rate | 1.3 Gbps | 867 Mbps | 867 Mbps | 867 Mbps | 867 Mbps | 1.3 Gbps |
| Wireless Antenna Frequency Range & Gain | 2.4 - 2.4 (GHz) 3 (dBi), 5.0 – 5.0 (GHz) 3 (dBi) | 2.4 - 2.4 (GHz) 1 (dBi), 5.0 – 5.0 (GHz) 2 (dBi) | 2.4 - 2.4 (GHz) 3 (dBi), 5.0 – 5.0 (GHz) 3 (dBi) | 2.4 - 2.4 (GHz) 3 (dBi), 5.0 – 5.0 (GHz) 3 (dBi) | 2.4 - 2.4 (GHz) 3 (dBi), 5.0 - 5.0 (GHz) 4 (dBi) | 2.4 - 2.4 (GHz) 8 (dBi), 5.0 - 5.0 (GHz) 8 (dBi) |
| Antenna range | 140 m² | 25 m² | 115 m² | 185 m² | 140 m² | 185 m² |
| Ethernet Ports | 2 x 1 Gbps | 3 x 1 Gbps | 1 x 1 Gbps | 1 x 1 Gbps | 1 x 1 Gbps | 2 x 1 Gbps |
| PoE Out Ports | | 1 x Passive PoE | | | | |
| Management | Ethernet | Ethernet | Ethernet | Ethernet | Ethernet, Bluetooth | Ethernet |
| Max Power Consumption | 9 W | 7 W | 6.5 W | 6.5 W | 8.5W | 9W |
| Operating Temperature | -10 °C to 70 °C | -10 °C to 50 °C | -10 °C to 70 °C | -10 °C to 70 °C | -30 °C to 70 °C | -40 °C to 70 °C |
| Dimensions | Ø196.7 x 35 mm | 139.7 x 86.7 x 25.75 mm | Ø160 x 31.45 mm | Ø175.7 x 43.2 mm | 353 x 46 x 34.4 mm | 343.2 x 181.2 x 60.2 mm |
| Weight | 0.450 kg | 0.200 kg | 0.185 kg | 0.315 kg | 0.152 kg | 0.633 kg |
| Environment | Indoor, Outdoor | Indoor | Indoor | Indoor | Indoor, Outdoor | Outdoor |
Technical Specs / Datasheet