UniFi AC In-Wall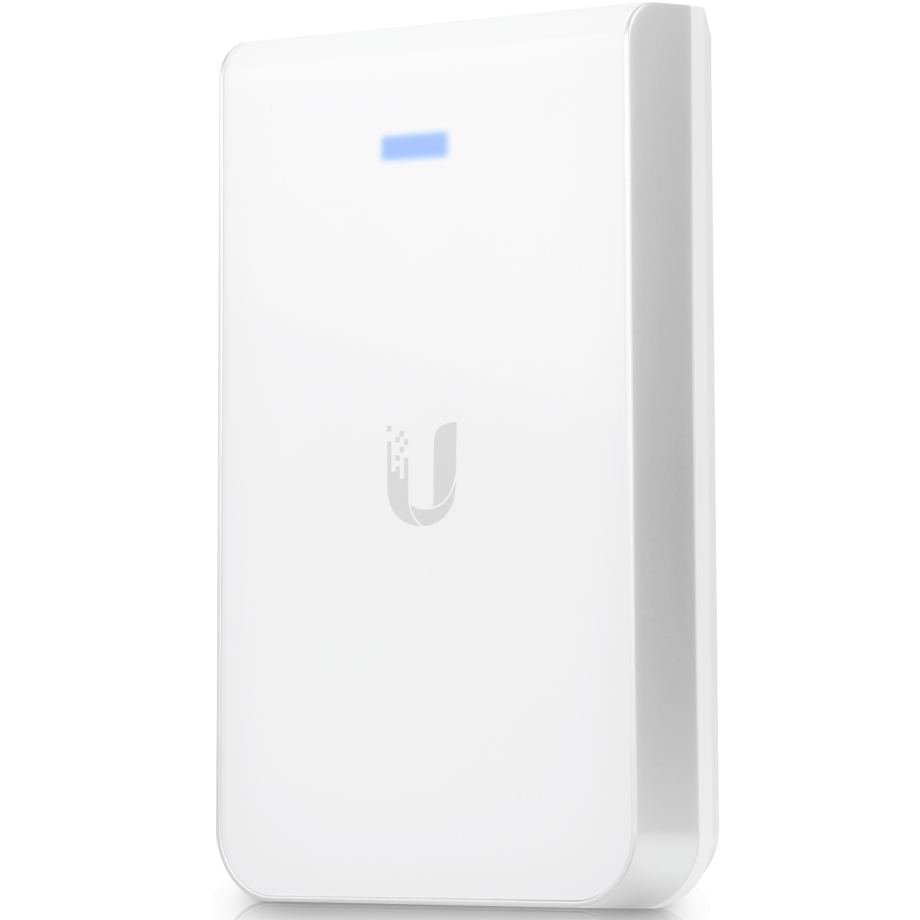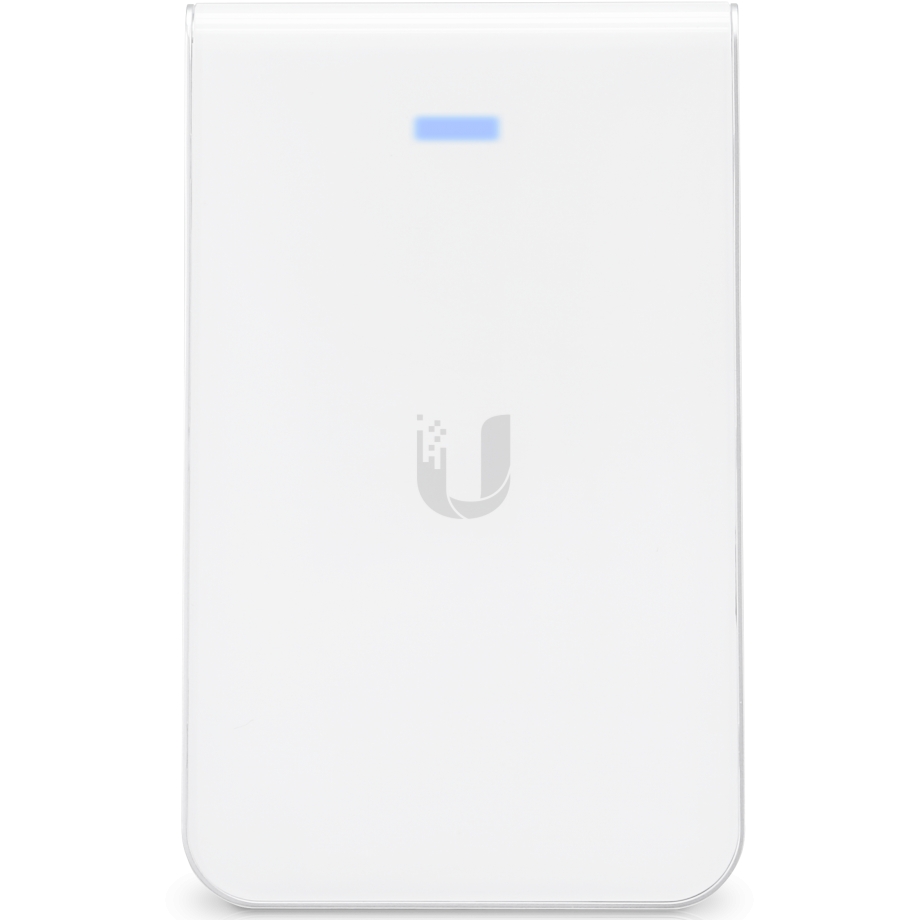 Ubiquiti Elite Distributor
Ubiquiti Elite Distributor
Detailed description
Easier Than You Think
Ideal for new and retrofit installations, the UniFi® AC In-Wall is designed to convert an Ethernet wall jack into a dual-band 802.11ac Wi-Fi access point with two Gigabit Ethernet ports.
The Power of PoE
Turn existing wiring into per-room Wi-Fi with the UniFi PoE Switch series.
Versatile Data and PoE Output
An Ethernet wall jack becomes an access point, a gigabit switch, and a PoE power source. Wire a workstation and power a VoIP phone. Or power a US-8 for even more Ethernet ports.
Works with the UniFi Network Application
The UniFi Network Application is a powerful, enterprise wireless software engine ideal for high-density client deployments requiring low latency and high uptime performance. UniFi Network Application allows to centrally manage multiple networks from an intuitive interface, upgrade device firmware remotely, and also manage network users and guests with ease. You can personalize the design, architecture, and privacy of guest hotspots. The mobile app allows setting up devices quickly and manage them on the go.
Compare with similar products
 
Wireless Standard
802.11 a/b/g/n/r/k/v/ac

802.11a/b/g/n/ac

802.11 a/b/g/n/r/k/v/ac

802.11 a/b/g/n/r/k/v/ac

802.11 a/b/g/n/r/k/v/ac

802.11 a/b/g/n/r/k/v/ac

MIMO
2.4GHz 2x2, 5GHz 2x2

2.4GHz 3x3, 5GHz 3x3

2.4GHz 2x2, 5GHz 2x2

2.4GHz 3x3, 5GHz 2x2

2.4GHz 2x2, 5GHz 2x2

2.4GHz 3x3, 5GHz 3x3

2.4GHz Radio Rate
300 Mbps

450 Mbps

300 Mbps

450 Mbps

300 Mbps

450 Mbps

5GHz Radio Rate
867 Mbps

1.3 Gbps

867 Mbps

867 Mbps

867 Mbps

1.3 Gbps

Wireless Antenna Frequency Range & Gain
2.4 - 2.4 (GHz) 1 (dBi), 5.0 – 5.0 (GHz) 2 (dBi)

2.4 - 2.4 (GHz) 3 (dBi), 5.0 – 5.0 (GHz) 3 (dBi)

2.4 - 2.4 (GHz) 3 (dBi), 5.0 – 5.0 (GHz) 3 (dBi)

2.4 - 2.4 (GHz) 3 (dBi), 5.0 – 5.0 (GHz) 3 (dBi)

2.4 - 2.4 (GHz) 3 (dBi), 5.0 - 5.0 (GHz) 4 (dBi)

2.4 - 2.4 (GHz) 8 (dBi), 5.0 - 5.0 (GHz) 8 (dBi)

Antenna range
25 m²

140 m²

115 m²

185 m²

140 m²

185 m²

Ethernet Ports
3 x 1 Gbps

2 x 1 Gbps

1 x 1 Gbps

1 x 1 Gbps

1 x 1 Gbps

2 x 1 Gbps

PoE Out Ports
1 x Passive PoE

Management
Ethernet

Ethernet

Ethernet

Ethernet

Ethernet, Bluetooth

Ethernet

Max Power Consumption
7 W

9 W

6.5 W

6.5 W

8.5W

9W

Operating Temperature
-10 °C to 50 °C

-10 °C to 70 °C

-10 °C to 70 °C

-10 °C to 70 °C

-30 °C to 70 °C

-40 °C to 70 °C

Dimensions
139.7 x 86.7 x 25.75 mm

Ø196.7 x 35 mm

Ø160 x 31.45 mm

Ø175.7 x 43.2 mm

353 x 46 x 34.4 mm

343.2 x 181.2 x 60.2 mm

Weight
0.200 kg

0.450 kg

0.185 kg

0.315 kg

0.152 kg

0.633 kg

Environment
Indoor

Indoor, Outdoor

Indoor

Indoor

Indoor, Outdoor

Outdoor
|   | | | | | | |
| --- | --- | --- | --- | --- | --- | --- |
| Wireless Standard | 802.11 a/b/g/n/r/k/v/ac | 802.11a/b/g/n/ac | 802.11 a/b/g/n/r/k/v/ac | 802.11 a/b/g/n/r/k/v/ac | 802.11 a/b/g/n/r/k/v/ac | 802.11 a/b/g/n/r/k/v/ac |
| MIMO | 2.4GHz 2x2, 5GHz 2x2 | 2.4GHz 3x3, 5GHz 3x3 | 2.4GHz 2x2, 5GHz 2x2 | 2.4GHz 3x3, 5GHz 2x2 | 2.4GHz 2x2, 5GHz 2x2 | 2.4GHz 3x3, 5GHz 3x3 |
| 2.4GHz Radio Rate | 300 Mbps | 450 Mbps | 300 Mbps | 450 Mbps | 300 Mbps | 450 Mbps |
| 5GHz Radio Rate | 867 Mbps | 1.3 Gbps | 867 Mbps | 867 Mbps | 867 Mbps | 1.3 Gbps |
| Wireless Antenna Frequency Range & Gain | 2.4 - 2.4 (GHz) 1 (dBi), 5.0 – 5.0 (GHz) 2 (dBi) | 2.4 - 2.4 (GHz) 3 (dBi), 5.0 – 5.0 (GHz) 3 (dBi) | 2.4 - 2.4 (GHz) 3 (dBi), 5.0 – 5.0 (GHz) 3 (dBi) | 2.4 - 2.4 (GHz) 3 (dBi), 5.0 – 5.0 (GHz) 3 (dBi) | 2.4 - 2.4 (GHz) 3 (dBi), 5.0 - 5.0 (GHz) 4 (dBi) | 2.4 - 2.4 (GHz) 8 (dBi), 5.0 - 5.0 (GHz) 8 (dBi) |
| Antenna range | 25 m² | 140 m² | 115 m² | 185 m² | 140 m² | 185 m² |
| Ethernet Ports | 3 x 1 Gbps | 2 x 1 Gbps | 1 x 1 Gbps | 1 x 1 Gbps | 1 x 1 Gbps | 2 x 1 Gbps |
| PoE Out Ports | 1 x Passive PoE | | | | | |
| Management | Ethernet | Ethernet | Ethernet | Ethernet | Ethernet, Bluetooth | Ethernet |
| Max Power Consumption | 7 W | 9 W | 6.5 W | 6.5 W | 8.5W | 9W |
| Operating Temperature | -10 °C to 50 °C | -10 °C to 70 °C | -10 °C to 70 °C | -10 °C to 70 °C | -30 °C to 70 °C | -40 °C to 70 °C |
| Dimensions | 139.7 x 86.7 x 25.75 mm | Ø196.7 x 35 mm | Ø160 x 31.45 mm | Ø175.7 x 43.2 mm | 353 x 46 x 34.4 mm | 343.2 x 181.2 x 60.2 mm |
| Weight | 0.200 kg | 0.450 kg | 0.185 kg | 0.315 kg | 0.152 kg | 0.633 kg |
| Environment | Indoor | Indoor, Outdoor | Indoor | Indoor | Indoor, Outdoor | Outdoor |
Technical Specs / Datasheet