UISP EdgeRouter X SFP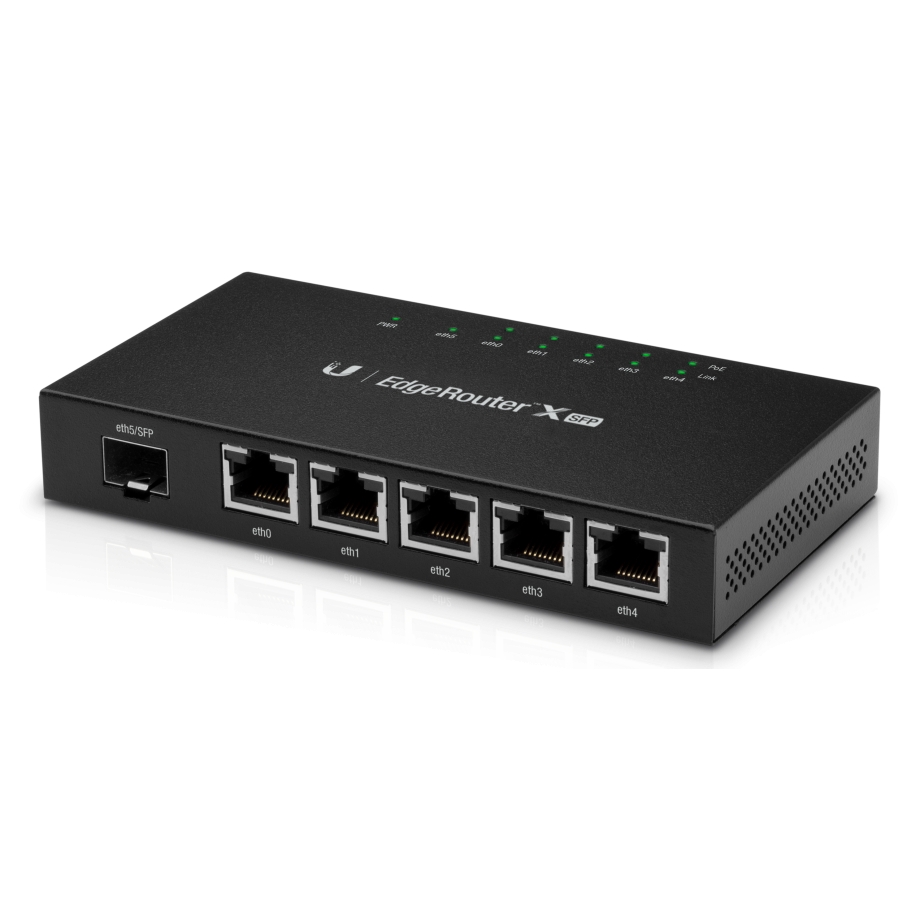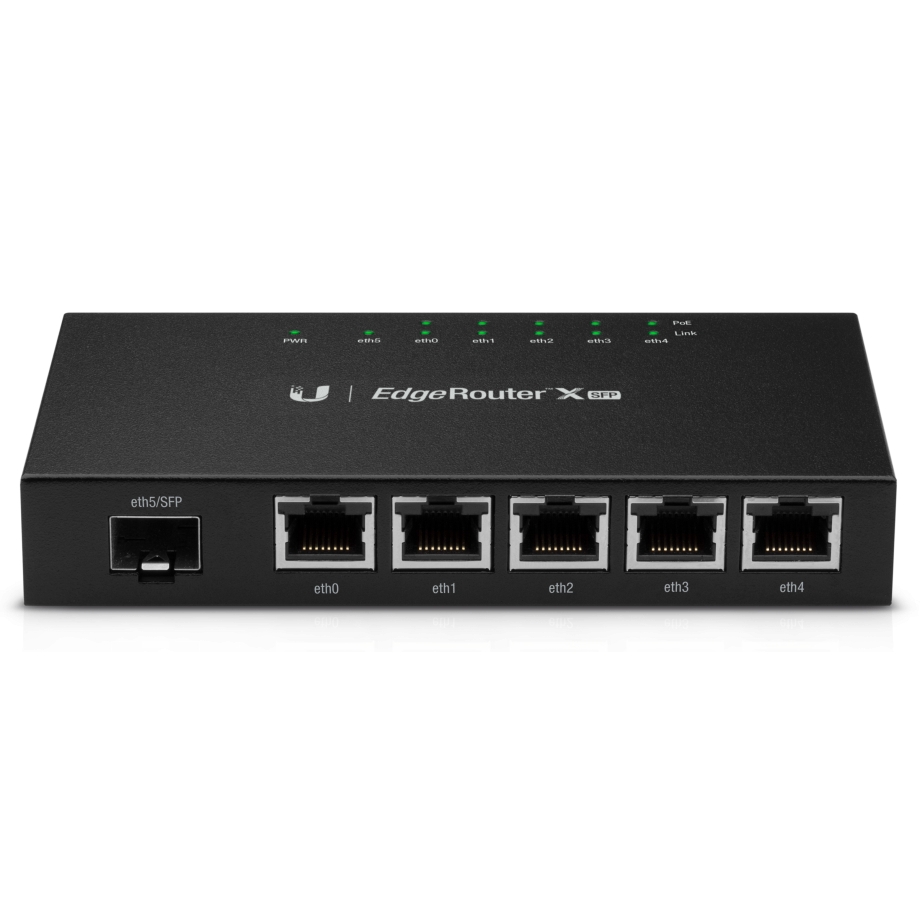 Ubiquiti Elite Distributor
Ubiquiti Elite Distributor
Available product variations
Detailed description
Versatile PoE Capability
The EdgeRouter™ X SFP supports 24V passive PoE to power up to five airMAX® devices.
Gigabit Connectivity
The EdgeRouter™ X SFP features five independent, Gigabit RJ45 ports and one Gigabit SFP port – all six are configurable for switching.
Optical SFP for Backhaul
The Gigabit SFP port provides fiber connectivity to support backhaul applications for carrier-class networks.
Centralized Management
The EdgeRouter™ X SFP is supported and managed by UNMS™, a comprehensive application with an intuitive UI. A single management system controls registered EdgeMAX® devices across multiple sites.
Compare with similar products
 
Ethernet Ports
5 x 1 Gbps

3 x 1 Gbps

10 x 1 Gbps

6 x 1 Gbps

1 x 1 Gbps

5 x 1 Gbps

PoE Out Ports
5 x Passive PoE

1 x Passive PoE

5 x Passive PoE

1 x Passive PoE

SFP Ports
1 x 1G SFP

1 x 1G SFP

2 x 1G SFP

1 x 1G SFP

8 x 10G SFP+

USB Ports

1 x USB-A 3.0

1 x USB-A 2.0

1 x USB-A 2.0

1 x USB-A 2.0

Chipset
Dual-Core 880 MHz, MIPS1004Kc

4-Core 1 GHz, MIPS64

4-Core 1 GHz, MIPS64

4-Core 1 GHz, MIPS64

MIPS64 16 Core 1.8 GHz

Dual-Core 880 MHz, MIPS1004Kc

RAM
256 MB

1 GB

1 GB

1 GB

16 GB

256 MB

Storage Memory
256 MB

4 GB

4 GB

4 GB

8 GB

256 MB

Max Power Consumption
55 W

13 W

24 W

90 W

100 W

5 W

Mounting Method
Tabletop

Tabletop

Tabletop

RackMount, Wall Mount, Tabletop

RackMount

Tabletop
|   | | | | | | |
| --- | --- | --- | --- | --- | --- | --- |
| Ethernet Ports | 5 x 1 Gbps | 3 x 1 Gbps | 10 x 1 Gbps | 6 x 1 Gbps | 1 x 1 Gbps | 5 x 1 Gbps |
| PoE Out Ports | 5 x Passive PoE | | 1 x Passive PoE | 5 x Passive PoE | | 1 x Passive PoE |
| SFP Ports | 1 x 1G SFP | 1 x 1G SFP | 2 x 1G SFP | 1 x 1G SFP | 8 x 10G SFP+ | |
| USB Ports | | 1 x USB-A 3.0 | 1 x USB-A 2.0 | 1 x USB-A 2.0 | 1 x USB-A 2.0 | |
| Chipset | Dual-Core 880 MHz, MIPS1004Kc | 4-Core 1 GHz, MIPS64 | 4-Core 1 GHz, MIPS64 | 4-Core 1 GHz, MIPS64 | MIPS64 16 Core 1.8 GHz | Dual-Core 880 MHz, MIPS1004Kc |
| RAM | 256 MB | 1 GB | 1 GB | 1 GB | 16 GB | 256 MB |
| Storage Memory | 256 MB | 4 GB | 4 GB | 4 GB | 8 GB | 256 MB |
| Max Power Consumption | 55 W | 13 W | 24 W | 90 W | 100 W | 5 W |
| Mounting Method | Tabletop | Tabletop | Tabletop | RackMount, Wall Mount, Tabletop | RackMount | Tabletop |
Technical Specs / Datasheet