MikroTik hEX S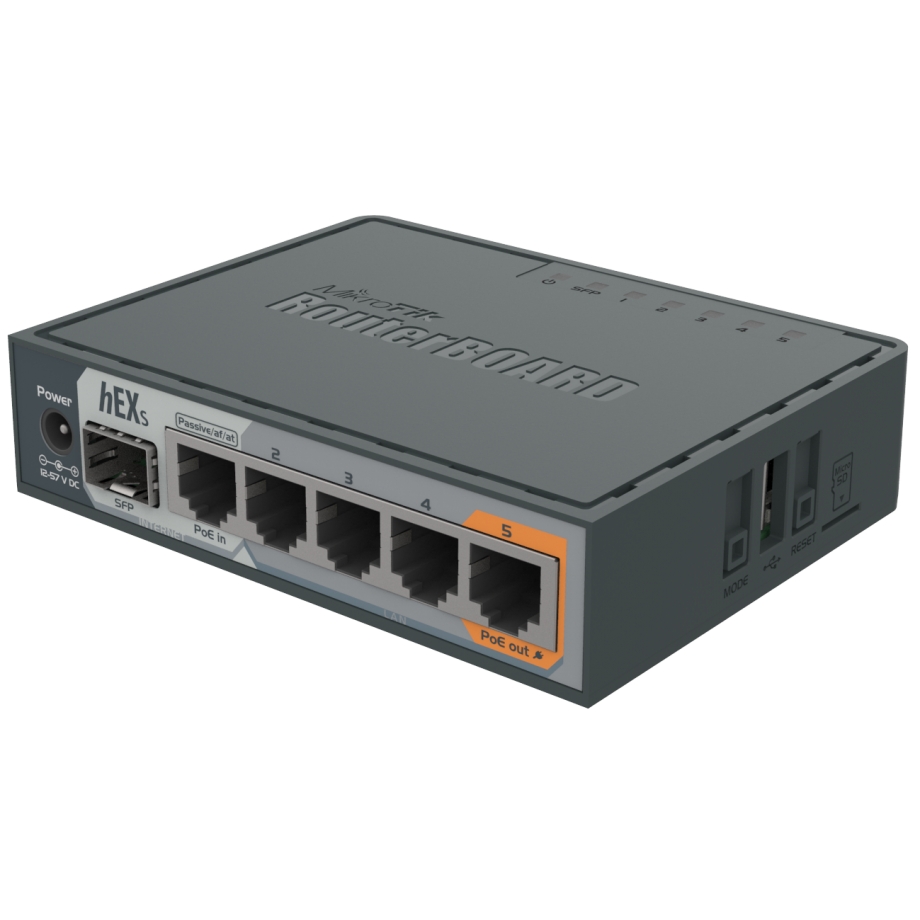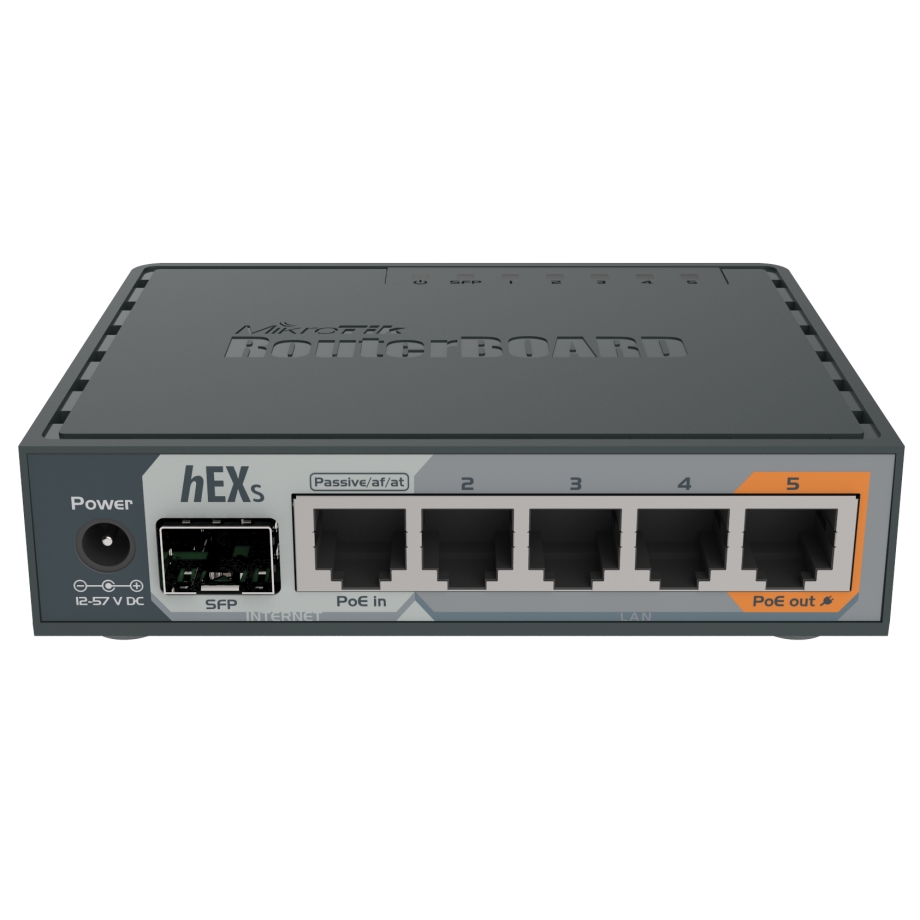 Short description
Dual Core 880MHz CPU, 256MB RAM, 5x GIGABIT LAN, SFP cage, USB, RouterOS L4
Detailed description
Introducing the hEX Series Routers
Designed for home and small office setups, these routers offer reliable wired connections via Ethernet cables. With PoE ports, you can power devices like access points and cameras through Ethernet. hEX S and hEX PoE also feature an SFP port for high-speed internet connections using optical cables. The RouterOS operating system by Mikrotik provides extensive network configuration and traffic management capabilities, ensuring a seamless and efficient networking experience.
Advanced Wired Solution
The MikroTik hEX S Router is a powerful networking device designed to cater to the needs of home and small office installations. The hEX S router is the ultimate choice for users who want a reliable wired network setup without wireless connectivity. With its innovative features and high-performance hardware, this router delivers seamless network operation, making it the perfect fit for a wide range of networking applications.
High-Performance Hardware
Equipped with a dual-core 880MHz CPU and a generous 256MB of RAM, the hEX S router ensures exceptional performance. It effortlessly handles advanced configurations supported by the RouterOS operating system, developed by MikroTik. Whether you are a networking enthusiast, a tech-savvy professional, or a small business owner, the hEX S router's processing power guarantees smooth and efficient network operations, even during resource-intensive tasks.
Data Transfer & PoE Capabilities
The hEX S router boasts five Gigabit Ethernet ports, enabling fast and stable data transfer rates over wired connections. Connect computers, printers, and other compatible devices directly via Ethernet cables to experience a reliable and stable network environment.
Furthermore, the hEX S router sets itself apart with its PoE output capability on Ethernet port #5. This feature facilitates convenient power supply through Ethernet cables to PoE-capable devices, such as access points and video cameras, streamlining your network setup while optimising power management efficiency.
SFP Port & MicroSD Slot
Enhancing its connectivity options, the hEX S router comes with an SFP port, allowing you to easily add optical fiber connectivity to your network. This feature is especially useful for connecting to your internet service provider using optical cables, ensuring high-speed and reliable internet connections. Moreover, the hEX S router includes a MicroSD slot, elevating your file storage performance. Utilise this feature to enhance read/write speeds for file storage, providing better support for The Dude server package, and ensuring efficient network management.
Ensuring the utmost security for your network is a top priority, and the hEX S router excels in this aspect. With support for IPsec hardware encryption, your sensitive data remains secure, and potential threats are kept at bay.
Affordability & Ease of Use
Despite its powerful capabilities, the hEX S router remains affordable and user-friendly. Its compact design, clean aesthetics, and straightforward setup make it a perfect fit for any home or small office environment, accommodating both networking novices and experienced users.
Compare with similar products
 
Ethernet Ports
5 x 1 Gbps

5 x 100 Mbps

5 x 100 Mbps

5 x 1 Gbps

5 x 1 Gbps

PoE Out Ports
1 x Passive PoE

4 x Passive PoE

4 x 802.3af/at

SFP Ports
1 x SFP

1 x SFP

USB Ports
1 x USB-A 2.0

1 x USB-A 2.0

1 x USB-A 2.0

1 x USB-A 2.0

MicroSD Slot

Chipset
2 core, 880 MHz

1 core, 850 MHz

1 core, 650 MHz

2 core, 880 MHz

1 core, 800 MHz

RAM
256 MB

64 MB

64 MB

256 MB

128 MB

Storage Memory
16 MB

16 MB

16 MB

16 MB

16 MB
|   | | | | | |
| --- | --- | --- | --- | --- | --- |
| Ethernet Ports | 5 x 1 Gbps | 5 x 100 Mbps | 5 x 100 Mbps | 5 x 1 Gbps | 5 x 1 Gbps |
| PoE Out Ports | 1 x Passive PoE | | 4 x Passive PoE | | 4 x 802.3af/at |
| SFP Ports | 1 x SFP | | | | 1 x SFP |
| USB Ports | 1 x USB-A 2.0 | | 1 x USB-A 2.0 | 1 x USB-A 2.0 | 1 x USB-A 2.0 |
| MicroSD Slot | | | | | |
| Chipset | 2 core, 880 MHz | 1 core, 850 MHz | 1 core, 650 MHz | 2 core, 880 MHz | 1 core, 800 MHz |
| RAM | 256 MB | 64 MB | 64 MB | 256 MB | 128 MB |
| Storage Memory | 16 MB | 16 MB | 16 MB | 16 MB | 16 MB |