MikroTik RB4011iGS+RM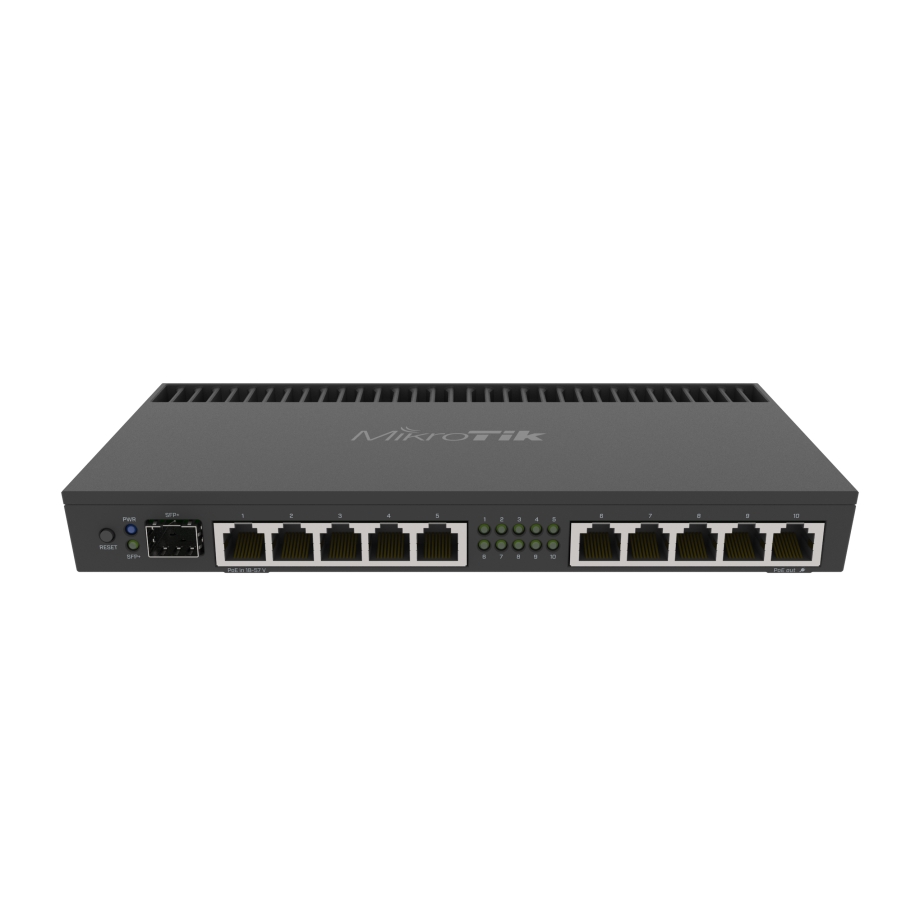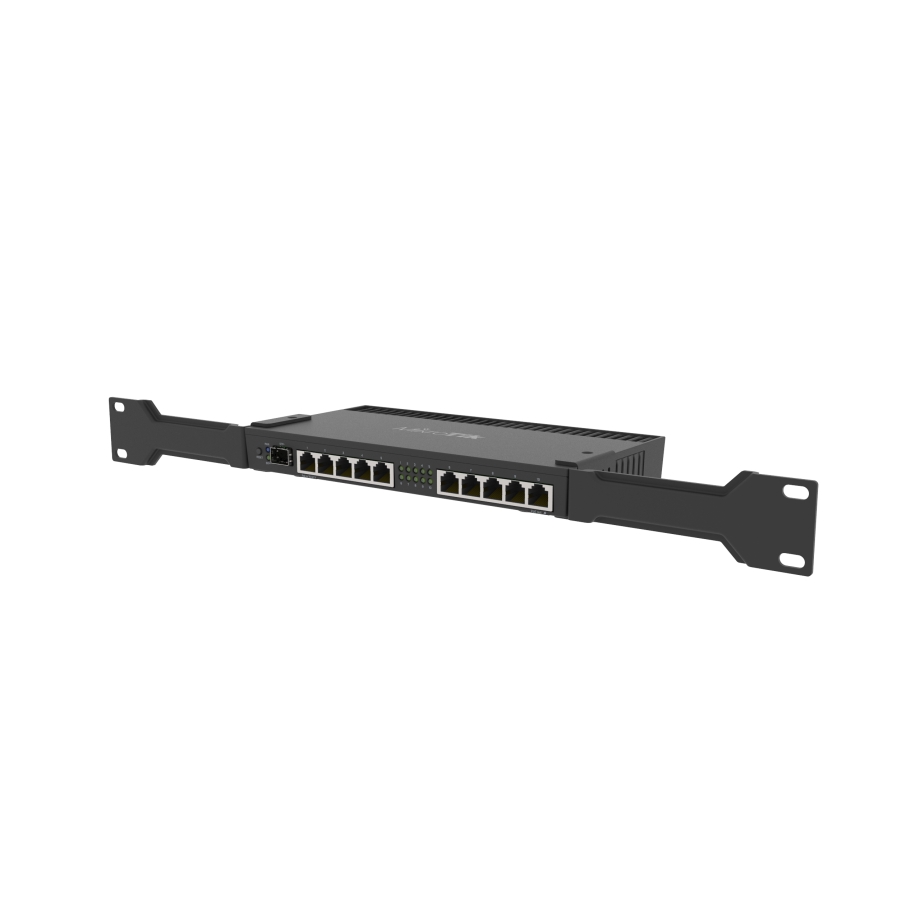 MikroTik MTCNA Certificate
MikroTik Value Added Distributor
MikroTik MTCNA Certificate
MikroTik Value Added Distributor
Available product variations
Detailed description
Carrier-Grade Performance
Discover advanced networking with the MikroTik RB4011iGS+RM: with ten high-speed Gigabit ports and an additional cutting-edge 10Gbps SFP+ interface, plus hardware-accelerated IPsec capabilities for enhanced secure communications, this router delivers exceptional performance at a remarkable price. The RB4011iGS+RM harnesses the power of a quad-core Cortex A15 CPU, which brings heightened processing power, multitasking capabilities, and energy efficiency, making it a versatile and high-performance router suitable for a wide range of networking needs.
Streamlined Network Infrastructure
RB4011iGS+RM has a precise design with a sleek matte black metal enclosure. This router excels when mounted on a pole, mast, or elevated structure, showcasing its connectivity capabilities. With the ability to provide PoE output on port #10, this device adapts to diverse networking setups. This feature unlocks a multitude of networking possibilities, making it ideal for scenarios where devices need both data and power simultaneously. Whether you're setting up a surveillance system, wireless access points, or IP phones, the RB4011iGS+RM seamlessly accommodates diverse networking setups, simplifying your network infrastructure and reducing the need for extra power sources or complex cabling arrangements.
Advantages of 10G SFP+
Elevate your network to new heights with the RB4011iGS+RM's exceptional 10G SFP+ port. This feature delivers unparalleled advantages, offering fast data transmission speeds that outperform traditional connections. With the 10G SFP+ port, you can effortlessly handle large data volumes, high-resolution multimedia streaming, and latency-sensitive applications. This means quicker backups, smoother video conferencing, and virtually lag-free online experiences. The RB4011iGS+RM's 10G SFP+ port empowers your network with unmatched speed and efficiency.
Ideal for Data-Heavy Networks
The RB4011iGS+RM is equipped with the AL21400 chipset, a robust four-core processor operating at 1400 MHz. This powerful processing capability translates into a network router that can handle complex tasks with ease and speed. Whether you're managing a data-heavy network or running resource-intensive applications, this device provides the computing power required for smooth and efficient operations. Additionally, its 1 GB of RAM serves as a sturdy foundation, ensuring not only high-speed data processing but also overall system reliability. The device has 512 MB of storage memory for fast data access and smooth operations. Moreover, the device's support for multiple power methods, including AC/DC Adapter, 24V Passive PoE, and 48V Passive PoE, enhances its versatility significantly. This flexibility means you can adapt the device to various power conditions and installation environments, making it suitable for a wide range of network setups.
Remarkable Power Efficiency
The RB4011iGS+RM is remarkably efficient, consuming only 18 watts at maximum power, which, considering its impressive performance, is impressively low. This efficiency is achieved thanks to the ARM architecture used for the CPU, which not only lowers operational costs but also minimizes heat generation, contributing to a cooler and more energy-conscious networking setup.
Additionally, the device's versatility extends to its power requirements. With a wide supported input voltage range of 12-57 V DC, it effortlessly adapts to varying environmental conditions and power configurations.
Compare with similar products
 
Wireless Standard

Wi-Fi 5

2.4GHz Radio Rate

300 Mbps

5GHz Radio Rate

1.7 Gbps

Ethernet Ports
10 x 1 Gbps

10 x 1 Gbps

10 x 1 Gbps

PoE Out Ports
1 x Passive PoE

1 x Passive PoE

1 x Passive PoE

PoE In Ports
1 x Passive PoE

1 x Passive PoE

1 x Passive PoE

SFP Ports
1 x 10 Gbps

1 x 1 Gbps

1 x 10 Gbps

USB Ports

1 x USB-A 3.0
|   | | | |
| --- | --- | --- | --- |
| Wireless Standard | | | Wi-Fi 5 |
| 2.4GHz Radio Rate | | | 300 Mbps |
| 5GHz Radio Rate | | | 1.7 Gbps |
| Ethernet Ports | 10 x 1 Gbps | 10 x 1 Gbps | 10 x 1 Gbps |
| PoE Out Ports | 1 x Passive PoE | 1 x Passive PoE | 1 x Passive PoE |
| PoE In Ports | 1 x Passive PoE | 1 x Passive PoE | 1 x Passive PoE |
| SFP Ports | 1 x 10 Gbps | 1 x 1 Gbps | 1 x 10 Gbps |
| USB Ports | | 1 x USB-A 3.0 | |