MikroTik CRS328-24P-4S+RM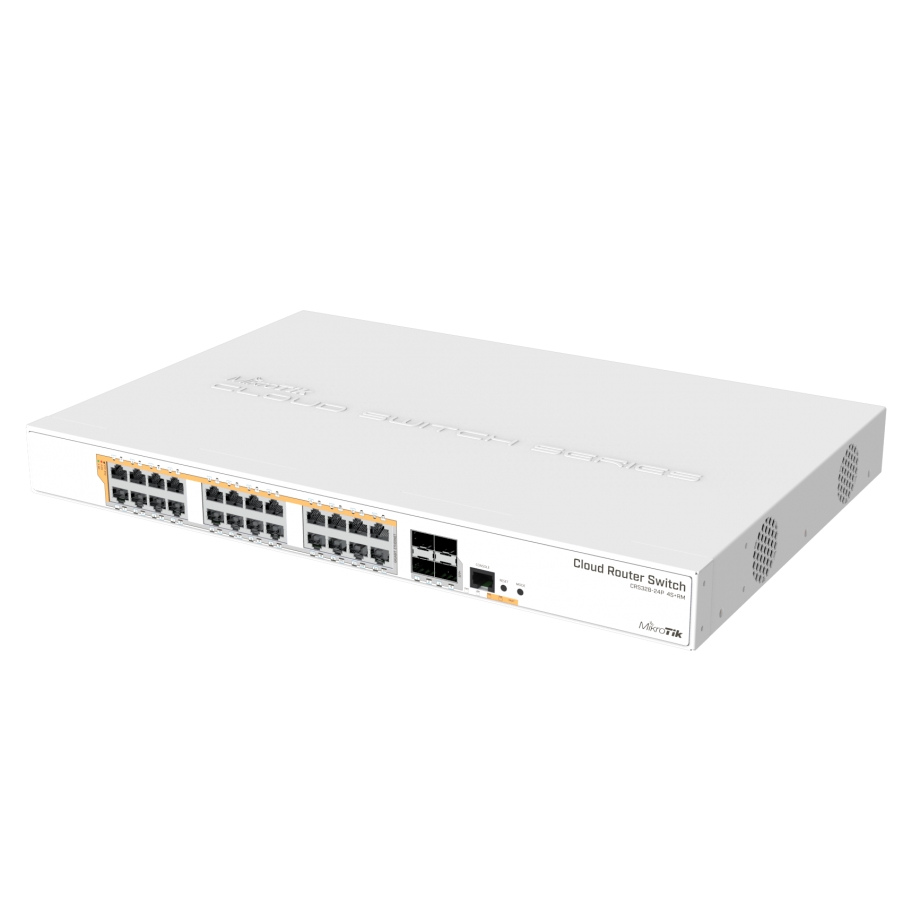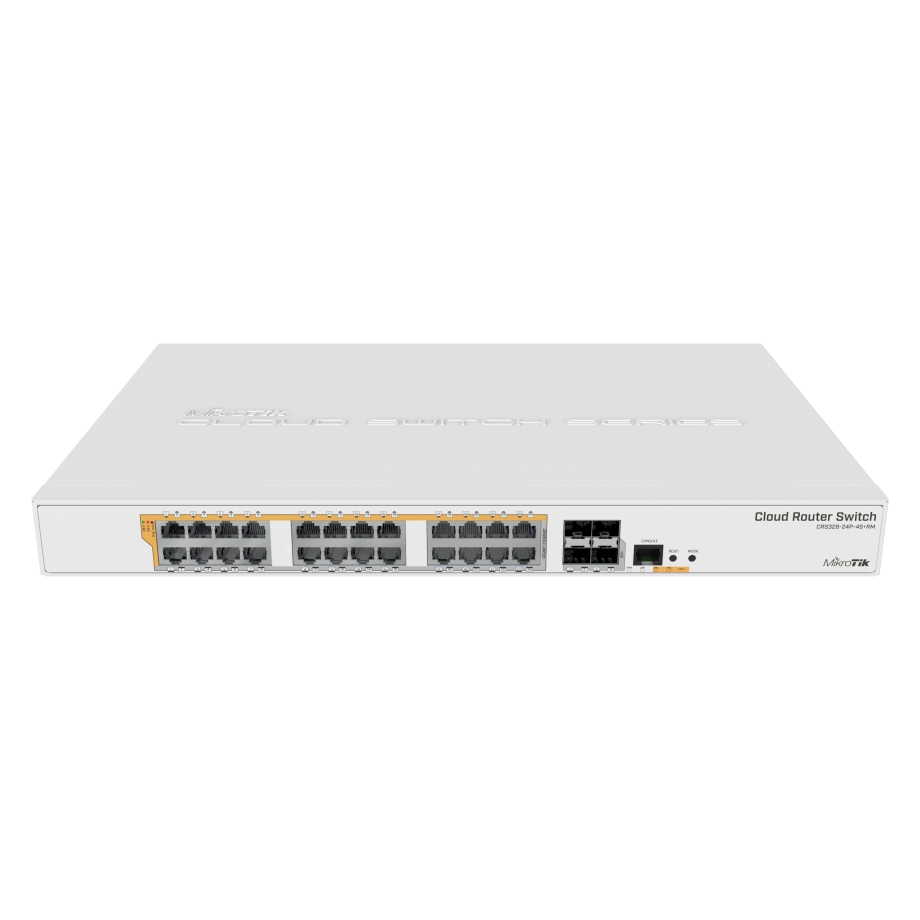 MikroTik MTCNA Certificate
MikroTik Value Added Distributor
MikroTik MTCNA Certificate
MikroTik Value Added Distributor
Available product variations
Detailed description
PoE Excellence
Expand your networking capabilities with the MikroTik CRS328-24P-4S+RM, an exceptional 1U rackmount switch reshaping network performance. Equipped with 24 Gigabit Ethernet ports and four 10Gbps SFP+ ports, this device propels your network forward, delivering unmatched power and versatility. Its non-blocking Layer 2 capacity ensures smooth data flow while supporting up to 4K simultaneous VLANs and enhancing network segmentation and security.
The CRS328-24P-4S+RM stands out for its impressive PoE abilities. It supports Passive PoE, low voltage PoE, and 802.3af/at, providing power options that adapt to your network's varied requirements. Providing up to 30W of power per port, it becomes a reliable energy source for your PoE devices, such as access points and cameras. With its remarkable 500W power supply, this switch ensures consistent power for energy-intensive devices without compromising performance.
Seamless OS Switching
Enjoy flexibility with the CRS328-24P-4S+RM's Dual Boot feature, allowing you to seamlessly switch between two operating systems - RouterOS and SwOS - depending on your network's requirements. For those who prioritize simplicity, SwOS provides specialized switch functionalities. On the other hand, if you're seeking advanced routing, RouterOS offers a range of options.
Smooth Integration
Experience rapid connectivity through the lightning-fast SFP+ ports of the CRS328-24P-4S+RM, which can achieve speeds of 10Gbps using optical fiber or Ethernet modules. Housed in a sleek 1U rackmount case, it seamlessly integrates into your setup with a 100-240 V AC 500W power supply. Its impressive power efficiency uses just 44W, reserving a reliable 450W for expanding your network.
Enhanced Functionality
With a 16K host table, support for IEEE 802.1Q VLAN, and advanced features like IGMP snooping and link aggregation, the CRS328-24P-4S+RM exceeds industry standards. Navigate network management effortlessly through MikroTik's neighbor discovery, simplifying device identification, and SNMP capabilities, facilitating network monitoring. Moreover, the CRS328-24P-4S+RM supports 10218-byte jumbo frames, making it ideal for demanding data-intensive tasks such as ultra-high-definition media streaming, large-scale file transfers, and data backups.
Comprehensive Security
With port isolation, the switch enhances network segmentation, ensuring that traffic remains isolated within specific segments for improved data integrity.
Port security strengthens access control, permitting only authorized devices to connect.
The broadcast storm control feature actively prevents network congestion by limiting excessive broadcast or multicast traffic.
The port mirroring capability allows monitoring of incoming and outgoing traffic for analysis and troubleshooting purposes.
Additionally, the switch supports STP, RSTP, and MSTP protocols, providing effective redundancy and ensuring seamless network operation even during link failures.
Lastly, the Access Control List (ACL) empowers administrators to finely tune network access policies, enabling better control over data flow and enhancing security.
Compare with similar products
 
Ethernet Ports
24 x 1 Gbps

48 x 1 Gbps

48 x 1 Gbps

PoE Out Ports
24 x 802.11af/at

48 x 802.11af/at

SFP Ports
4 x 10 Gbps

4 x 10 Gbps

4 x 10 Gbps

QSFP Ports

2 x 40 Gbps

2 x 40 Gbps

RAM
512 MB

64 MB

64 MB

Storage Memory
16 MB

16 MB

16 MB

Chipset
98DX3236, 1 core, 800 MHz

QCA9531, 1 core, 650 MHz

QCA9531, 1 core, 650 MHz

Max Power Consumption
44 W

85 W

60 W
|   | | | |
| --- | --- | --- | --- |
| Ethernet Ports | 24 x 1 Gbps | 48 x 1 Gbps | 48 x 1 Gbps |
| PoE Out Ports | 24 x 802.11af/at | 48 x 802.11af/at | |
| SFP Ports | 4 x 10 Gbps | 4 x 10 Gbps | 4 x 10 Gbps |
| QSFP Ports | | 2 x 40 Gbps | 2 x 40 Gbps |
| RAM | 512 MB | 64 MB | 64 MB |
| Storage Memory | 16 MB | 16 MB | 16 MB |
| Chipset | 98DX3236, 1 core, 800 MHz | QCA9531, 1 core, 650 MHz | QCA9531, 1 core, 650 MHz |
| Max Power Consumption | 44 W | 85 W | 60 W |