Reyee Wi-Fi 6 Ceiling Access Point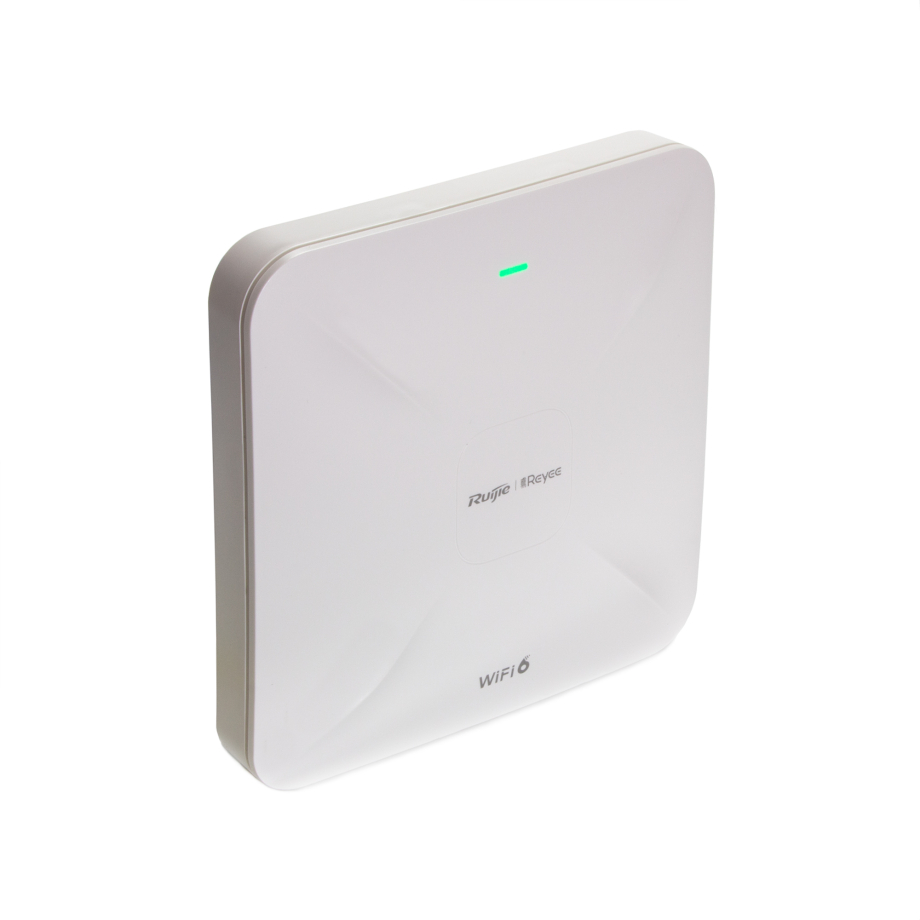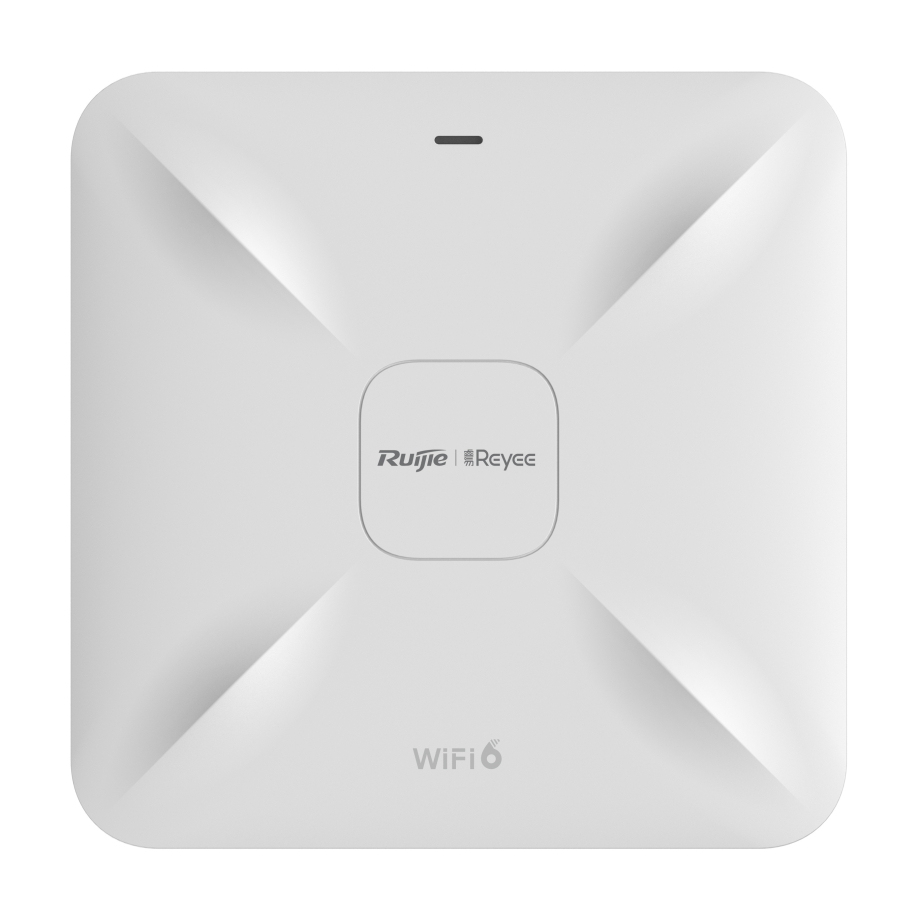 Detailed description
Dual-Radio Performance, Gigabit Speed Wi-Fi Solution
Experience robust and secure networking with Reyee Access Point. It comes fully equipped with advanced security protocols, such as WPA2-PSK, WPA3-SAE and 802.1x authentication, as well as AES, TKIP and WEP encryption. Furthermore, RG-RAP2260(G) access point is fitted with powerful processor and beamforming technology for faster and more reliable performance.
Better Multi-User Experience in High-Density Scenarios
Performance upgraded, support client connections over 500.
With RG-RAP2260(G) you can easily build an ultra-high performance network in high density environment and connect up to 500 users. This dual-band access point features maximum throughput 2.97 Gbps. RG-RAP2260(G) operates in two bands with support for 2x2 MIMO technology at both 2.4 GHz and 5GHz. Thanks to the Reyee Mesh you can easily add extra outdoor Wi-Fi devices.
One Click to Optimize, Get Better Wi-Fi Experience
The WIO (Wi-Fi Intelligent Optimization) technology allows you to optimize wireless network by one click.
Easily Install Extra AP with Reyee Mesh
Layer 3 Roaming, Smooth Transition
Roam smoothly between Layer 3 networks with non-interruption
Easily Set Up Your Wi-Fi Network in 3 Minutes
With SON (Self-organizing Network) technology, easily set up a whole Wi-Fi network by Ruijie Cloud APP.
The RG-RAP2260(G) can be mounted on the ceiling or a wall, the mounting brackets are included. Thanks to the free Cloud Management you will be able to monitor and manage your device remotely, as well as use the wireless intelligent optimization and cloud portal authentication. Meanwhile, with SON (Self-organizing Network) technology, you can easily set up a whole Wi-Fi network by Ruijie Cloud APP.
Compare with similar products
 
Wireless Standard
802.11ax, Wi-Fi 6

802.11be, Wi-Fi 7

802.11ac Wave2, Wi-Fi 5

802.11ax, Wi-Fi 6

802.11ax, Wi-Fi 6

MIMO
2.4GHz 2x2, 5GHz 2x2

2.4GHz 4x4, 5GHz 4x4, 6GHz 4x4

2.4GHz 2x2, 5GHz 2x2

2.4GHz 2x2, 5GHz 2x2

2.4GHz 4x4, 5GHz 4x4

2.4GHz Radio Rate
573 Mbps

1.378 Gbps

400 Mbps

573 Mbps

800 Mbps

5GHz Radio Rate
1.7 Gbps

5.76 Gbps

867 Mbps

2.4 Gbps

3.2 Gbps

6GHz Radio Rate

11.52 Gbps

Wireless Antenna Frequency Range & Gain
2.4 - 2.4835 (GHz) 3 (dBi), 5.150 - 5.850 (GHz) 3 (dBi)

2.4 - 2.483 (GHz) 4 (dBi), 5.15 - 5.725 (GHz) 6 (dBi), 5.925 - 6.425 (GHz) 6 (dBi)

2.4 - 2.4835 (GHz) 2 (dBi), 5.150 - 5.850 (GHz) 2 (dBi)

2.4 - 2.483 (GHz) 3.53 (dBi), 5.15 - 5.85 (GHz) 5.15 (dBi)

2.4 - 2.4835 (GHz) 3 (dBi), 5.150 - 5.850 (GHz) 3 (dBi)

Ethernet Ports
2 x 1 Gbps

1 x 1 Gbps, 1 x 10 Gbps

2 x 1 Gbps

1 x 1 Gbps

1 x 1 Gbps, 1 x 2.5 Gbps

SFP Ports

1 x 10G SFP+

Max Power Consumption
15.3 W

60 W

13 W

18 W

25.4 W

Max Client Capacity
512

1500

110

512

512

Recommended client capacity
100

250

40

110

120
|   | | | | | |
| --- | --- | --- | --- | --- | --- |
| Wireless Standard | 802.11ax, Wi-Fi 6 | 802.11be, Wi-Fi 7 | 802.11ac Wave2, Wi-Fi 5 | 802.11ax, Wi-Fi 6 | 802.11ax, Wi-Fi 6 |
| MIMO | 2.4GHz 2x2, 5GHz 2x2 | 2.4GHz 4x4, 5GHz 4x4, 6GHz 4x4 | 2.4GHz 2x2, 5GHz 2x2 | 2.4GHz 2x2, 5GHz 2x2 | 2.4GHz 4x4, 5GHz 4x4 |
| 2.4GHz Radio Rate | 573 Mbps | 1.378 Gbps | 400 Mbps | 573 Mbps | 800 Mbps |
| 5GHz Radio Rate | 1.7 Gbps | 5.76 Gbps | 867 Mbps | 2.4 Gbps | 3.2 Gbps |
| 6GHz Radio Rate | | 11.52 Gbps | | | |
| Wireless Antenna Frequency Range & Gain | 2.4 - 2.4835 (GHz) 3 (dBi), 5.150 - 5.850 (GHz) 3 (dBi) | 2.4 - 2.483 (GHz) 4 (dBi), 5.15 - 5.725 (GHz) 6 (dBi), 5.925 - 6.425 (GHz) 6 (dBi) | 2.4 - 2.4835 (GHz) 2 (dBi), 5.150 - 5.850 (GHz) 2 (dBi) | 2.4 - 2.483 (GHz) 3.53 (dBi), 5.15 - 5.85 (GHz) 5.15 (dBi) | 2.4 - 2.4835 (GHz) 3 (dBi), 5.150 - 5.850 (GHz) 3 (dBi) |
| Ethernet Ports | 2 x 1 Gbps | 1 x 1 Gbps, 1 x 10 Gbps | 2 x 1 Gbps | 1 x 1 Gbps | 1 x 1 Gbps, 1 x 2.5 Gbps |
| SFP Ports | | 1 x 10G SFP+ | | | |
| Max Power Consumption | 15.3 W | 60 W | 13 W | 18 W | 25.4 W |
| Max Client Capacity | 512 | 1500 | 110 | 512 | 512 |
| Recommended client capacity | 100 | 250 | 40 | 110 | 120 |