Reyee Wi-Fi 6 Outdoor Omni-directional Access Point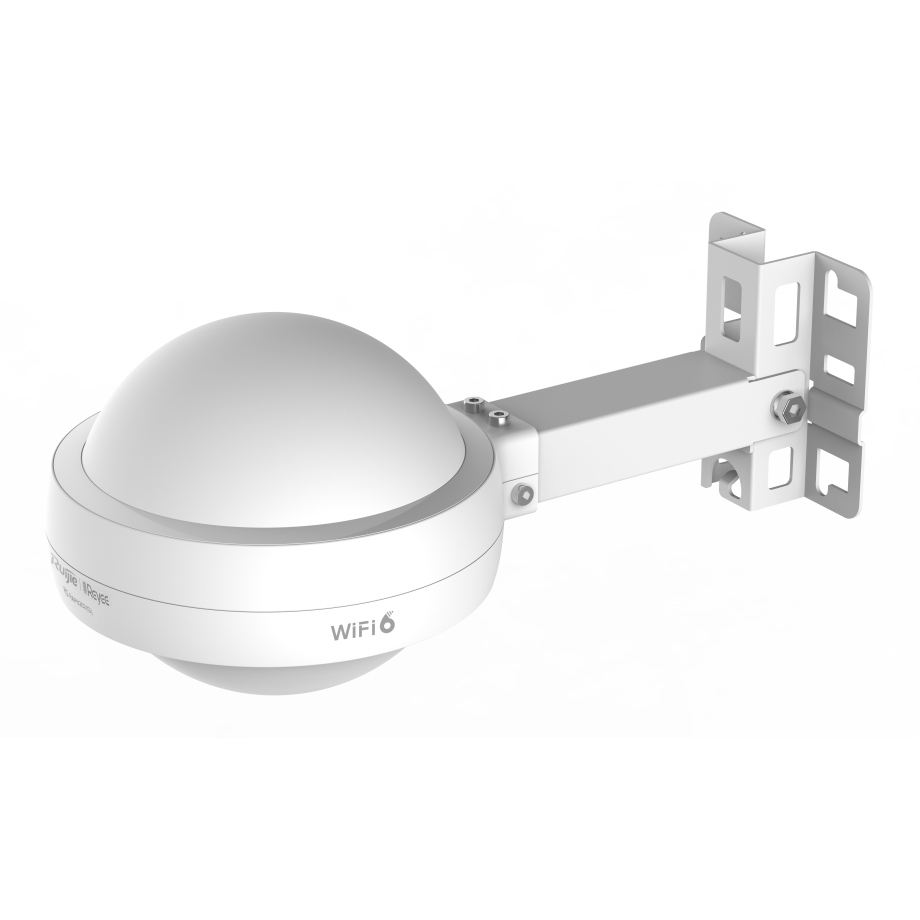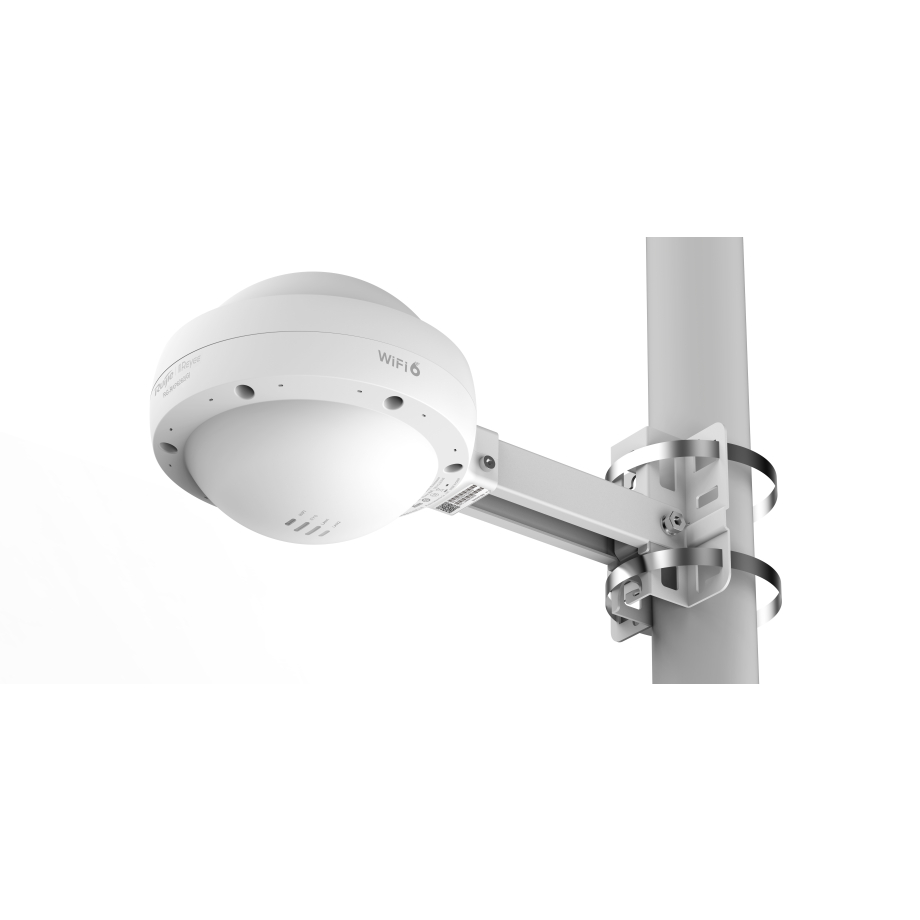 Detailed description
Unparalleled Connectivity
Enjoy exceptional connectivity with Reyee Access Point. RG-RAP6262(G) access point is equipped with 4 built-in high gain antennas, supporting full coverage with radius of 100 meters at 2.4GHz, and 300 meters at 5GHz. The access point operates in two bands with support for MIMO technology at both 2.4 GHz and 5GHz. Thanks to the Reyee Mesh you can easily add extra outdoor Wi-Fi devices.
Reliable Networking
Experience robust and secure networking with Reyee Access Point. It comes fully equipped with advanced security protocols, such as WPA2-PSK, WPA3-SAE and 802.1x authentication, as well as AES, TKIP and WEP encryption. Furthermore, RG-RAP6262(G) access point is fitted with powerful processor and beamforming technology for faster and more reliable performance.
Optimal Performance
The enclosure of RG-RAP6262(G) is completely sealed, waterproof, dustproof, moisture proof and flame-retardant. The access point also features the 4kV lightning protection. Thanks to the free Cloud Management you will be able to monitor and manage your device remotely, as well as use the wireless intelligent optimization and cloud portal authentication.
Omni-directional Coverage with a Wide Range
Four built-in high-gain antennas, and full coverage with a radius of 100 meters at 2.4 GHz and 300 meters at 5 GHz*.
Easily Adding Extra Outdoor Wi-Fi with Reyee Mesh
Easy Installation
Rack-separated mounting design, easy installation, and plastic cable ties replaced by the iron hoop.
Cloud, Make Your Business Easy
*Remote monitoring *Remote Wi-Fi management *Cloud portal authentication *Wireless intelligent optimization
Compare with similar products
 
Wireless Standard
802.11a/b/g/n/ac/ax, Wi-Fi 6

802.11a/b/g/n/ac/ax, Wi-Fi 6

802.11a/b/g/n/ac/ax, Wi-Fi 6

MIMO
2.4GHz 2x2, 5GHz 2x2

2.4GHz 2x2, 5GHz 2x2

2.4GHz 2x2, 5GHz 2x2

2.4GHz Radio Rate
573 Mbps

573 Mbps

573 Mbps

5GHz Radio Rate
1.2 Gbps

2.4 Gbps

1.2 Gbps

Wireless Antenna Frequency Range & Gain
2.4 - 2.483 (GHz) 3 (dBi), 5.150 - 5.850 (GHz) 4 (dBi)

2.4 - 2.483 (GHz) 3 (dBi), 5.150 - 5.850 (GHz) 4 (dBi)

2.4 - 2.4835 (GHz) 4 (dBi), 5.150 - 5.850 (GHz) 6 (dBi)

Ethernet Ports
2 x 1 Gbps

1 x 1 Gbps

1 x 1 Gbps

SFP Ports

1 x 1G SFP

1 x 1G SFP

Max Client Capacity
256

512

512

Recommended client capacity
100

110

100

Max Power Consumption
18 W

24 W

17 W

Operating Temperature
-30℃ ~ 65 ℃

-30℃ ~ 65 ℃

-40℃ ~ 65 ℃

Ingress Protection Code
IP68

IP68

IP68
|   | | | |
| --- | --- | --- | --- |
| Wireless Standard | 802.11a/b/g/n/ac/ax, Wi-Fi 6 | 802.11a/b/g/n/ac/ax, Wi-Fi 6 | 802.11a/b/g/n/ac/ax, Wi-Fi 6 |
| MIMO | 2.4GHz 2x2, 5GHz 2x2 | 2.4GHz 2x2, 5GHz 2x2 | 2.4GHz 2x2, 5GHz 2x2 |
| 2.4GHz Radio Rate | 573 Mbps | 573 Mbps | 573 Mbps |
| 5GHz Radio Rate | 1.2 Gbps | 2.4 Gbps | 1.2 Gbps |
| Wireless Antenna Frequency Range & Gain | 2.4 - 2.483 (GHz) 3 (dBi), 5.150 - 5.850 (GHz) 4 (dBi) | 2.4 - 2.483 (GHz) 3 (dBi), 5.150 - 5.850 (GHz) 4 (dBi) | 2.4 - 2.4835 (GHz) 4 (dBi), 5.150 - 5.850 (GHz) 6 (dBi) |
| Ethernet Ports | 2 x 1 Gbps | 1 x 1 Gbps | 1 x 1 Gbps |
| SFP Ports | | 1 x 1G SFP | 1 x 1G SFP |
| Max Client Capacity | 256 | 512 | 512 |
| Recommended client capacity | 100 | 110 | 100 |
| Max Power Consumption | 18 W | 24 W | 17 W |
| Operating Temperature | -30℃ ~ 65 ℃ | -30℃ ~ 65 ℃ | -40℃ ~ 65 ℃ |
| Ingress Protection Code | IP68 | IP68 | IP68 |