MikroTik CRS326-24S+2Q+RM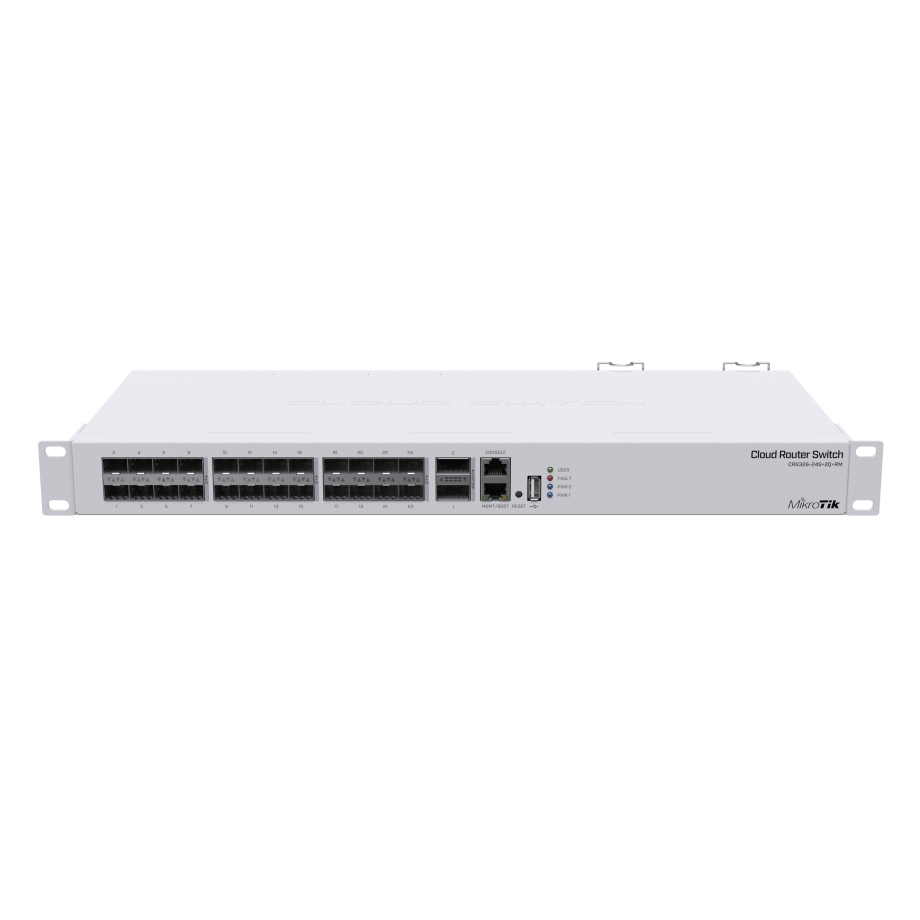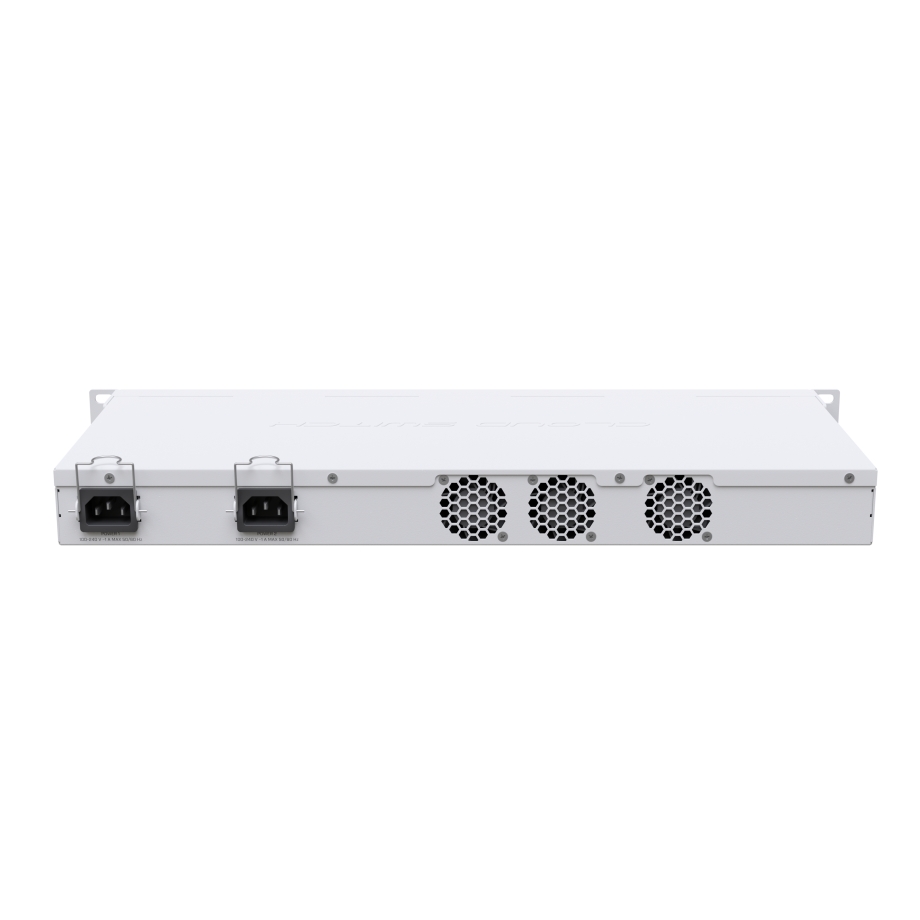 Short description
24x 10G SFP+ Ports, 2x 40G QSFP+ Ports, SwOS /RouterOS L5 (Dual boot)
Detailed description
Network Empowerment Upgrade
Elevate your network with the MikroTik CRS326-24S+2Q+RM. This advanced switch offers a significant upgrade for data-intensive environments, making it a versatile solution whether you're providing high-speed Internet access or managing a large-scale data center. Its high-speed ports and substantial capacity cater to the demands of data centers, ensuring seamless data handling and communication.
The CRS326-24S+2Q+RM features a variety of ports for versatile connectivity, including one 100 Mbps RJ45 port, twenty-four 10G SFP+ ports, and two 40G QSFP+ ports, which deliver exceptional speed and stability for fiber connections. These elements contribute to a non-blocking throughput of 320 Gbps, coupled with a switching capacity of 640 Gbps and a forwarding rate of 252 Mpps for common packets. The setup is powered by the QCA9531 chipset, running at 650 MHz core speed, ensuring powerful and reliable performance. With 64 MB of RAM and 16 MB of storage memory, this switch is fully equipped to effortlessly manage data-intensive tasks, guaranteeing smooth data flow and efficient network operations.
Uninterrupted Connectivity
The convenience of easy configuration through the USB port streamlines the setup process, allowing you to efficiently fine-tune your network settings and make adjustments as needed. Whether you're initializing the switch for the first time or making crucial modifications, this feature offers a seamless experience that minimizes complexity and optimizes your workflow.
While in regular operation mode, network-based device management is the norm, in cases where issues arise, on-site specialists can easily connect to it via USB. Additionally, the USB can function as a backup power source for added reliability.
Customized Network Experience
Choose between RouterOS and SwOS for your preferred operating system. Whether you're seeking advanced features or simple efficiency, this switch caters to your specific networking requirements. RouterOS provides advanced capabilities, while SwOS offers simplified switch-specific functions.
The CRS326-24S+2Q+RM presents a versatile solution that fits seamlessly into both new and existing networks. Its adaptability extends to a range of setups, from high-performance computing clusters and media streaming networks to robust cloud infrastructures. The option to leverage various accessories allows you to fully unlock the potential of this switch in any environment. This switch is designed to meet the demands of professionals seeking advanced networking capabilities.
Compare with similar products
 
Ethernet Ports

24 x 1 Gbps

24 x 1 Gbps

24 x 1 Gbps

SFP Ports
24 x 10 Gbps

2 x 10 Gbps

2 x 10 Gbps

2 x 10 Gbps

QSFP Ports
2 x 40 Gbps

USB Ports
1 x USB-A 2.0

RAM
64 MB

N/A

512 MB

512 MB

Storage Memory
16 MB

2 MB

16 MB

16 MB

Form Factor
Rack-mounted 19"

Rack-mounted 19"

Desktop

Rack-mounted 19"

Operating System
RouterOS

SwOS

RouterOS

RouterOS
|   | | | | |
| --- | --- | --- | --- | --- |
| Ethernet Ports | | 24 x 1 Gbps | 24 x 1 Gbps | 24 x 1 Gbps |
| SFP Ports | 24 x 10 Gbps | 2 x 10 Gbps | 2 x 10 Gbps | 2 x 10 Gbps |
| QSFP Ports | 2 x 40 Gbps | | | |
| USB Ports | 1 x USB-A 2.0 | | | |
| RAM | 64 MB | N/A | 512 MB | 512 MB |
| Storage Memory | 16 MB | 2 MB | 16 MB | 16 MB |
| Form Factor | Rack-mounted 19" | Rack-mounted 19" | Desktop | Rack-mounted 19" |
| Operating System | RouterOS | SwOS | RouterOS | RouterOS |