MikroTik CRS326-24G-2S+IN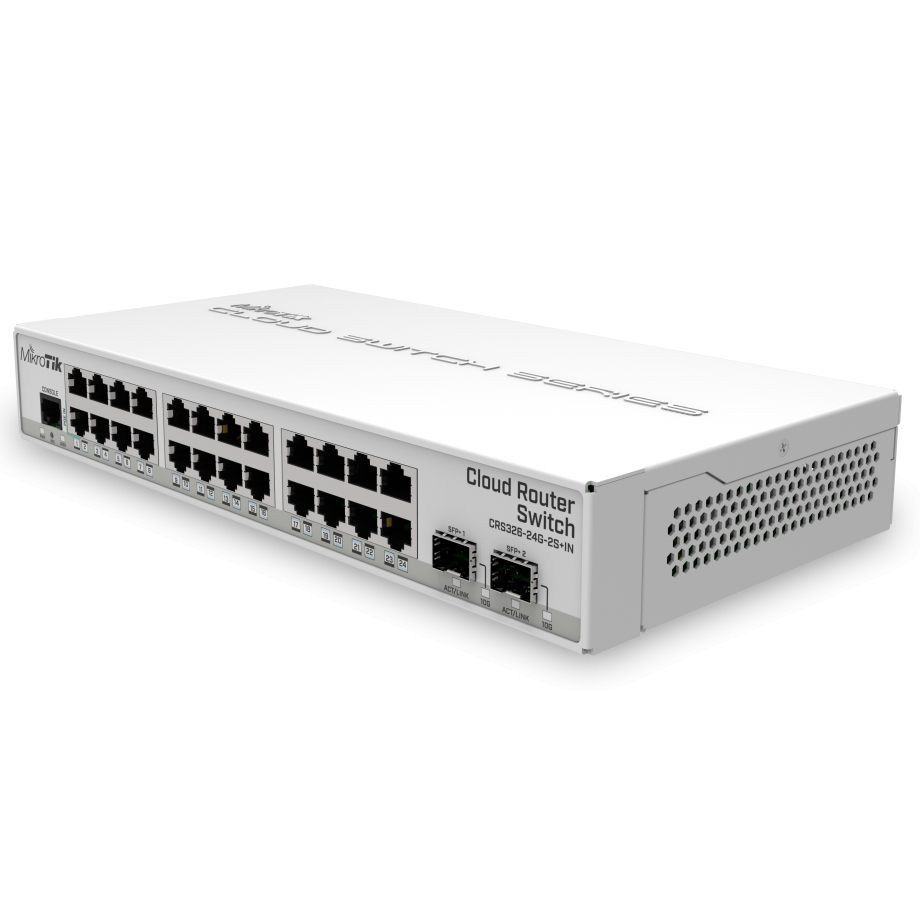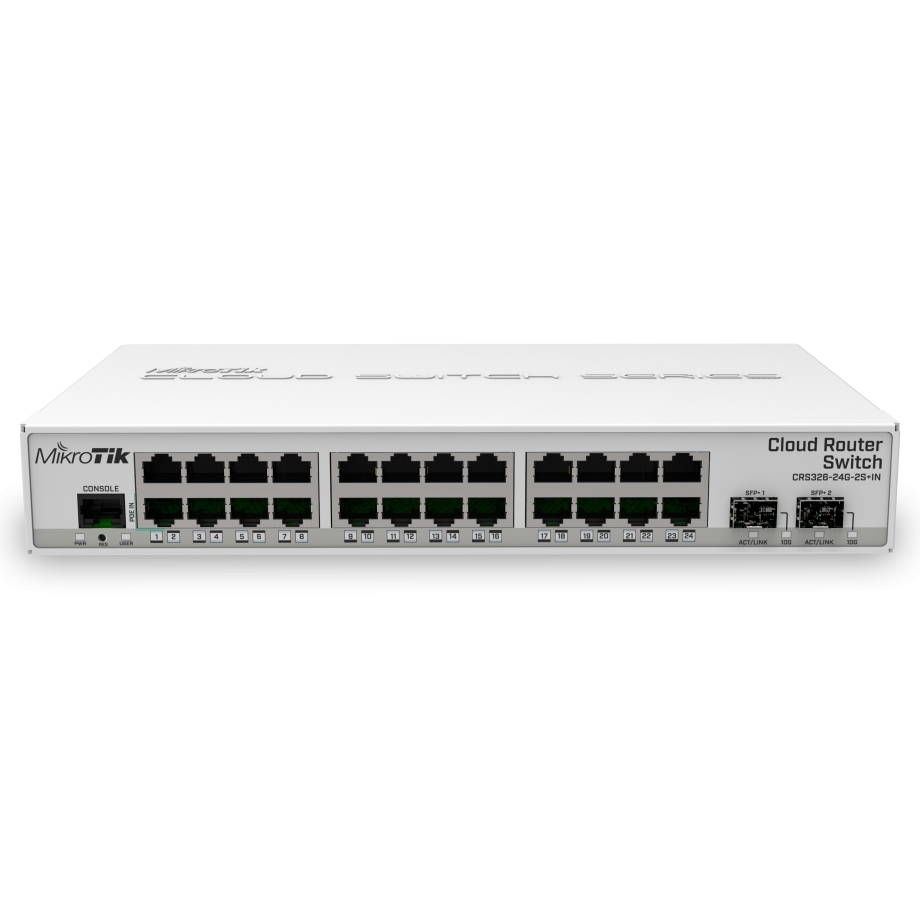 Short description
24x Gigabit Ethernet Ports, 2x 10G SFP+ Ports, 512 MB RAM, Dual Boot, desktop case
Detailed description
Built for Home Excellence
Discover the best in home networking with the MikroTik CRS326-24G-2S+IN. This compact and remarkably quiet switch brings server room capabilities while seamlessly integrating into your home environment.
With 24 Gigabit Ethernet ports, 2 fast 10G SFP+ cages, 512 MB of RAM, and a robust built-in CPU, it's fully equipped to handle advanced home uses like smooth streaming, online gaming, efficient home office setups, and seamless networked home automation. Additionally, the CRS326-24G-2S+IN enhances your network security with a firewall, efficiently handles Network Address Translation (NAT), and supports VPN connections.
Customize Your Network Solution
With a dual boot option, you can choose SwOS for simplicity or RouterOS for advanced control, tailoring your solution to your network needs.
The CRS326-24G-2S+IN brings a host of essential features to enhance your network. These capabilities include optimizing data transfer between ports, strengthening security through MAC filtering, creating isolated networks for better organization and security, duplicating traffic for analysis, controlling bandwidth allocation to prevent congestion, and tailoring data manipulation for improved routing. Each feature serves a distinct purpose in boosting your network's efficiency, security, and overall performance.
Optimized Operations and Reliability
Enjoy effortless connections with 24 high-speed 1 Gbps RJ45 ports and 2 rapid 10G SFP+ ports. The SFP+ cage of the CRS326-24G-2S+IN works with both 1.25G SFP and 10G SFP+ modules, supporting various network technologies and requirements.
Equipped with the robust 98DX3236 chipset running at a speedy 800 MHz core speed and backed by 512 MB of RAM, the CRS326-24G-2S+IN brings exceptional performance to your home network, ensuring smooth data handling and efficient operations. Its 16 MB storage memory helps the switch run smoothly and handle data efficiently. This memory stores important information and configurations that the switch needs to operate effectively, contributing to its overall performance and reliability.
Effortless Integration
The CRS326-24G-2S+IN seamlessly integrates into your living space, enclosed in a fanless desktop case that maintains a subtle profile, reduces noise and improves energy efficiency. Despite its compact size, this switch retains the power and functionality of its larger rackmount counterpart, making it ideal for home environments where space is limited.
Compare with similar products
 
Ethernet Ports
24 x 1 Gbps

24 x 1 Gbps

24 x 1 Gbps

SFP Ports
2 x 10 Gbps

2 x 10 Gbps

2 x 10 Gbps

24 x 10 Gbps

QSFP Ports

2 x 40 Gbps

USB Ports

1 x USB-A 2.0

RAM
512 MB

N/A

512 MB

64 MB

Storage Memory
16 MB

2 MB

16 MB

16 MB

Form Factor
Desktop

Rack-mounted 19"

Rack-mounted 19"

Rack-mounted 19"

Operating System
RouterOS

SwOS

RouterOS

RouterOS
|   | | | | |
| --- | --- | --- | --- | --- |
| Ethernet Ports | 24 x 1 Gbps | 24 x 1 Gbps | 24 x 1 Gbps | |
| SFP Ports | 2 x 10 Gbps | 2 x 10 Gbps | 2 x 10 Gbps | 24 x 10 Gbps |
| QSFP Ports | | | | 2 x 40 Gbps |
| USB Ports | | | | 1 x USB-A 2.0 |
| RAM | 512 MB | N/A | 512 MB | 64 MB |
| Storage Memory | 16 MB | 2 MB | 16 MB | 16 MB |
| Form Factor | Desktop | Rack-mounted 19" | Rack-mounted 19" | Rack-mounted 19" |
| Operating System | RouterOS | SwOS | RouterOS | RouterOS |