MikroTik CCR2004-16G-2S+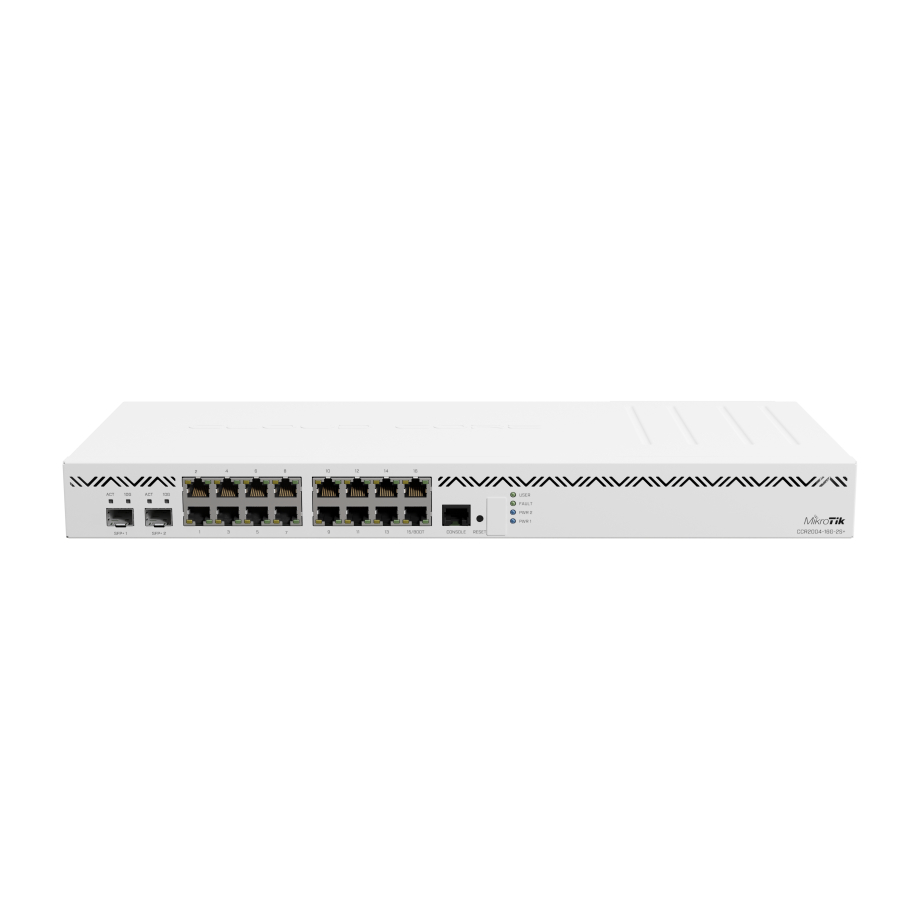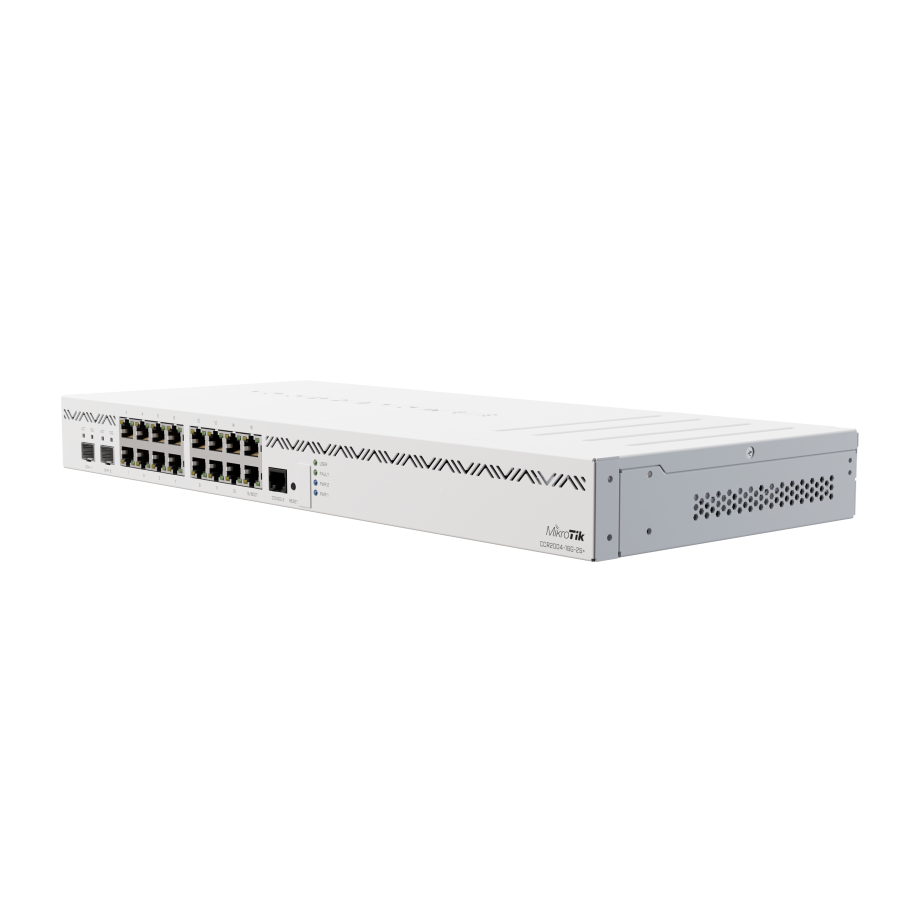 MikroTik MTCNA Certificate
MikroTik Value Added Distributor
MikroTik MTCNA Certificate
MikroTik Value Added Distributor
Available product variations
Detailed description
Consolidating Networks with CCR
MikroTik's Cloud Core Router series, introduced in early 2023, represents a cutting-edge lineup of high-capacity routers designed to connect and consolidate small computer networks into a single large network. These routers offer powerful single-core performance, making them ideal for handling heavy operations with per-connection processing. The series features a range of models with various port configurations and redundant power supplies, catering to diverse networking needs for businesses, ISPs, research facilities, and more. With their advanced features and affordability, MikroTik's Cloud Core Routers are a reliable choice for taking networking setups to the next level.
Enhanced Networking Performance
Upgrade your network capabilities with the MikroTik CCR2004-16G-2S+ router, a powerful and affordable solution that redefines single-core performance. Featuring the AL32400 4-Core 1.7GHz Chipset, this router surpasses all previous CCR models, making it an ideal choice for heavy operations that rely on per-connection processing, such as managing queues with ease.
Seamless Connectivity & Versatile Ports
The CCR2004-16G-2S+ boasts a total of 18 wired ports, including 16x Gigabit Ethernet ports and two 10G SFP+ cages. With such an extensive range of ports, you can effortlessly handle data-intensive tasks and achieve lightning-fast data transfers over wired connections. Whether you are expanding your office setup or managing a large network, the router's scalable design ensures you can meet your growing demands with ease.
Reliability in a Compact Package
Housed in a classic white 1U rackmount case, the CCR2004-16G-2S+ not only delivers exceptional performance but also ensures seamless integration into your network setup. Equipped with 4GB of DDR4 RAM and 128MB of storage memory, the router efficiently handles advanced configurations and updates, ensuring smooth and stable operation at all times.
Efficient Cooling & Redundant Power
With active cooling in place, the CCR2004-16G-2S+ effectively maintains optimal temperatures during operation, ensuring consistent and reliable performance even under heavy workloads. Moreover, the built-in dual redundant power supplies offer an added layer of security, ensuring uninterrupted network connectivity.
Future-Proof Connectivity
Embrace next-level connectivity with the two 10G SFP+ cages, offering blazing-fast data transmission rates. These high-speed ports not only guarantee seamless connections but also prepare your network for future technological advancements, making the CCR2004-16G-2S+ a smart investment for years to come.
Compare with similar products
 
Ethernet ports
16 x 1 Gbps

16 x 1 Gbps

1 x 1 Gbps

13 x 1 Gbps

1 x 1 Gbps

SFP ports
2 x 10G SFP+

2 x 10G SFP+

12 x 10G SFP+, 2 x 25G SFP28

4 x 10G SFP+

12 x 25G SFP28, 2 x 100G SFP28

Chipset
AL32400, 4-Core, 1.7GHz

AL32400, 4-Core, 1.2GHz

AL32400, 4-Core, 1.7GHz

AL73400, 16-Core, 2GHz

AL73400, 16-Core, 2GHz

RAM
4 MB

4 MB

4 MB

16 MB

16 MB

Storage Memory
128 MB

128 MB

128 MB

128 MB

128 MB

Mounting Method
RackMount

RackMount, Desktop

RackMount

RackMount

RackMount

Integration Capabilities

1 x CCR2004-1G-2XS-PCIe

2 x CCR2004-1G-2XS-PCIe
|   | | | | | |
| --- | --- | --- | --- | --- | --- |
| Ethernet ports | 16 x 1 Gbps | 16 x 1 Gbps | 1 x 1 Gbps | 13 x 1 Gbps | 1 x 1 Gbps |
| SFP ports | 2 x 10G SFP+ | 2 x 10G SFP+ | 12 x 10G SFP+, 2 x 25G SFP28 | 4 x 10G SFP+ | 12 x 25G SFP28, 2 x 100G SFP28 |
| Chipset | AL32400, 4-Core, 1.7GHz | AL32400, 4-Core, 1.2GHz | AL32400, 4-Core, 1.7GHz | AL73400, 16-Core, 2GHz | AL73400, 16-Core, 2GHz |
| RAM | 4 MB | 4 MB | 4 MB | 16 MB | 16 MB |
| Storage Memory | 128 MB | 128 MB | 128 MB | 128 MB | 128 MB |
| Mounting Method | RackMount | RackMount, Desktop | RackMount | RackMount | RackMount |
| Integration Capabilities | | | | 1 x CCR2004-1G-2XS-PCIe | 2 x CCR2004-1G-2XS-PCIe |