MikroTik CCR2216-1G-12XS-2XQ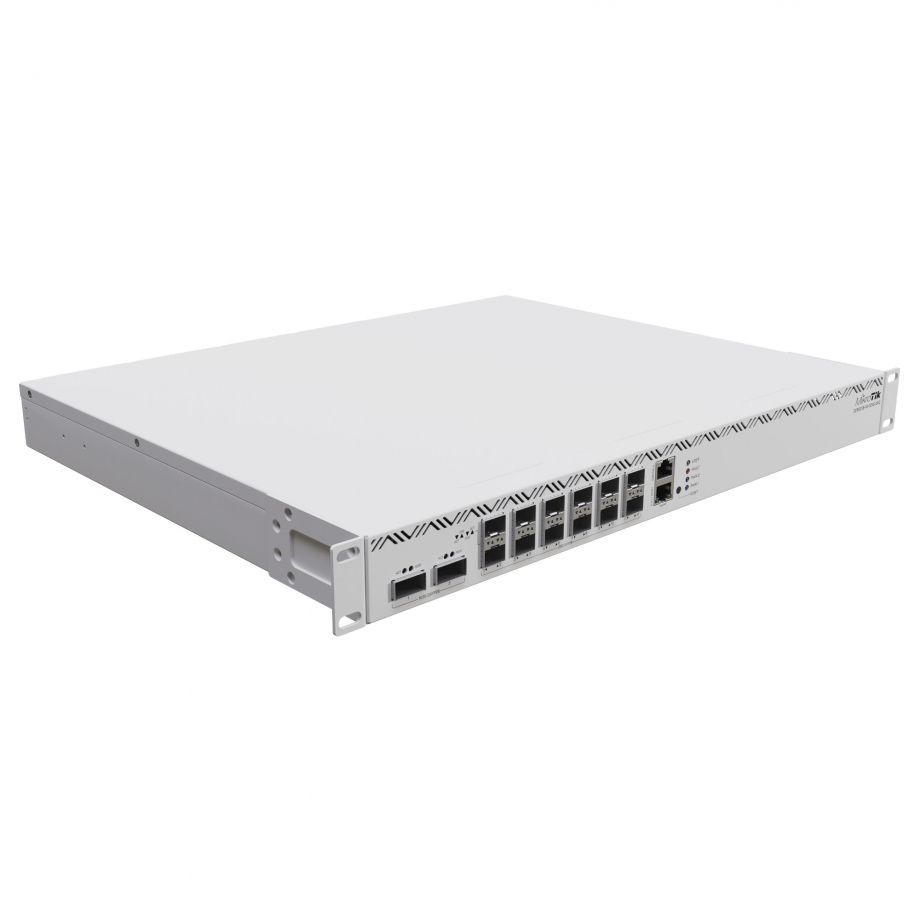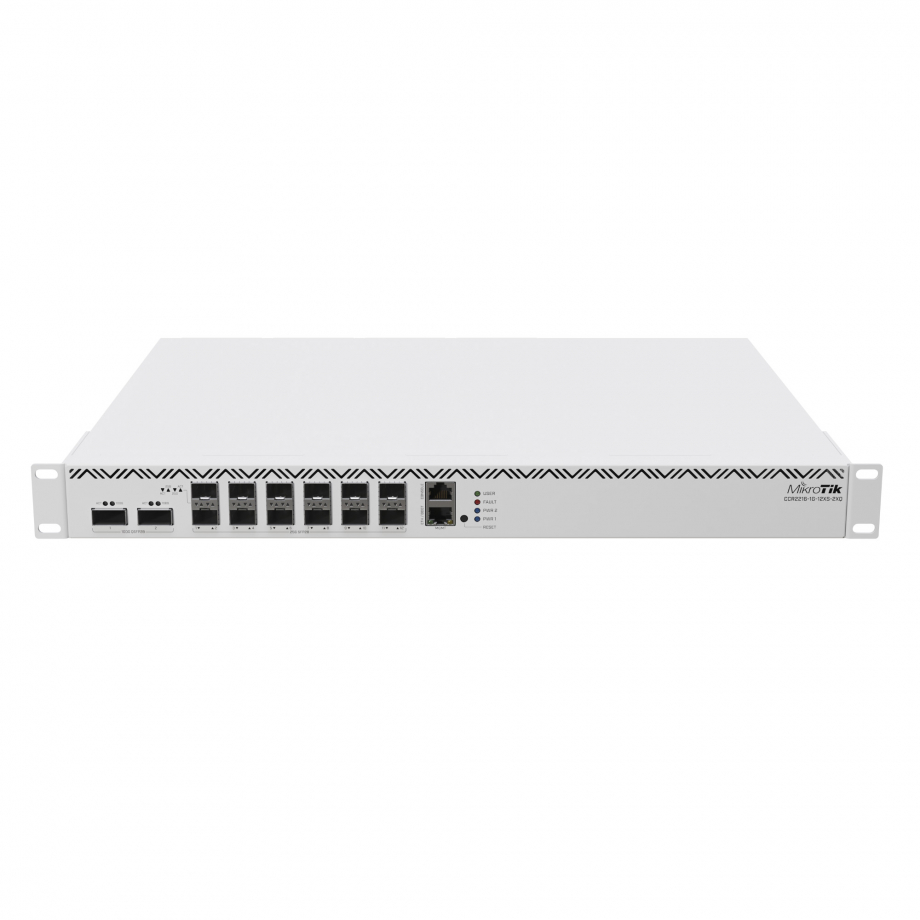 Short description
Cloud Core Router, 1x Gigabit Ethernet port, 12x 25G SFP28 ports, 2x 100G QSFP ports, 2x M.2 SATA slot
Detailed description
Consolidating Networks with CCR
MikroTik's Cloud Core Router series, introduced in early 2023, represents a cutting-edge lineup of high-capacity routers designed to connect and consolidate small computer networks into a single large network. These routers offer powerful single-core performance, making them ideal for handling heavy operations with per-connection processing. The series features a range of models with various port configurations and redundant power supplies, catering to diverse networking needs for businesses, ISPs, research facilities, and more. With their advanced features and affordability, MikroTik's Cloud Core Routers are a reliable choice for taking networking setups to the next level.
Future-Ready Networking
Introducing the MikroTik CCR2216-1G-12XS-2XQ, a cutting-edge router that brings the future of networking right to you. Designed for research, ISPs, file hosting, and more, this remarkable Cloud Core Router 2216 features the Marvell Prestera Aldrin2 switch-chip with L3 Hardware Offloading and four 25G CPU connection lines, enabling lightning-fast performance that leaves traditional routers behind.
Versatile Ports for High Speeds
The CCR2216-1G-12XS-2XQ is your gateway to 100 Gigabit networking made easy and affordable. Featuring 2x QSFP28 cages for ultra-fast 100 Gigabit connectivity, along with 12x SFP28 cages for 25 Gigabit networking, and a Gigabit Ethernet port, this router guarantees smooth data transmission, making it ideal for handling data-intensive tasks.
Robust Performance & Storage
Powered by the AL73400 16-Core 2GHz Chipset, the CCR2216-1G-12XS-2XQ sets a new standard in single-core performance. With a processor that's at least 4x faster than the CCR1072 Tile CPU, this router is designed to handle heavy operations and complex tasks with ease. Coupled with 16 GB of RAM and 128MB of NAND storage, this powerhouse can effortlessly handle advanced configurations and updates, ensuring a smooth and stable operation.
Enhanced Cooling & Redundant Power
The CCR2216-1G-12XS-2XQ boasts an efficient cooling system, allowing it to maintain optimal temperatures even under heavy workloads, guaranteeing consistent and reliable performance. With built-in dual redundant power supplies, you can rest assured that your network stays connected, avoiding any unexpected downtime that could disrupt your operations.
Expandable & Future-Proof
Designed with scalability in mind, the CCR2216-1G-12XS-2XQ is compatible with 2 x CCR2004-1G-2XS-PCIe, providing additional storage and versatility options. This router is a forward-thinking investment, with its next-level 100 Gigabit connectivity and advanced technology, ensuring your network remains future-proof for years to come.
Compare with similar products
 
Ethernet ports
1 x 1 Gbps

16 x 1 Gbps

16 x 1 Gbps

1 x 1 Gbps

13 x 1 Gbps

SFP ports
12 x 25G SFP28, 2 x 100G SFP28

2 x 10G SFP+

2 x 10G SFP+

12 x 10G SFP+, 2 x 25G SFP28

4 x 10G SFP+

Chipset
AL73400, 16-Core, 2GHz

AL32400, 4-Core, 1.2GHz

AL32400, 4-Core, 1.7GHz

AL32400, 4-Core, 1.7GHz

AL73400, 16-Core, 2GHz

RAM
16 MB

4 MB

4 MB

4 MB

16 MB

Storage Memory
128 MB

128 MB

128 MB

128 MB

128 MB

Mounting Method
RackMount

RackMount, Desktop

RackMount

RackMount

RackMount

Integration Capabilities
2 x CCR2004-1G-2XS-PCIe

1 x CCR2004-1G-2XS-PCIe
|   | | | | | |
| --- | --- | --- | --- | --- | --- |
| Ethernet ports | 1 x 1 Gbps | 16 x 1 Gbps | 16 x 1 Gbps | 1 x 1 Gbps | 13 x 1 Gbps |
| SFP ports | 12 x 25G SFP28, 2 x 100G SFP28 | 2 x 10G SFP+ | 2 x 10G SFP+ | 12 x 10G SFP+, 2 x 25G SFP28 | 4 x 10G SFP+ |
| Chipset | AL73400, 16-Core, 2GHz | AL32400, 4-Core, 1.2GHz | AL32400, 4-Core, 1.7GHz | AL32400, 4-Core, 1.7GHz | AL73400, 16-Core, 2GHz |
| RAM | 16 MB | 4 MB | 4 MB | 4 MB | 16 MB |
| Storage Memory | 128 MB | 128 MB | 128 MB | 128 MB | 128 MB |
| Mounting Method | RackMount | RackMount, Desktop | RackMount | RackMount | RackMount |
| Integration Capabilities | 2 x CCR2004-1G-2XS-PCIe | | | | 1 x CCR2004-1G-2XS-PCIe |