MikroTik CRS305-1G-4S+IN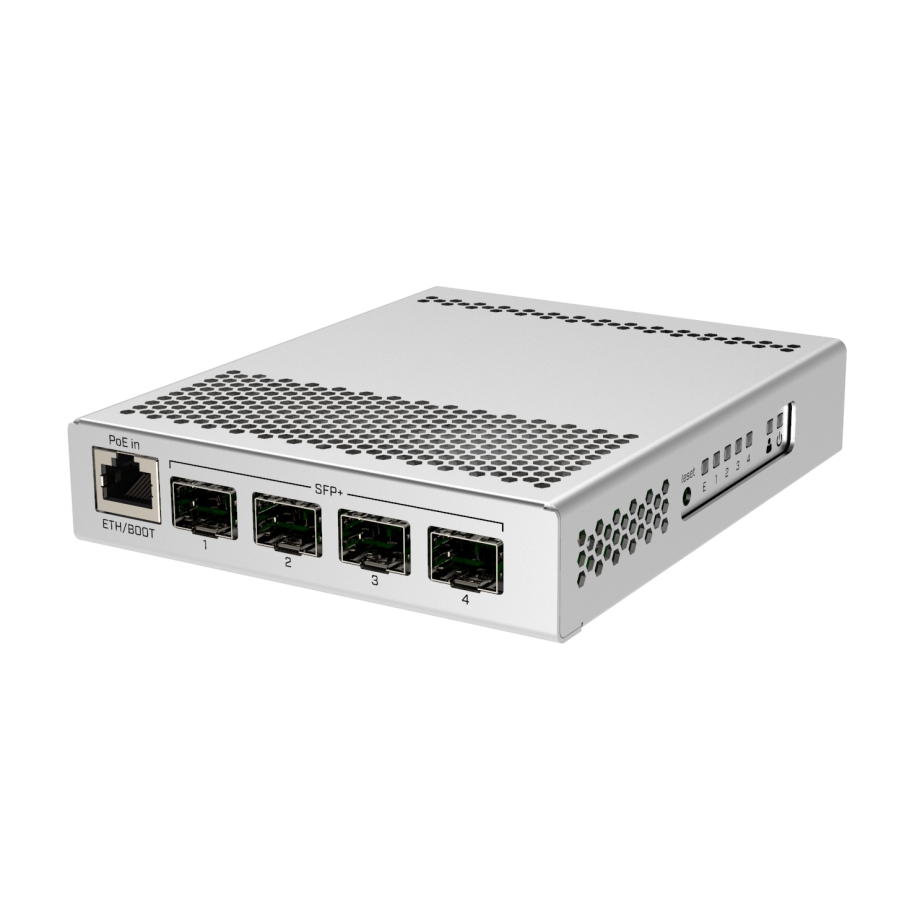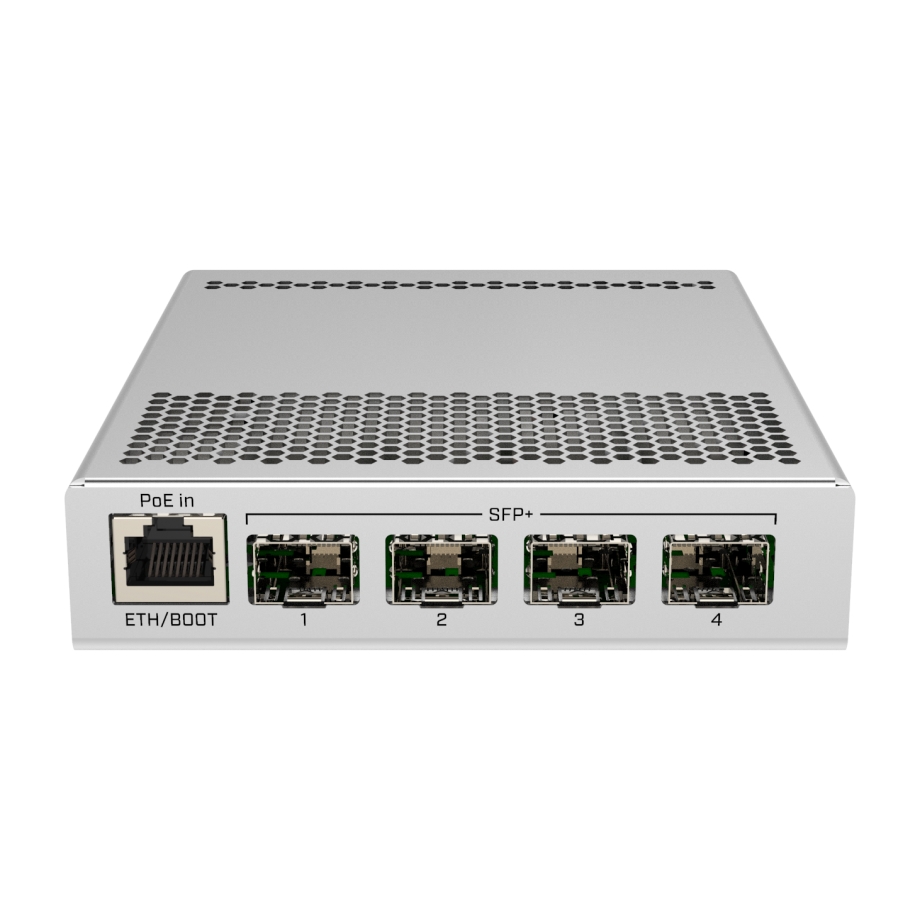 MikroTik MTCNA Certificate
MikroTik Value Added Distributor
MikroTik MTCNA Certificate
MikroTik Value Added Distributor
Available product variations
Detailed description
Elevate Your Network Performance
Expand your network's capabilities with the MikroTik CRS305-1G-4S+IN. This compact and durable switch expands your connectivity potential, allowing for seamless data flow and efficient network management. Its reliable design ensures uninterrupted operation, minimizing downtime and contributing to a more dependable network experience.
With four SFP+ ports, the CRS305 achieves data transfer rates of up to 10 Gbps per port, ensuring your network can handle demanding tasks effortlessly. Additionally, a dedicated Gigabit Ethernet port provides convenient management access, ensuring smooth control over your network operations.
Reliable Performance & Operation
Say goodbye to bottlenecks and performance constraints. The CRS305 boasts a non-blocking throughput of 41 Gbps and a switching capacity of 82 Gbps, allowing your network to thrive even under heavy workloads. With a forwarding rate of 61 Mpps, data flows effortlessly, ensuring your network remains consistently efficient.
Reliability is essential for a strong network, and the CRS305 prioritizes it. Equipped with two DC jacks, this switch provides power redundancy, offering power backup to maintain seamless operation even during power fluctuations.
Versatility & Convenience
The CRS305 isn't just about performance; it's also designed with user experience in mind. The switch features a sleek metallic case and operates silently with no fans, which makes it suitable for various environments, including noise-sensitive spaces.
Choose the operating system that matches your preferences. The CRS305 offers a "Dual boot" feature, enabling you to select between RouterOS and SwOS. Opt for SwOS if you prefer a streamlined interface focused on switch-specific functions, or go for RouterOS to tap into advanced routing and Layer 3 capabilities.
Power Efficiency
Operating efficiently is a priority. The CRS305 achieves this by consuming a maximum of 12 watts (18 watts with attachments), making it an energy-conscious choice that doesn't sacrifice performance. Moreover, the switch supports PoE+ IEEE 802.3at/af and passive (PoE 12-57 V), expanding your deployment options.
Compare with similar products
 
Ethernet Ports
1 x 1 Gbps

1 x SFP/ETH Combo 1 Gbps

1 x 1 Gbps

SFP Ports
4 x 10 Gbps

5 x 1.25 Gbps

8 x 10 Gbps

RAM
512 MB

128 MB

512 MB

Storage Memory
16 MB

16 MB

16 MB

Chipset
98DX3236, 1 core, 800 MHz

QCA8511, 1 core, 400 MHz

98DX8208, 2 core, 800 MHz

Max Power Consumption
12 W

11 W

17 W

Form Factor
Desktop

Desktop

Rack-mounted 19", Desktop

Mounting Method
Tabletop

Wall Mount, Tabletop

RackMount, Tabletop
|   | | | |
| --- | --- | --- | --- |
| Ethernet Ports | 1 x 1 Gbps | 1 x SFP/ETH Combo 1 Gbps | 1 x 1 Gbps |
| SFP Ports | 4 x 10 Gbps | 5 x 1.25 Gbps | 8 x 10 Gbps |
| RAM | 512 MB | 128 MB | 512 MB |
| Storage Memory | 16 MB | 16 MB | 16 MB |
| Chipset | 98DX3236, 1 core, 800 MHz | QCA8511, 1 core, 400 MHz | 98DX8208, 2 core, 800 MHz |
| Max Power Consumption | 12 W | 11 W | 17 W |
| Form Factor | Desktop | Desktop | Rack-mounted 19", Desktop |
| Mounting Method | Tabletop | Wall Mount, Tabletop | RackMount, Tabletop |