MikroTik Chateau LTE18 ax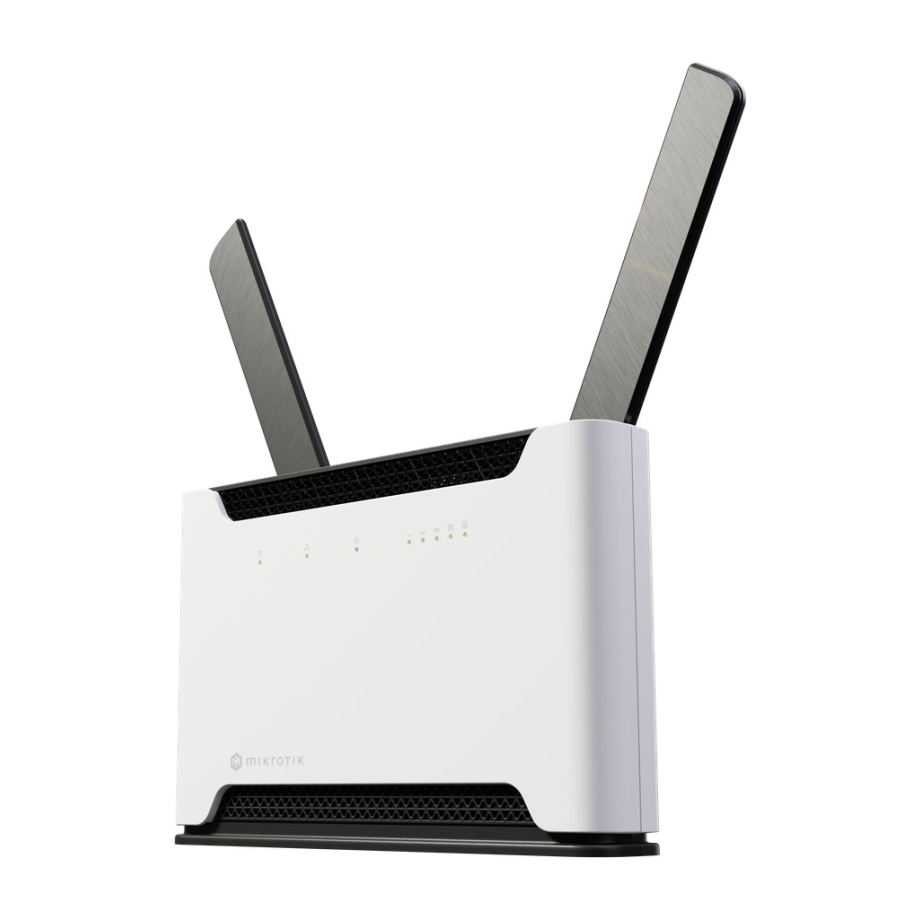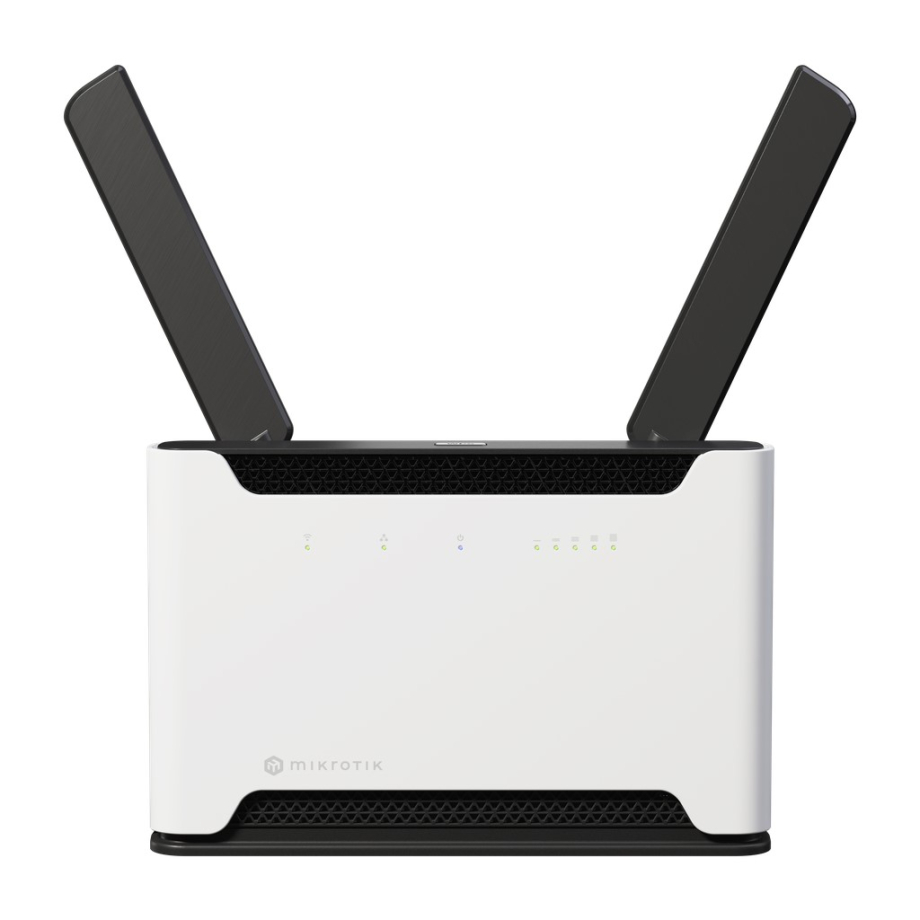 Short description
Wi-Fi 6 Home AP with LTE Support, Quad-Core 1.8GHz CPU, 802.11ax + Wave2, 4x GbE ports, 1x 2.5GbE Port
Manufacturer part number
S53UG+5HaxD2HaxD-TC&EG18-EA
Detailed description
Elevating Home Networking
The MikroTik Chateau LTE series redefines home networking with its collection of routers designed to meet modern connectivity needs. The Chateau series is an incredible choice for both tech experts and beginners. It provides a promising solution for those looking for cost-effective, high-performance choices. As the world embraces mobile internet, the Chateau series offers a strong alternative to ordinary service provider routers. Drawing on more than 20 years of networking experience, this series showcases MikroTik's dedication to making advanced networking accessible, providing a secure gateway to exceptional connectivity. Whether you want fast LTE connections, strong Ethernet performance, or a mix of both, the MikroTik Chateau series offers top-level connectivity.
Continuing Success
Introducing the MikroTik Chateau LTE18 ax, an upgraded version of the acclaimed Chateau LTE18, setting a new standard in home networking excellence. This iteration comes packed with even more impressive features, delivering faster wireless capabilities, an improved CPU, and an exceptional addition of 2.5 Gigabit Ethernet.
After a successful LTE18 launch with LMT, the top mobile operator in Latvia, the Chateau LTE18 ax replaced traditional brands and experienced a surge in customer satisfaction. Users praised the enhanced speed, stability, and abundance of useful RouterOS features, solidifying its position as a preferred choice for various settings, from traditional homes to modern corporate environments.
Impressive Connectivity
The LTE18 ax introduces cutting-edge wireless capabilities through the Generation 6 802.11ax standard and Wave 2 support. Compared to previous models, it boasts remarkable speed improvements, offering up to 40% higher speeds in the 5 GHz spectrum and up to 90% higher speeds in the 2.4 GHz spectrum. The enhancements extend to the wireless radio and antennas, as well as support for MIMO 4x4 on LTE. With four built-in LTE antennas and an option for two external network antennas, the LTE18 ax ensures exceptional coverage throughout your entire home.
In line with its advanced wireless capabilities, the Chateau LTE18 ax is equipped with robust wired connectivity features. Retaining the four Gigabit Ethernet ports, it introduces a valuable addition of a 2.5 Gigabit Ethernet port, providing faster and more versatile wired connections. Additionally, a USB port offers convenient storage options.
Performance, Security & Software
At the core of the Chateau LTE18 ax's outstanding performance is a modern quad-core CPU clocked at 1.8 GHz, combined with a solid 1 GB of RAM. This powerful configuration ensures easy handling of demanding tasks: from complex firewall rules to IPsec hardware encryption and advanced RouterOS features. Moreover, the Chateau LTE18 ax includes WPA3 advanced encryption support, enhancing security for a protected online experience.
With each iteration of RouterOS, users gain the freedom to explore diverse setups and harness the right tools for every scenario. Run secure VPNs, enable parental controls, prioritize traffic with QoS, configure complex firewall rules, and more. The possibilities are extensive and adaptable to your specific needs, making the Chateau LTE18 ax suitable for various user profiles.
Reliable Production
With Chateau LTE18 ax, MikroTik show their strong dedication to production integrity. Built in-house with reliable components and trusted partners like Qualcomm, the router maintains high quality and safety standards. Moreover, the Chateau LTE18 ax offers customizable branding options, making it an ideal choice for mobile operators seeking tailored solutions for their clients.
As the demand for secure remote work options and high-speed internet connectivity grows, the Chateau LTE18 ax stands as a reliable solution to meet these modern requirements. Say goodbye to compromises and enjoy seamless networking with the Chateau LTE18 ax.
Compare with similar products
 
Mobile Standard
LTE Cat. 18

LTE Cat. 6

LTE Cat. 6

LTE Cat. 12

Mobile Download/Upload
1200/150Mbps

300/50Mbps

300/50Mbps

600/100Mbps

Wireless Standard
Wi-Fi 6

Wi-Fi 5

Wi-Fi 6

Wi-Fi 5

2.4GHz Radio Rate
573Mbps

300Mbps

573Mbps

300Mbps

5GHz Radio Rate
1.2Gbps

867Mbps

1.2Gbps

867Mbps

Ethernet Ports
4 x 1 Gbps, 1 x 2.5 Gbps

5 x 1 Gbps

4 x 1 Gbps, 1 x 2.5 Gbps

5 x 1 Gbps

USB Ports
1 x USB-A 3.0

1 x USB-A 2.0

1 x USB-A 2.0

1 x USB-A 2.0

RAM
1 GB

256 MB

1 GB

256 MB

Storage Memory
128 MB

16 MB

128 MB

16 MB
|   | | | | |
| --- | --- | --- | --- | --- |
| Mobile Standard | LTE Cat. 18 | LTE Cat. 6 | LTE Cat. 6 | LTE Cat. 12 |
| Mobile Download/Upload | 1200/150Mbps | 300/50Mbps | 300/50Mbps | 600/100Mbps |
| Wireless Standard | Wi-Fi 6 | Wi-Fi 5 | Wi-Fi 6 | Wi-Fi 5 |
| 2.4GHz Radio Rate | 573Mbps | 300Mbps | 573Mbps | 300Mbps |
| 5GHz Radio Rate | 1.2Gbps | 867Mbps | 1.2Gbps | 867Mbps |
| Ethernet Ports | 4 x 1 Gbps, 1 x 2.5 Gbps | 5 x 1 Gbps | 4 x 1 Gbps, 1 x 2.5 Gbps | 5 x 1 Gbps |
| USB Ports | 1 x USB-A 3.0 | 1 x USB-A 2.0 | 1 x USB-A 2.0 | 1 x USB-A 2.0 |
| RAM | 1 GB | 256 MB | 1 GB | 256 MB |
| Storage Memory | 128 MB | 16 MB | 128 MB | 16 MB |