MikroTik Chateau LTE6 ax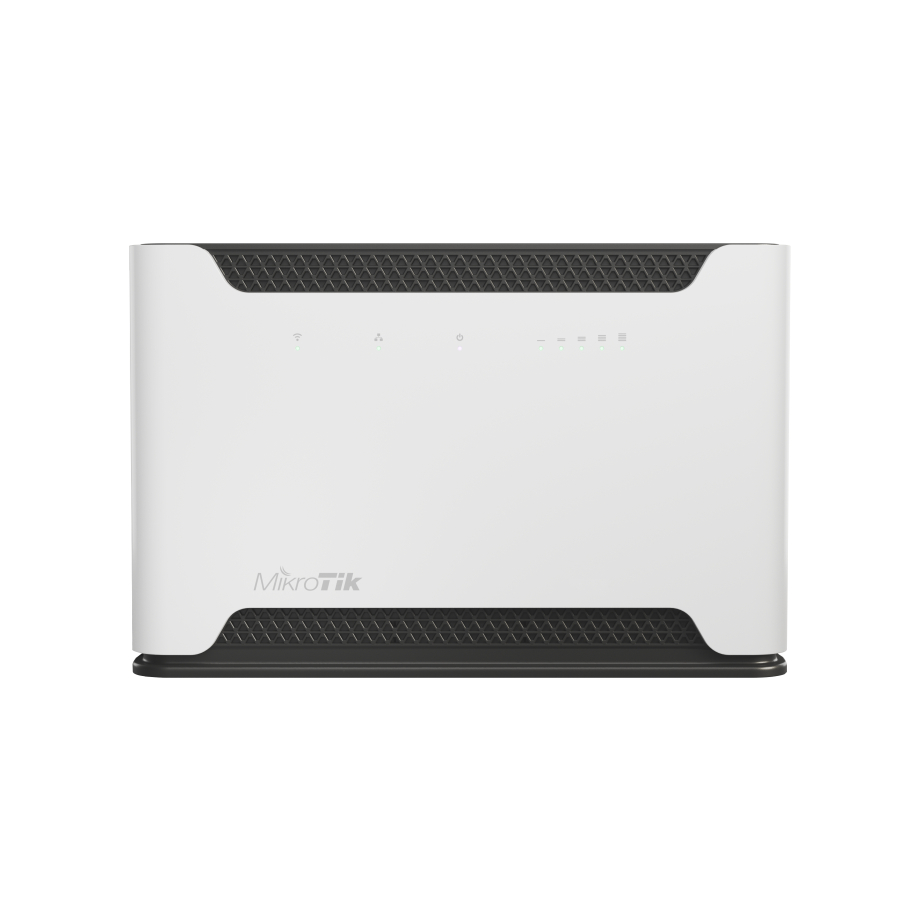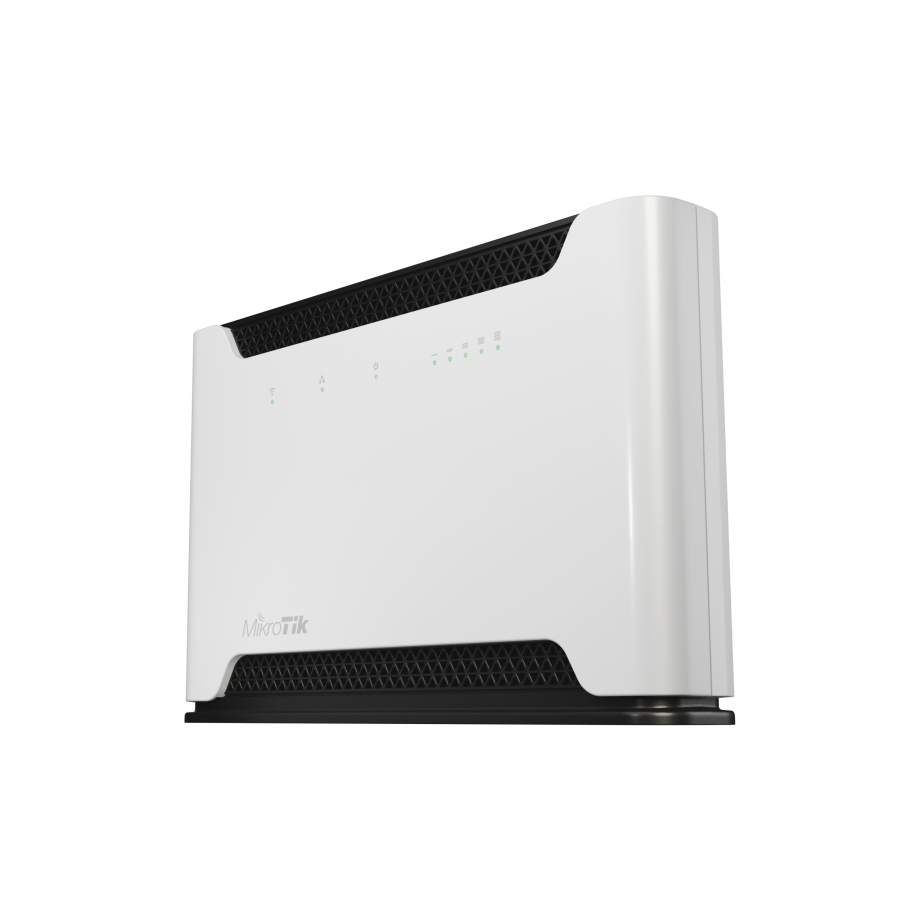 Short description
Dual-Band Access Point, LTE Cat6, 802.11ax, 1.8 GHz CPU, 4x Gigabit Ethernet Ports, 1x 2.5 Gigabit Ethernet Port, 1GB RAM
Manufacturer part number
S53UG+5HaxD2HaxD-TC&FG621-EA
Detailed description
Elevating Home Networking
The MikroTik Chateau LTE series redefines home networking with its collection of routers designed to meet modern connectivity needs. The Chateau series is an incredible choice for both tech experts and beginners. It provides a promising solution for those looking for cost-effective, high-performance choices. As the world embraces mobile internet, the Chateau series offers a strong alternative to ordinary service provider routers. Drawing on more than 20 years of networking experience, this series showcases MikroTik's dedication to making advanced networking accessible, providing a secure gateway to exceptional connectivity. Whether you want fast LTE connections, strong Ethernet performance, or a mix of both, the MikroTik Chateau series offers top-level connectivity.
Optimal Design for Modern Living
Are you seeking that extra edge in speed and responsiveness for your mobile network? Your solution is here with the Chateau LTE6 ax router. Designed to cater to the speed and performance requirements of Gen6 ax wireless, this supercharged access point delivers even faster wireless connectivity. Ideal for busy homes or medium-sized offices, it's ready to enhance your online experience.
Experience the freedom of reliable and swift internet connectivity with the Chateau LTE6 ax. As households increasingly switch to mobile internet, the Chateau LTE6 ax router answers the call for a dependable and feature-rich solution. No more disappointing default routers from your service providers that limit your capabilities. Engineered with over two decades of MikroTik's networking expertise, the Chateau LTE6 ax router blends extensive features, accessible pricing and design.
Dual-Band Adaptability
Embrace the capabilities of the Chateau LTE6 ax, a high-speed dual-band home access point that adapts to your unique needs. Its powerful quad-core ARM CPU ensures efficient operations, while the fast, reliable, and responsive CAT6 LTE modem guarantees exceptional mobile connectivity. Powered by RouterOS software, the Chateau LTE6 ax router gives you the power to customize and manage your network with ease. Regardless of your technical background, whether you're an IT professional pushing its limits or a regular household simply plugging it in, the Chateau LTE6 ax router offers a world of versatile options.
Connectivity for Every Scenario
Bridge the connectivity gap and say goodbye to slow internet speeds with the Chateau LTE6 ax router. Achieve consistent speeds of up to 300 Mbps through carrier aggregation, a technology that allows devices to utilize multiple bands simultaneously. Especially useful in busy LTE areas, the Chateau LTE6 excels in crowded places and improves performance in weak signal areas, making it great for both cities and the countryside. Enjoy uninterrupted online activities with the Chateau LTE6 ax router, which eliminates bottlenecks and enhances your connectivity.
Empowerment through Advanced Features
Discover the complete power of your network through the advanced RouterOS features built into the Chateau LTE6 ax. Experience enterprise-level solutions at consumer-grade pricing, enabling you to run secure VPNs, implement parental controls, configure complex firewall rules, and utilize IPsec hardware acceleration. Advanced capabilities or simplicity: this versatile access point has it all.
Created with reliable partners and following strict safety rules, MikroTik guarantees security and reliability in each device. This router reflects MikroTik's commitment to dependable solutions, delivering a secure and smooth experience.
Compare with similar products
 
Mobile Standard
LTE Cat. 6

LTE Cat. 6

LTE Cat. 12

LTE Cat. 18

Mobile Download/Upload
300/50Mbps

300/50Mbps

600/100Mbps

1200/150Mbps

Wireless Standard
Wi-Fi 6

Wi-Fi 5

Wi-Fi 5

Wi-Fi 6

2.4GHz Radio Rate
573Mbps

300Mbps

300Mbps

573Mbps

5GHz Radio Rate
1.2Gbps

867Mbps

867Mbps

1.2Gbps

Ethernet Ports
4 x 1 Gbps, 1 x 2.5 Gbps

5 x 1 Gbps

5 x 1 Gbps

4 x 1 Gbps, 1 x 2.5 Gbps

USB Ports
1 x USB-A 2.0

1 x USB-A 2.0

1 x USB-A 2.0

1 x USB-A 3.0

RAM
1 GB

256 MB

256 MB

1 GB

Storage Memory
128 MB

16 MB

16 MB

128 MB
|   | | | | |
| --- | --- | --- | --- | --- |
| Mobile Standard | LTE Cat. 6 | LTE Cat. 6 | LTE Cat. 12 | LTE Cat. 18 |
| Mobile Download/Upload | 300/50Mbps | 300/50Mbps | 600/100Mbps | 1200/150Mbps |
| Wireless Standard | Wi-Fi 6 | Wi-Fi 5 | Wi-Fi 5 | Wi-Fi 6 |
| 2.4GHz Radio Rate | 573Mbps | 300Mbps | 300Mbps | 573Mbps |
| 5GHz Radio Rate | 1.2Gbps | 867Mbps | 867Mbps | 1.2Gbps |
| Ethernet Ports | 4 x 1 Gbps, 1 x 2.5 Gbps | 5 x 1 Gbps | 5 x 1 Gbps | 4 x 1 Gbps, 1 x 2.5 Gbps |
| USB Ports | 1 x USB-A 2.0 | 1 x USB-A 2.0 | 1 x USB-A 2.0 | 1 x USB-A 3.0 |
| RAM | 1 GB | 256 MB | 256 MB | 1 GB |
| Storage Memory | 128 MB | 16 MB | 16 MB | 128 MB |