MikroTik hAP ax lite LTE6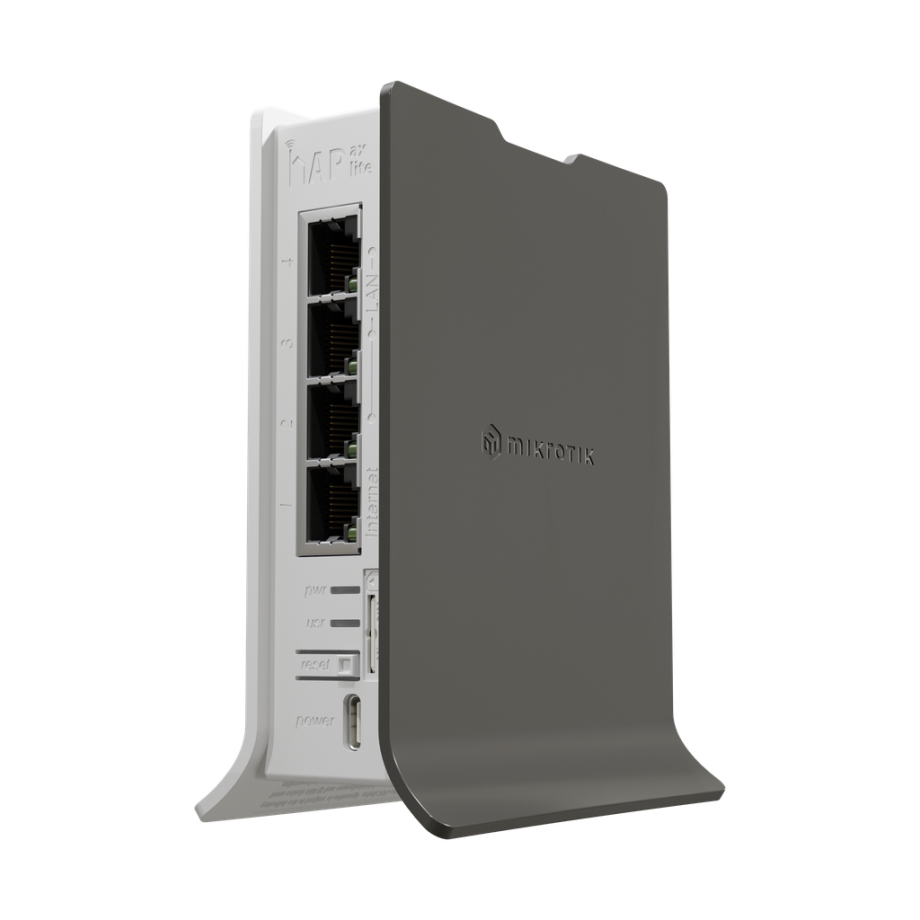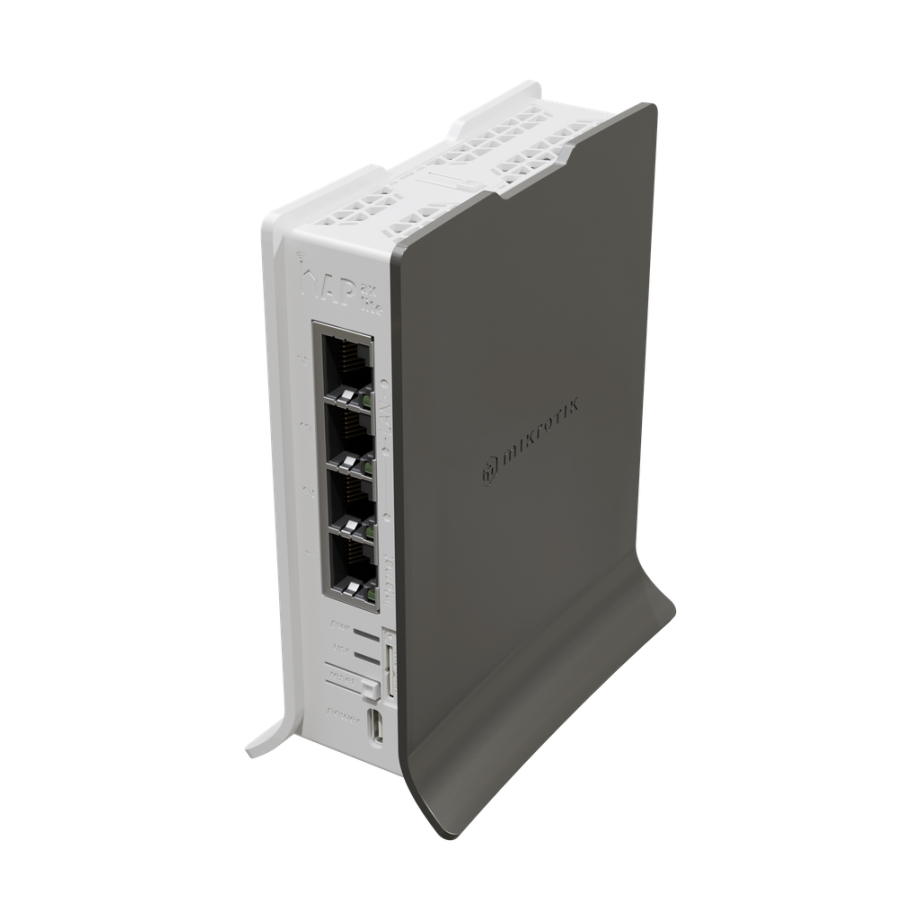 MikroTik MTCNA Certificate
MikroTik Value Added Distributor
MikroTik MTCNA Certificate
MikroTik Value Added Distributor
Detailed description
Empowering Wi-Fi 6 Technology
MikroTik's hAP ax router series is a collection of home Wi-Fi routers introduced in 2023, featuring Wi-Fi 6 technology support. Designed for small homes, apartments, and small offices, the series offers a range of models to cater to various needs. The devices come equipped with powerful wireless chips, providing increased speed and stronger signal in both 2.4 GHz and 5 GHz spectrums. They boast modern CPUs, ample memory, and multiple Ethernet ports, ensuring smooth and reliable connectivity for various tasks. With the addition of advanced encryption support, the series prioritizes security. Overall, the hAP router series delivers high performance, scalability, and affordability for home networking needs.
Affordable LTE Power
Say goodbye to cable network limits with the hAP ax lite LTE6. This device brings affordable value by integrating a CAT6 modem, which is especially beneficial for areas with many LTE users. The modem uses multiple LTE bands together for seamless, fast Internet, adapting easily whether you're in a busy city or a remote area. Enjoy improved responsiveness even in weak signal zones.
Extensive Potential
Despite its small size, it's packed with valuable features. Boasting a dual-core ARM CPU and 256 MB of RAM, the hAP ax lite LTE6 serves as a solid SOHO router with LTE capabilities. Also, this router features four gigabit Ethernet ports. But that's not all – MikroTik's commitment to value-driven innovation shines through with the bonus of Wi-Fi 6 support. The 2.4 GHz Wi-Fi 6 (802.11ax) and a strong 4.3 dBi dual-chain antenna provide improved wireless performance, potentially increasing speeds by an impressive 90%.
Your Network, Your Rules
The hAP ax lite LTE6 isn't just about hardware; it's about giving you control. With the full might of RouterOS 7, you're granted a toolkit to shape your network according to your needs. Secure VPN tunneling, bandwidth shaping, user access control, and a robust firewall – all of these features are in your hands. Your network, your rules.
Versatility Redefined
Whether you're facing the challenge of establishing a connection in an apartment where cable installation is not feasible, dealing with demanding connectivity scenarios, or requiring a mobile network solution, the hAP ax lite LTE6 redefines versatility in networking. These devices come into play when traditional cable connections are impractical, requiring the installation of a specialized router that accommodates a SIM card. This router effectively distributes mobile internet through Wi-Fi, creating a Small Office/Home Office (SOHO) setup that guarantees reliable connectivity.
Ample Storage for Smooth Operations
Performance doesn't end at connectivity; it extends to seamless operation. With 128 MB of storage memory, the hAP ax lite LTE6 ensures that essential configurations and updates are effortlessly managed. This router is designed to ensure your network runs smoothly, providing a reliable backbone for all your online activities.
Compare with similar products
 
Mobile Network Generation
3G (UMTS), 4G (LTE)

LTE Category
Cat6 – 300Mbps/50Mbps

Wireless Network standards
802.11b/g/n/ax, Wi-Fi 6

802.11a/b/g/n/ac/ax, Wi-Fi 6

802.11a/b/g/n/ac/ax, Wi-Fi 6

802.11a/b/g/n/ac/ax, Wi-Fi 6

2.4GHz Radio Rate
573 Mbps

573 Mbps

573 Mbps

573 Mbps

5GHz Radio Rate

1.2 Gbps

1.2 Gbps

Wireless Antenna Frequency Range & Gain
2.4 - 2.483 (GHz) 4.3 (dBi)

2.4 - 2.483 (GHz) 4.3 (dBi)

2.4 - 2.483 (GHz) 4.5 (dBi), 5.15 - 5.875 (GHz) 4 (dBi)

2.4 - 2.4 (GHz) 3.3 (dBi), 5 - 5 (GHz) 5.5 (dBi)

Ethernet Ports
4 x 1 Gbps

4 x 1 Gbps

5 x 1 Gbps

4 x 1 Gbps, 1 x 2.5 Gbps

PoE Out Ports

1 x Passive PoE

1 x Passive PoE

Chipset
Dual-Core IPQ-5010 800 MHz

Dual-Core IPQ-5010 1 GHz

QCN-5052, 4 core, 864 MHz

Quad-Core IPQ-6010 1.8 GHz

RAM
256 MB

256 MB

1 GB

1 GB

Storage Memory
128 MB

128 MB

128 MB

128 MB

Software
RouterOS Level 4

RouterOS Level 4

RouterOS Level 4

RouterOS Level 6

Max Power Consumption
12 W

8 W

12 W

15 W
|   | | | | |
| --- | --- | --- | --- | --- |
| Mobile Network Generation | 3G (UMTS), 4G (LTE) | | | |
| LTE Category | Cat6 – 300Mbps/50Mbps | | | |
| Wireless Network standards | 802.11b/g/n/ax, Wi-Fi 6 | 802.11a/b/g/n/ac/ax, Wi-Fi 6 | 802.11a/b/g/n/ac/ax, Wi-Fi 6 | 802.11a/b/g/n/ac/ax, Wi-Fi 6 |
| 2.4GHz Radio Rate | 573 Mbps | 573 Mbps | 573 Mbps | 573 Mbps |
| 5GHz Radio Rate | | | 1.2 Gbps | 1.2 Gbps |
| Wireless Antenna Frequency Range & Gain | 2.4 - 2.483 (GHz) 4.3 (dBi) | 2.4 - 2.483 (GHz) 4.3 (dBi) | 2.4 - 2.483 (GHz) 4.5 (dBi), 5.15 - 5.875 (GHz) 4 (dBi) | 2.4 - 2.4 (GHz) 3.3 (dBi), 5 - 5 (GHz) 5.5 (dBi) |
| Ethernet Ports | 4 x 1 Gbps | 4 x 1 Gbps | 5 x 1 Gbps | 4 x 1 Gbps, 1 x 2.5 Gbps |
| PoE Out Ports | | | 1 x Passive PoE | 1 x Passive PoE |
| Chipset | Dual-Core IPQ-5010 800 MHz | Dual-Core IPQ-5010 1 GHz | QCN-5052, 4 core, 864 MHz | Quad-Core IPQ-6010 1.8 GHz |
| RAM | 256 MB | 256 MB | 1 GB | 1 GB |
| Storage Memory | 128 MB | 128 MB | 128 MB | 128 MB |
| Software | RouterOS Level 4 | RouterOS Level 4 | RouterOS Level 4 | RouterOS Level 6 |
| Max Power Consumption | 12 W | 8 W | 12 W | 15 W |
Technical Specs / Datasheet