AmpliFi Alien Router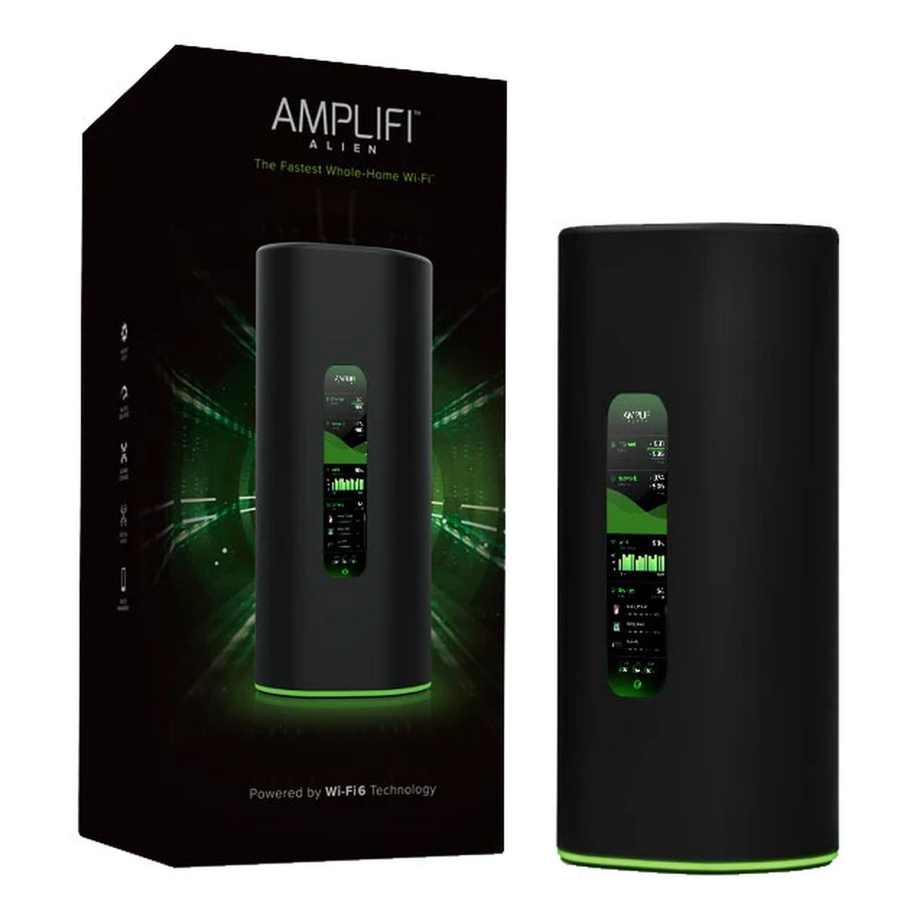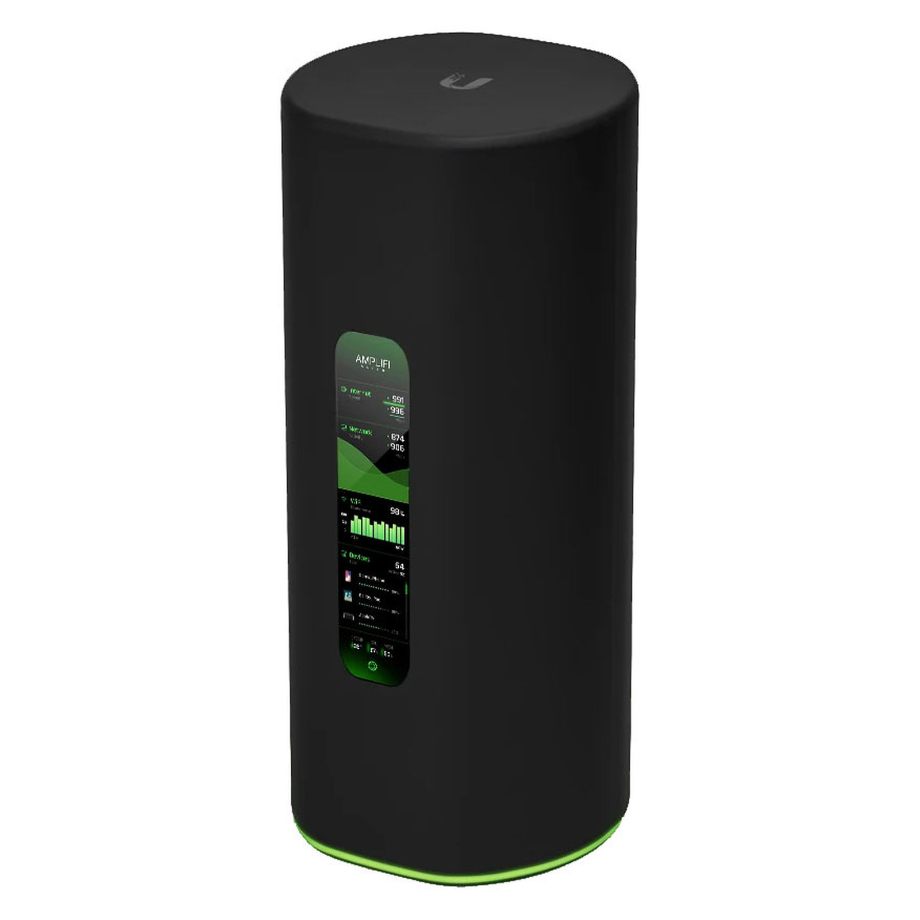 Detailed description
Dual-Band Wi-Fi 6 Router. Polished Performance
Elegantly designed AmpliFi Alien brings revolutionary Wi-Fi 6 benefits to your home. Increase your network capacity by 4x and boost coverage by 2x, while reducing battery drain in mobile devices. AmpliFi Alien comes with 2.4/5 GHz Wi-Fi 6 radios. They deliver 5952 Mbps total capacity and 12 spatial streams from a single AmpliFi Alien unit. Easily mesh multiple units over the air to build virtually unlimited Wi-Fi capacity in your home.
Intuitive Touchscreen
The vibrant touchscreen displays network status and provides instant controls. For your convenience, set the display and the green LED ring automatically turns off.
Flexible Interfaces
AmpliFi Alien is a powerful and secure router with a single Gigabit internet interface and internal power supply. Each Alien router has an integrated LAN switch with 4 Gigabit Ethernet ports. Bring Gigabit Ethernet into any room without pulling wires. Use Wi-Fi 6 for wireless connectivity and the LAN ports for local wired connectivity.
Performance
AmpliFi Alien is optimized to provide your home network with the highest possible performance, regardless of how many client devices are connected simultaneously. Utilizing MU-MIMO and OFDMA for communication across twelve Wi-Fi 6 spatial streams, Alien eliminates dead spots and increases total home network capacity by four times.
AmpliFi App. Simple Setup, Rich Controls.
Set up your AmpliFi network in a minute with the included AmpliFi app. User-friendly, yet feature-rich controls and statistics let you configure the AmpliFi Alien for your environment.
Scalable Mesh Wi-Fi Technology
Simple and powerful Wi-Fi 6 standard Mesh system that easily covers any home, providing simultaneous 4K/8K UHD streaming and online gaming to multiple clients from any room.
Compare with similar products
 
Wireless Standard
802.11a/b/g/n/ac/ax, Wi-Fi 6

802.11a/b/g/n/ac/ax, Wi-Fi 6

802.11a/b/g/n/ac

MIMO
2.4GHz 4x4, 5GHz 8x8

2.4GHz 4x4, 5GHz 8x8

2.4GHz 3x3, 5GHz 3x3

2.4GHz Radio Rate
1.15 Gbps

1.15 Gbps

450 Mbps

5GHz Radio Rate
4.8 Gbps

4.8 Gbps

1.3 Gbps

Wireless Antenna Frequency Range & Gain
2.412 - 2.472 (GHz) 3 (dBi), 5.150 - 5.875 (GHz) 6 (dBi)

2.412 - 2.472 (GHz) 3 (dBi), 5.150 - 5.875 (GHz) 6 (dBi)

2.412 - 2.472 (GHz), 5.150 – 5.250 (GHz)

Antenna range
278 m²

557 m²

557 m²

Ethernet Ports
5 x 1 Gbps

5 x 1 Gbps

5 x 1 Gbps

Chipset
Quad-Core ® Cortex ® A53 at 2.2 GHz

Quad-Core ® Cortex ® A53 at 2.2 GHz

RAM
1 GB

1 GB

Max Power Consumption
35 W

35 W

11 W
|   | | | |
| --- | --- | --- | --- |
| Wireless Standard | 802.11a/b/g/n/ac/ax, Wi-Fi 6 | 802.11a/b/g/n/ac/ax, Wi-Fi 6 | 802.11a/b/g/n/ac |
| MIMO | 2.4GHz 4x4, 5GHz 8x8 | 2.4GHz 4x4, 5GHz 8x8 | 2.4GHz 3x3, 5GHz 3x3 |
| 2.4GHz Radio Rate | 1.15 Gbps | 1.15 Gbps | 450 Mbps |
| 5GHz Radio Rate | 4.8 Gbps | 4.8 Gbps | 1.3 Gbps |
| Wireless Antenna Frequency Range & Gain | 2.412 - 2.472 (GHz) 3 (dBi), 5.150 - 5.875 (GHz) 6 (dBi) | 2.412 - 2.472 (GHz) 3 (dBi), 5.150 - 5.875 (GHz) 6 (dBi) | 2.412 - 2.472 (GHz), 5.150 – 5.250 (GHz) |
| Antenna range | 278 m² | 557 m² | 557 m² |
| Ethernet Ports | 5 x 1 Gbps | 5 x 1 Gbps | 5 x 1 Gbps |
| Chipset | Quad-Core ® Cortex ® A53 at 2.2 GHz | Quad-Core ® Cortex ® A53 at 2.2 GHz | |
| RAM | 1 GB | 1 GB | |
| Max Power Consumption | 35 W | 35 W | 11 W |
Technical Specs / Datasheet