AmpliFi Mesh Wi-Fi System Gamer's Edition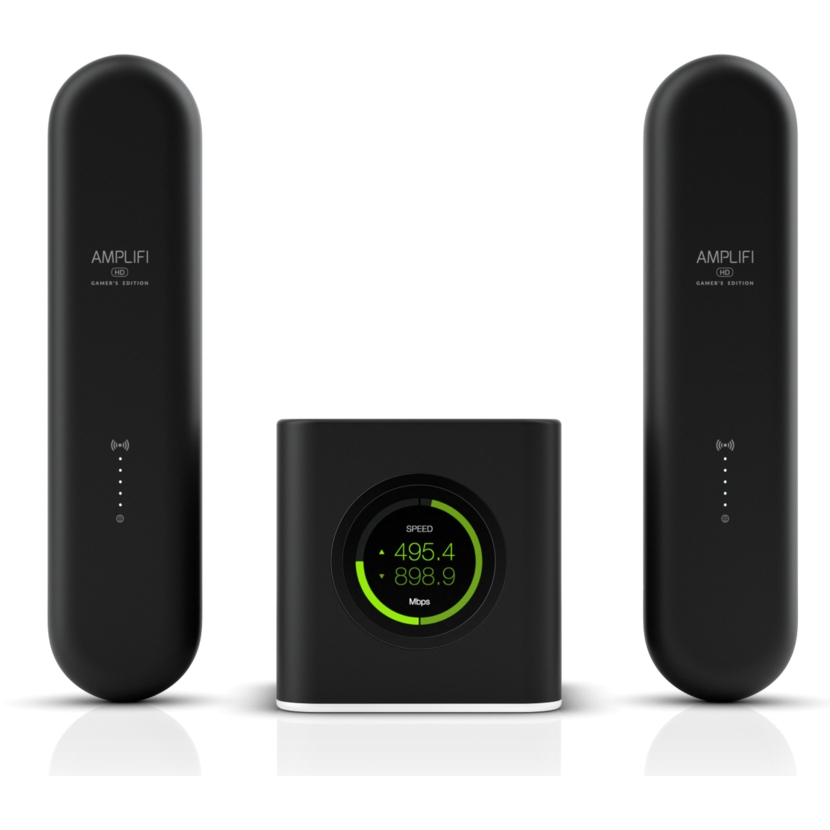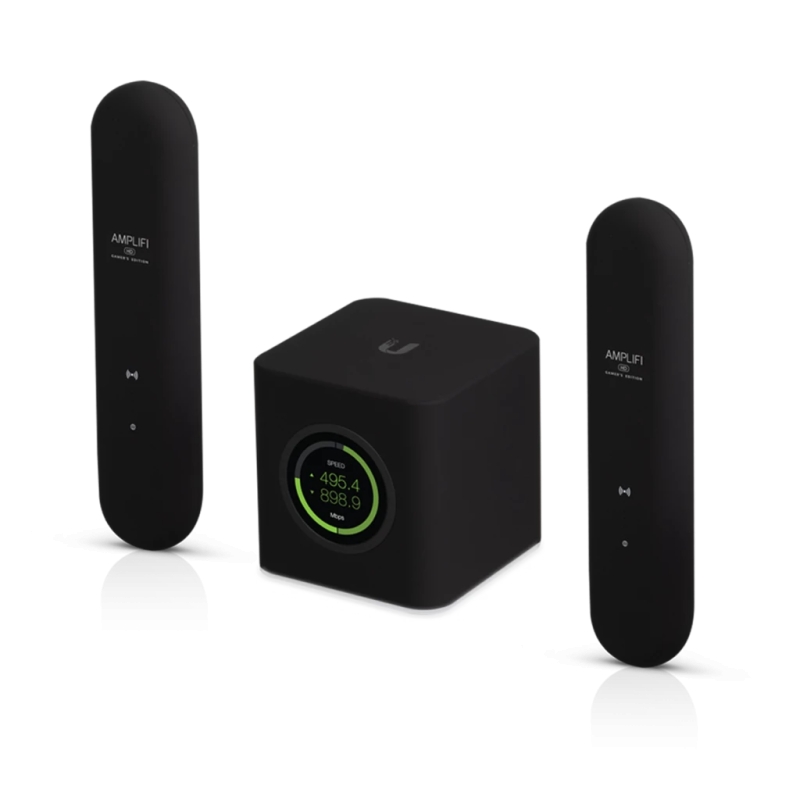 Ubiquiti Elite Distributor
Ubiquiti Elite Distributor
Detailed description
Designed to be a Showcase Piece in Your Home
Get the Lowest Latency
The AmpliFi HD Gamer's Edition is equipped with a GeForce NOW QoS mode, developed by Ubiquiti with NVIDIA's support to quickly adjust networks for optimal game streaming performance. The QoS implementation offers gamers a simple solution for detecting latency or frame loss issues, resulting in a top-quality experience when other traffic is present on the network.
270° Rotation for Optimal Positioning
Optimized for cloud gaming services, including NVIDIA's GeForce NOW free beta, AmpliFi Gamer's Edition delivers incredible network speeds with low latency online gaming performance. With turbocharged 802.11ac Wi-Fi mesh technology, AmpliFi HD Gamer's Edition utilizes multiple self-configuring radios and advanced antenna technology to deliver powerful, whole-home Wi-Fi coverage.
MeshPoint Placement Examples
You can place the AmpliFi Gamer's Edition router in the middle of your home for the best performance in any room (video on the left side) or place the AmpliFi Gamer's Edition MeshPoints in a row to expand your signal across your home (video on the right side).
Compare with similar products
 
Wireless Standard
802.11a/b/g/n/ac

802.11a/b/g/n/ac/ax, Wi-Fi 6

802.11a/b/g/n/ac/ax, Wi-Fi 6

MIMO
2.4GHz 3x3, 5GHz 3x3

2.4GHz 4x4, 5GHz 8x8

2.4GHz 4x4, 5GHz 8x8

2.4GHz Radio Rate
450 Mbps

1.15 Gbps

1.15 Gbps

5GHz Radio Rate
1.3 Gbps

4.8 Gbps

4.8 Gbps

Wireless Antenna Frequency Range & Gain
2.412 - 2.472 (GHz), 5.150 – 5.250 (GHz)

2.412 - 2.472 (GHz) 3 (dBi), 5.150 - 5.875 (GHz) 6 (dBi)

2.412 - 2.472 (GHz) 3 (dBi), 5.150 - 5.875 (GHz) 6 (dBi)

Antenna range
557 m²

278 m²

557 m²

Ethernet Ports
5 x 1 Gbps

5 x 1 Gbps

5 x 1 Gbps

Chipset

Quad-Core ® Cortex ® A53 at 2.2 GHz

Quad-Core ® Cortex ® A53 at 2.2 GHz

RAM

1 GB

1 GB

Max Power Consumption
11 W

35 W

35 W
|   | | | |
| --- | --- | --- | --- |
| Wireless Standard | 802.11a/b/g/n/ac | 802.11a/b/g/n/ac/ax, Wi-Fi 6 | 802.11a/b/g/n/ac/ax, Wi-Fi 6 |
| MIMO | 2.4GHz 3x3, 5GHz 3x3 | 2.4GHz 4x4, 5GHz 8x8 | 2.4GHz 4x4, 5GHz 8x8 |
| 2.4GHz Radio Rate | 450 Mbps | 1.15 Gbps | 1.15 Gbps |
| 5GHz Radio Rate | 1.3 Gbps | 4.8 Gbps | 4.8 Gbps |
| Wireless Antenna Frequency Range & Gain | 2.412 - 2.472 (GHz), 5.150 – 5.250 (GHz) | 2.412 - 2.472 (GHz) 3 (dBi), 5.150 - 5.875 (GHz) 6 (dBi) | 2.412 - 2.472 (GHz) 3 (dBi), 5.150 - 5.875 (GHz) 6 (dBi) |
| Antenna range | 557 m² | 278 m² | 557 m² |
| Ethernet Ports | 5 x 1 Gbps | 5 x 1 Gbps | 5 x 1 Gbps |
| Chipset | | Quad-Core ® Cortex ® A53 at 2.2 GHz | Quad-Core ® Cortex ® A53 at 2.2 GHz |
| RAM | | 1 GB | 1 GB |
| Max Power Consumption | 11 W | 35 W | 35 W |