MikroTik hAP ac lite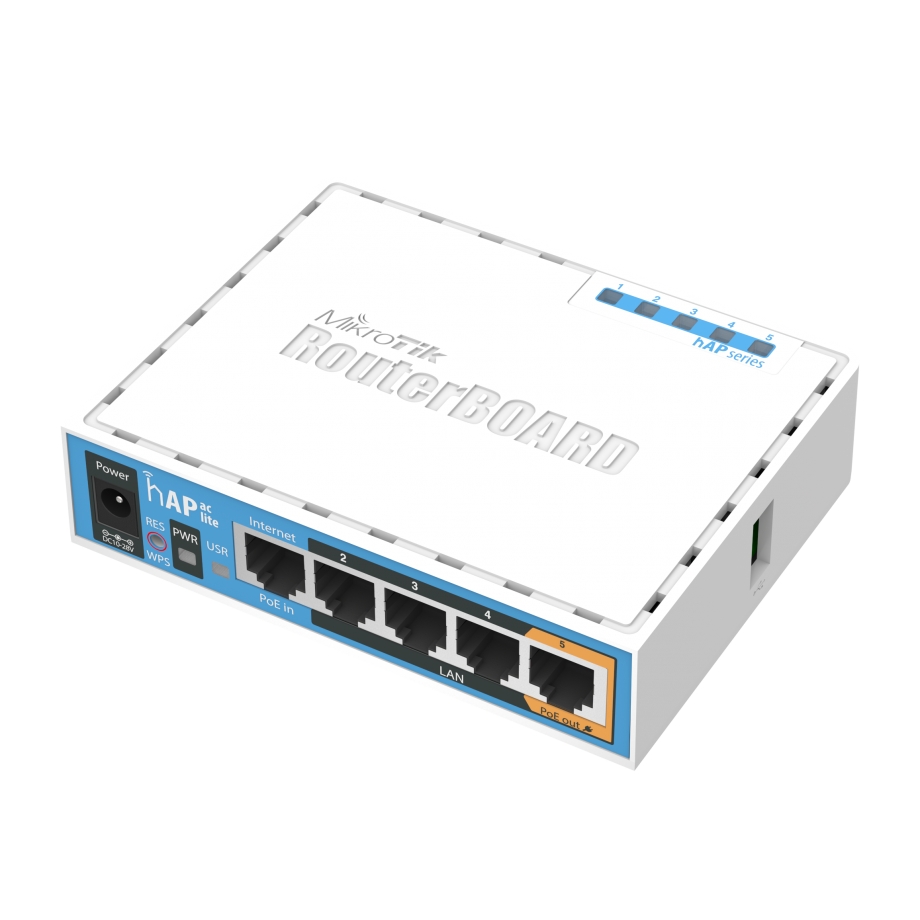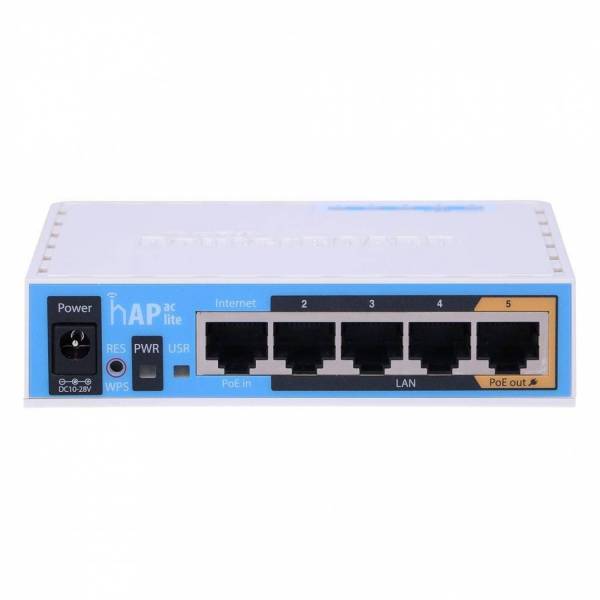 MikroTik MTCNA Certificate
MikroTik Value Added Distributor
MikroTik MTCNA Certificate
MikroTik Value Added Distributor
Available product variations
Detailed description
Dual-Concurrent 2.4/5GHz AP, 802.11ac, Five Ethernet Ports, PoE-Out on Port 5, USB for 3G/4G Support
The hAP ac lite is a Dual-concurrent Access Point, that provides WiFi coverage for 2.4GHz and 5GHz frequencies at the same time.
Unit is equipped with a 650MHz CPU, 64MB RAM, five 10/100Mbps Ethernet ports (PoE output on port #5), dual-chain 802.11b/g/n 2.4GHz wireless, single chain 802.11a/n/ac 5GHz wireless, USB port for 3G/4G modem and a RouterOS L4 license.
The hAP ac lite can be powered from the power jack or with passive PoE from a PoE injector. The power adapter is included. Unit provides PoE output function for port 5 - it can power other PoE capable devices with the same voltage as applied to the unit. Maximum load on the port is 500 mA.
Compare with similar products
 
Ethernet Ports
5 x 100 Mbps

5 x 100 Mbps

5 x 1 Gbps

5 x 1 Gbps

5 x 1 Gbps

PoE Out Ports
1 x Passive PoE

1 x Passive PoE

1 x Passive PoE

1 x Passive PoE

SFP Ports

1 x 1G SFP

USB Ports
1 x USB-A 2.0

1 x USB-A 2.0

1 x USB-A 2.0

1 x USB-A 2.0

1 x USB-A 2.0

Chipset
QCA9531, 1 core, 650 MHz

QCA9531, 1 core, 650 MHz

QCA9558, 1 core, 720 MHz

IPQ-4018, 4 core, 716 MHz

IPQ-4019, 4 core, 716 MHz

RAM
64 MB

64 MB

128 MB

128 MB

256 MB

Storage Memory
16 MB

16 MB

16 MB

16 MB

128 MB

Mounting Method
Wall Mount, Tabletop

Tabletop

Wall Mount, Tabletop

Tabletop

Wall Mount, Tabletop

Max Power Consumption
7 W

7 W

17 W

15 W

30 W
|   | | | | | |
| --- | --- | --- | --- | --- | --- |
| Ethernet Ports | 5 x 100 Mbps | 5 x 100 Mbps | 5 x 1 Gbps | 5 x 1 Gbps | 5 x 1 Gbps |
| PoE Out Ports | 1 x Passive PoE | 1 x Passive PoE | 1 x Passive PoE | | 1 x Passive PoE |
| SFP Ports | | | 1 x 1G SFP | | |
| USB Ports | 1 x USB-A 2.0 | 1 x USB-A 2.0 | 1 x USB-A 2.0 | 1 x USB-A 2.0 | 1 x USB-A 2.0 |
| Chipset | QCA9531, 1 core, 650 MHz | QCA9531, 1 core, 650 MHz | QCA9558, 1 core, 720 MHz | IPQ-4018, 4 core, 716 MHz | IPQ-4019, 4 core, 716 MHz |
| RAM | 64 MB | 64 MB | 128 MB | 128 MB | 256 MB |
| Storage Memory | 16 MB | 16 MB | 16 MB | 16 MB | 128 MB |
| Mounting Method | Wall Mount, Tabletop | Tabletop | Wall Mount, Tabletop | Tabletop | Wall Mount, Tabletop |
| Max Power Consumption | 7 W | 7 W | 17 W | 15 W | 30 W |