Access Point U6 Enterprise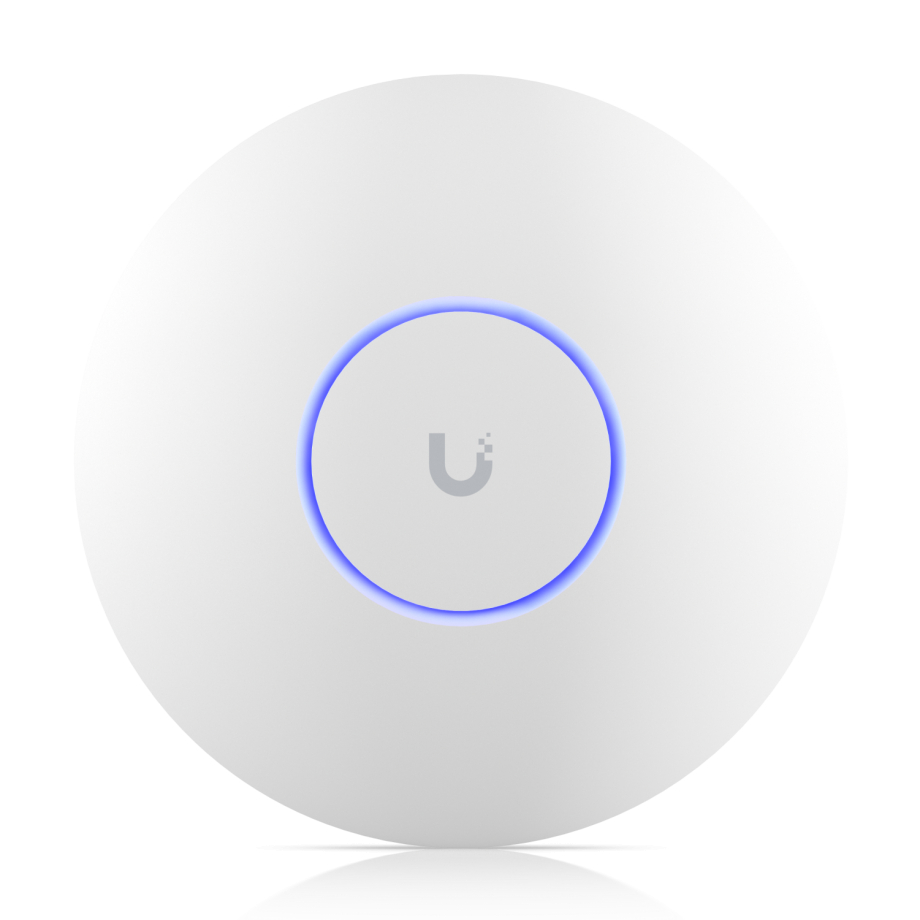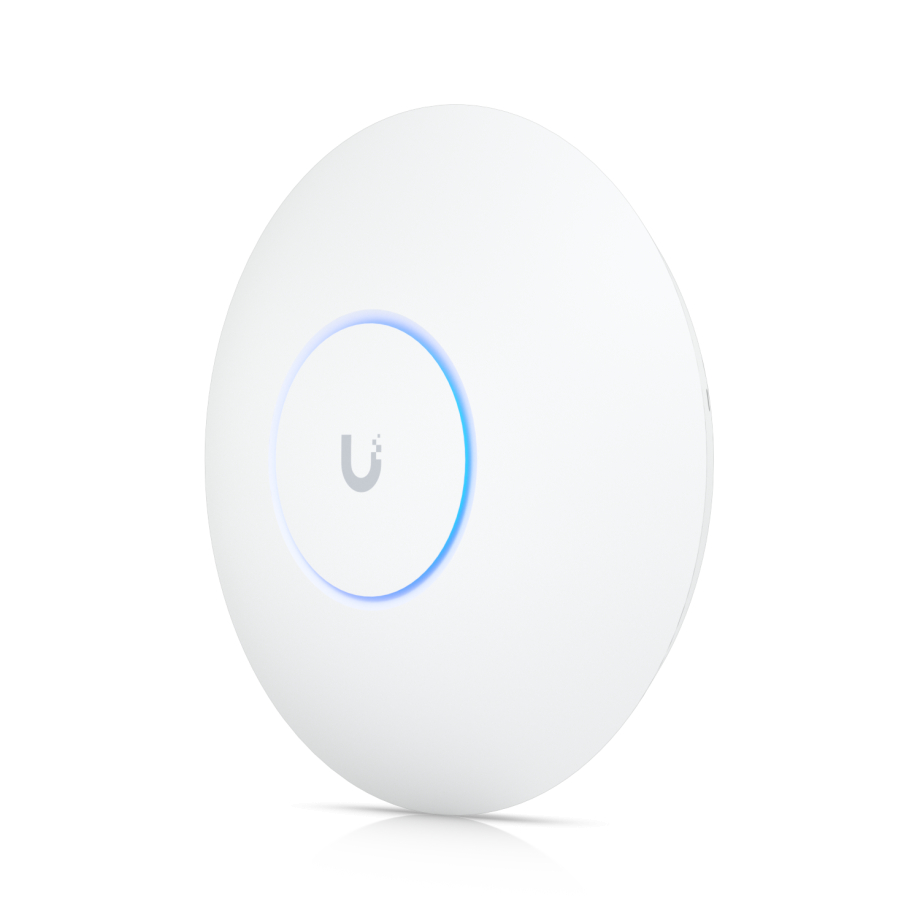 Ubiquiti Elite Distributor
Ubiquiti Elite Distributor
Detailed description
Powerful, ceiling-mounted WiFi 6E access point designed to provide seamless, multi-band coverage within high-density client environments.
Thanks to UniFi Network Application you will be able to centrally manage multiple networks from an intuitive interface; enjoy real-time device insights and deep configuration options; upgrade device firmware remotely; personalize the design, architecture, and privacy of guest hotspots; set up devices quickly and manage them on the go with a powerful mobile app.
Managed with the UniFi Network application: Version 7.1.66 and later (US) / 7.2.91 and later (other countries).
WiFi 6 support (2.4/5/6 GHz bands)
10.2 Gbps aggregate throughput rate
1x 2.5GbE RJ45 port (PoE In)
Powered with PoE+
Compare with similar products
 
Wireless Standard
802.11a/b/g/n/ac/ax, Wi-Fi 6, Wi-Fi 6E

802.11a/b/g/n/ac/ax, Wi-Fi 6

802.11a/b/g/n/ac/ax, Wi-Fi 6

802.11a/b/g/n/ac/ax, Wi-Fi 6

802.11a/b/g/n/ac/ax, Wi-Fi 6

MIMO
2.4GHz 2x2, 5GHz 4x4, 6GHz 4x4

2.4GHz 4x4, 5GHz 4x4

2.4GHz 2x2, 5GHz 2x2

2.4GHz 2x2, 5GHz 4x4

2.4GHz 2x2, 5GHz 2x2

2.4GHz Radio Rate
573 Mbps

600 Mbps

300 Mbps

573 Mbps

573 Mbps

5GHz Radio Rate
4.8 Gbps

2.4 Gbps

1.2 Gbps

4.8 Gbps

2.4 Gbps

6GHz Radio Rate
4.8 Gbps

Wireless Antenna Frequency Range & Gain
2.4 - 2.473 (GHz) 3.2 (dBi), 5.1 - 5.9 (GHz) 5.3 (dBi), 5.925 - 7.125 (GHz) 6 (dBi)

2.4 - 2.473 (GHz) 4 (dBi), 5.1 - 5.9 (GHz) 5.5 (dBi)

2.4 - 2.473 (GHz) 2.8 (dBi), 5.1 - 5.9 (GHz) 3 (dBi)

2.4 - 2.473 (GHz) 4 (dBi), 5.1 - 5.9 (GHz) 6 (dBi)

2.4 - 2.473 (GHz) 3 (dBi), 5.1 - 5.9 (GHz) 5.4 (dBi)

Antenna range
140 m²

185 m²

115 m²

140 m²

140 m²

Ethernet Ports
1 x 2.5 Gbps

1 x 1 Gbps

1 x 1 Gbps

1 x 1 Gbps

1 x 1 Gbps

Management
Ethernet, Wi-Fi, Bluetooth

Ethernet, Wi-Fi, Bluetooth

Ethernet, Wi-Fi, Bluetooth

Ethernet, Wi-Fi, Bluetooth

Ethernet, Wi-Fi, Bluetooth

Max Power Consumption
22 W

16.5 W

12 W

13 W

9 W

Operating Temperature
-30 °C to 60 °C

-30 °C to 60 °C

-30 °C to 60 °C

-30 °C to 60 °C

-30 °C to 60 °C

Dimensions
Ø220 x 48.1 mm

Ø220 x 48 mm

Ø160 x 33 mm

Ø197 x 35 mm

Ø160 x 33 mm

Weight
1 kg

0.93 kg

0.315 kg

0.600 kg

0.413 kg

Environment
Indoor

Indoor, outdoor

Indoor

Indoor, outdoor

Indoor
|   | | | | | |
| --- | --- | --- | --- | --- | --- |
| Wireless Standard | 802.11a/b/g/n/ac/ax, Wi-Fi 6, Wi-Fi 6E | 802.11a/b/g/n/ac/ax, Wi-Fi 6 | 802.11a/b/g/n/ac/ax, Wi-Fi 6 | 802.11a/b/g/n/ac/ax, Wi-Fi 6 | 802.11a/b/g/n/ac/ax, Wi-Fi 6 |
| MIMO | 2.4GHz 2x2, 5GHz 4x4, 6GHz 4x4 | 2.4GHz 4x4, 5GHz 4x4 | 2.4GHz 2x2, 5GHz 2x2 | 2.4GHz 2x2, 5GHz 4x4 | 2.4GHz 2x2, 5GHz 2x2 |
| 2.4GHz Radio Rate | 573 Mbps | 600 Mbps | 300 Mbps | 573 Mbps | 573 Mbps |
| 5GHz Radio Rate | 4.8 Gbps | 2.4 Gbps | 1.2 Gbps | 4.8 Gbps | 2.4 Gbps |
| 6GHz Radio Rate | 4.8 Gbps | | | | |
| Wireless Antenna Frequency Range & Gain | 2.4 - 2.473 (GHz) 3.2 (dBi), 5.1 - 5.9 (GHz) 5.3 (dBi), 5.925 - 7.125 (GHz) 6 (dBi) | 2.4 - 2.473 (GHz) 4 (dBi), 5.1 - 5.9 (GHz) 5.5 (dBi) | 2.4 - 2.473 (GHz) 2.8 (dBi), 5.1 - 5.9 (GHz) 3 (dBi) | 2.4 - 2.473 (GHz) 4 (dBi), 5.1 - 5.9 (GHz) 6 (dBi) | 2.4 - 2.473 (GHz) 3 (dBi), 5.1 - 5.9 (GHz) 5.4 (dBi) |
| Antenna range | 140 m² | 185 m² | 115 m² | 140 m² | 140 m² |
| Ethernet Ports | 1 x 2.5 Gbps | 1 x 1 Gbps | 1 x 1 Gbps | 1 x 1 Gbps | 1 x 1 Gbps |
| Management | Ethernet, Wi-Fi, Bluetooth | Ethernet, Wi-Fi, Bluetooth | Ethernet, Wi-Fi, Bluetooth | Ethernet, Wi-Fi, Bluetooth | Ethernet, Wi-Fi, Bluetooth |
| Max Power Consumption | 22 W | 16.5 W | 12 W | 13 W | 9 W |
| Operating Temperature | -30 °C to 60 °C | -30 °C to 60 °C | -30 °C to 60 °C | -30 °C to 60 °C | -30 °C to 60 °C |
| Dimensions | Ø220 x 48.1 mm | Ø220 x 48 mm | Ø160 x 33 mm | Ø197 x 35 mm | Ø160 x 33 mm |
| Weight | 1 kg | 0.93 kg | 0.315 kg | 0.600 kg | 0.413 kg |
| Environment | Indoor | Indoor, outdoor | Indoor | Indoor, outdoor | Indoor |
Technical Specs / Datasheet