airMAX Bullet M2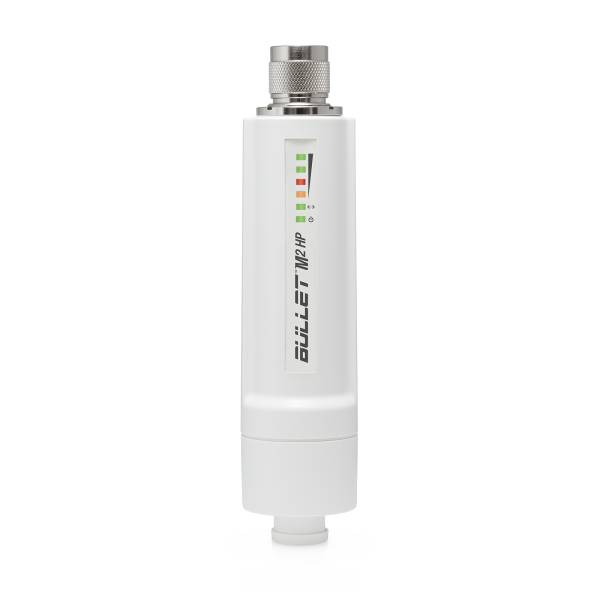 Ubiquiti Elite Distributor
Ubiquiti Elite Distributor
Detailed description
Revolutionary Design
Bullet M is the latest version of the popular Ubiquiti Bullet. Like its predecessor, Bullet M is a wireless radio with an integrated Type N RF connector that can be directly plugged in to any Antenna* to create a powerful and robust outdoor Access Point, Client, or Bridge.
* Sector Antennas, Omni Antennas, Dish Antennas, etc.; any Antenna with Type N female connector can easily be transformed into a powerful and robust outdoor Access Point or Bridge by simply plugging in Bullet M.
The Bullet M features a signal strength LED meter for antenna alignment, a low-loss integrated N-type RF connector, and a robust weatherproof design. With up to 600mW of power and enhanced receiver design, the Bullet M is ideal for long-distance links, capable of 100Mbps+ real TCP/IP speeds over multi-km distances.
Zero Variable Deployment
Bullet M eliminates the need to use RF cables and requires no special antenna or tools to install. No radio card / host board issues. No RF cable quality concerns. No mechanical stability concerns. No enclosure mounting requirements. With the Bullet M, operators can just plug and go.
Integrated AirMax Technology
The Bullet M can instantly become a powerful TDMA BaseStation utilizing Ubiquiti's breakthrough AirMax technology. With AirMax, PtMP networks can scale gracefully while maintaing high throughput and low latency performance.
PoE injector sold separately!
Compare with similar products
 
Wireless Standard
802.11b/g/n

802.11a/b/g/n/ac

2.4GHz Radio Rate
150 Mbps

150 Mbps

5GHz Radio Rate

300 Mbps

Ethernet Ports
1 x 100 Mbps

1 x 1 Gbps

Max Power Consumption
7 W

8 W

Operating Temperature
-40 °C to 80 °C

-40 °C to 70 °C

Ingress Protection Code

IP67
|   | | |
| --- | --- | --- |
| Wireless Standard | 802.11b/g/n | 802.11a/b/g/n/ac |
| 2.4GHz Radio Rate | 150 Mbps | 150 Mbps |
| 5GHz Radio Rate | | 300 Mbps |
| Ethernet Ports | 1 x 100 Mbps | 1 x 1 Gbps |
| Max Power Consumption | 7 W | 8 W |
| Operating Temperature | -40 °C to 80 °C | -40 °C to 70 °C |
| Ingress Protection Code | | IP67 |