Reyee 26-Port Gigabit Managed PoE Switch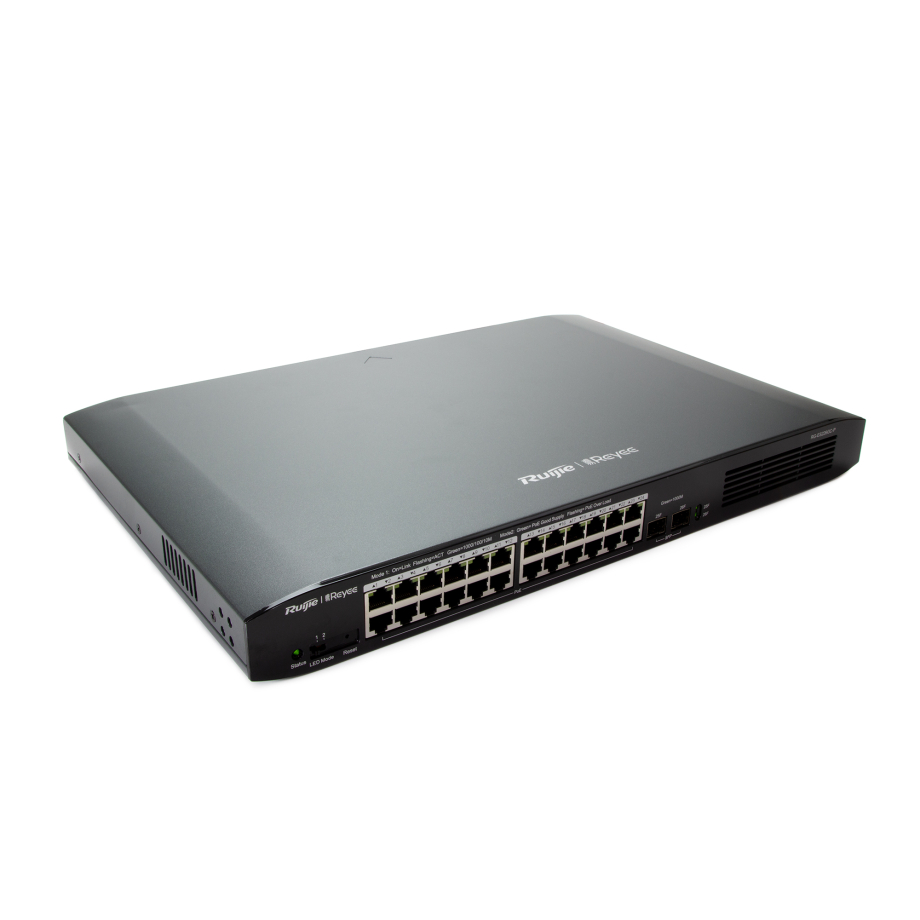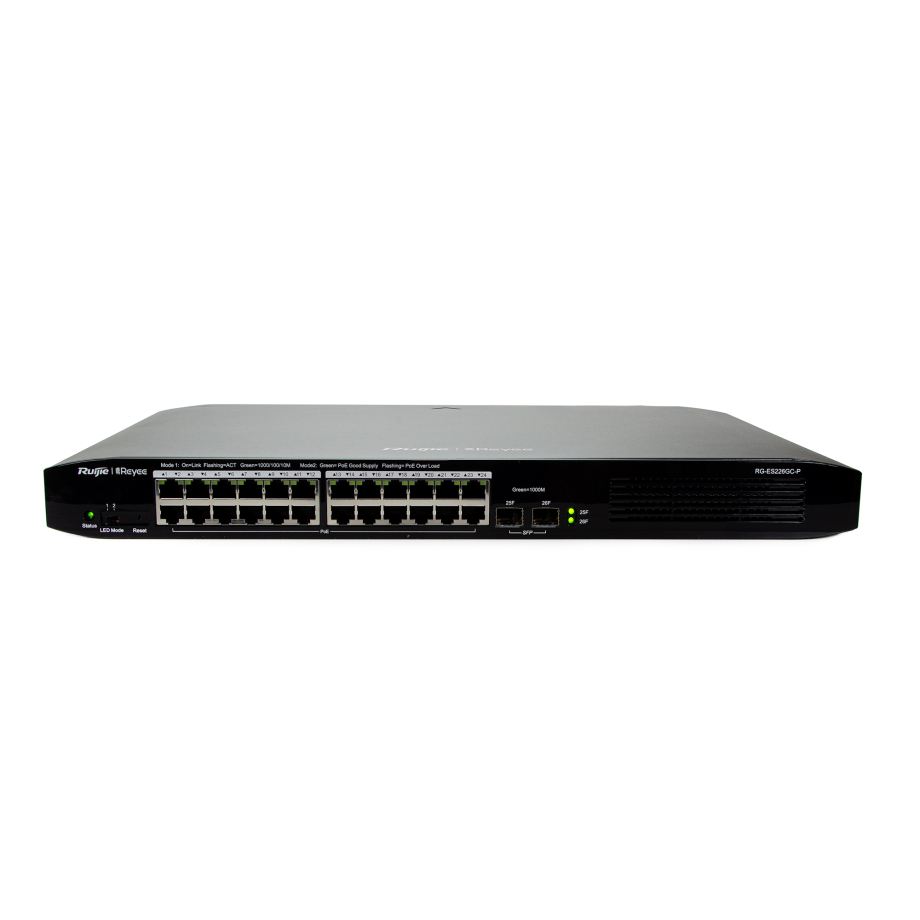 Detailed description
The Power of Reyee PoE Switches
The Reyee PoE Switch series is a revolutionary range of network switches explicitly designed for Power over Ethernet (PoE) applications. They provide high-speed, reliable and secure data transmission, while simultaneously powering up PoE-enabled devices like cameras, wireless access points, VoIP phones and other connected devices. Reyee switches are available in different versions, giving you the opportunity to choose the model with the features that will best meet your requirements.
Exceptional Performance and Reliability
Reyee PoE Switches provide an incredibly reliable and efficient network performance, making them ideal for applications across many industries and sectors. The RG-ES200 series offers cloud-managed switches with up to 24 PoE+ ports. Reyee PoE Switches provide robust performance with features such as port security, loop guard and storm control, making them a safe and secure choice for PoE applications.
Advanced Features for Increased Productivity
Reyee PoE Switches are packed with advanced features to ensure optimal performance and increased productivity. The RG-ES200 series supports PoE scheduling, PoE Auto Recovery and PoE port setting. By providing these advanced features, Reyee PoE Switches help to reduce network downtime and improve the overall user experience.
Automatic Loop Prevention Ensures Service Continuity
Network stays connected when network loop happens.
Compare with similar products
 
Ethernet Ports
24 x 1 Gbps

10 x 1 Gbps

10 x 1 Gbps

16 x 1 Gbps

PoE Out Ports
24 x 802.3af (PoE), 802.3at (PoE+)

8 x 802.3af (PoE), 802.3at (PoE+)

8 x 802.3af (PoE), 802.3at (PoE+)

16 x 802.3af (PoE), 802.3at (PoE+)

SFP ports
2 x 1G SFP

1 x 1G combo

2 x 1G SFP

Switching capacity
52 Gbps

20 Gbps

20 Gbps

36 Gbps

Forwarding rate
38.69 Mpps

14.88 Mpps

14.8 Mpps

26.78 Mpps

MAC address table
8000

4000

4000

8000

Max Power Consumption
443 W

80 W

130 W

280 W

Dimensions
440 x 289 x 43.6 mm

202 x 108 x 28 mm

202 x 108 x 28 mm

300 x 230 x 43.6 mm

Weight
4.2 kg

1.38 kg

1.38 kg

3.5 kg
|   | | | | |
| --- | --- | --- | --- | --- |
| Ethernet Ports | 24 x 1 Gbps | 10 x 1 Gbps | 10 x 1 Gbps | 16 x 1 Gbps |
| PoE Out Ports | 24 x 802.3af (PoE), 802.3at (PoE+) | 8 x 802.3af (PoE), 802.3at (PoE+) | 8 x 802.3af (PoE), 802.3at (PoE+) | 16 x 802.3af (PoE), 802.3at (PoE+) |
| SFP ports | 2 x 1G SFP | | 1 x 1G combo | 2 x 1G SFP |
| Switching capacity | 52 Gbps | 20 Gbps | 20 Gbps | 36 Gbps |
| Forwarding rate | 38.69 Mpps | 14.88 Mpps | 14.8 Mpps | 26.78 Mpps |
| MAC address table | 8000 | 4000 | 4000 | 8000 |
| Max Power Consumption | 443 W | 80 W | 130 W | 280 W |
| Dimensions | 440 x 289 x 43.6 mm | 202 x 108 x 28 mm | 202 x 108 x 28 mm | 300 x 230 x 43.6 mm |
| Weight | 4.2 kg | 1.38 kg | 1.38 kg | 3.5 kg |