Switch Enterprise 48 PoE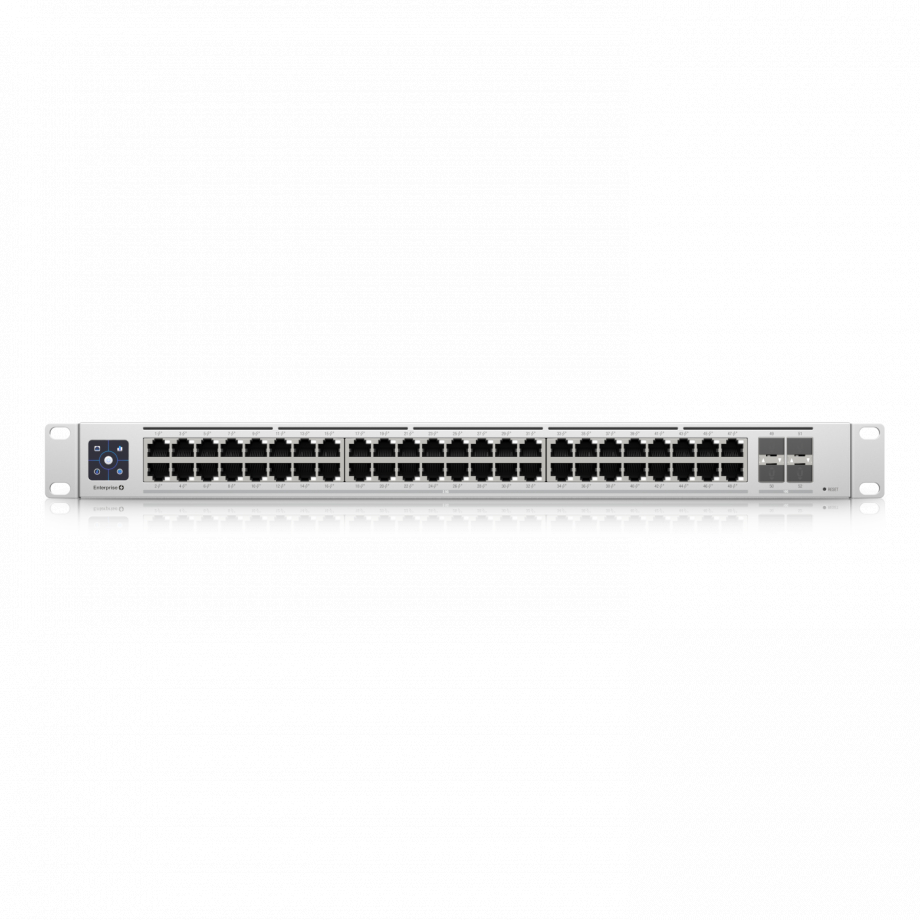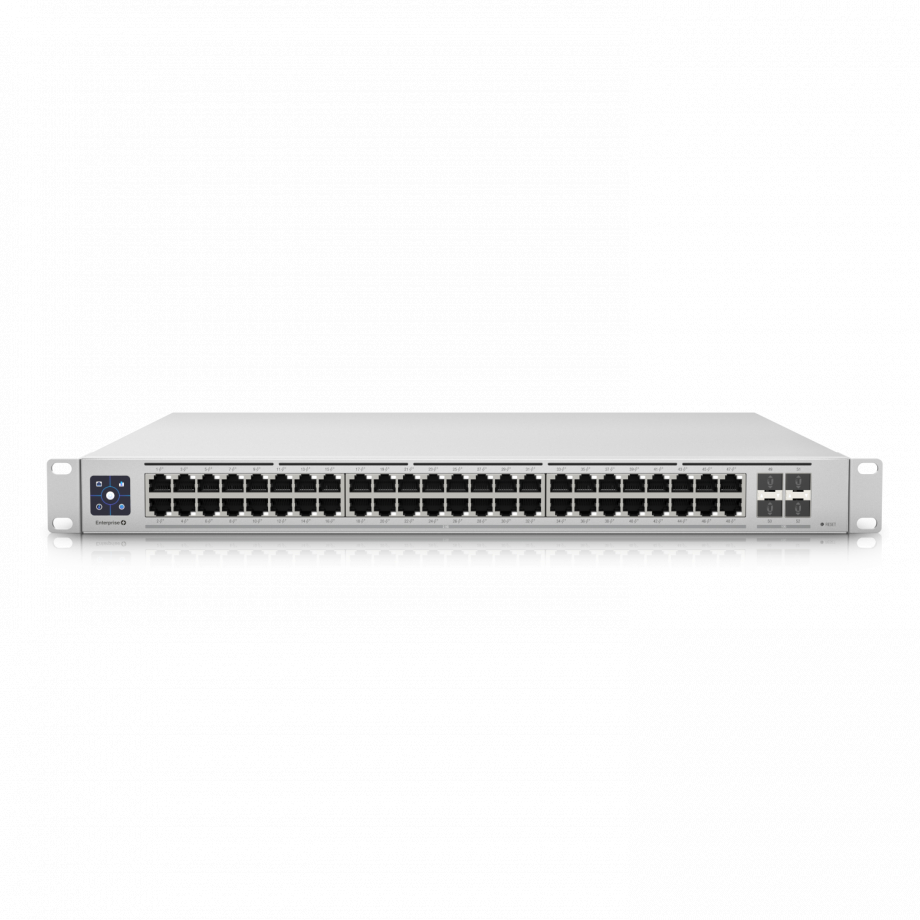 Ubiquiti Elite Distributor
Ubiquiti Elite Distributor
Available product variations
Detailed description
UniFi Switch Enterprise 48 PoE is a reliable manageable 2.5-Gigabit L3 Switch with a switching capacity of 320 Gbps, (48) 2.5-Gigabit LAN ports and four SFP+ (10 Gbps) slots. All Ethernet ports support 802.3af/at PoE-Out with an output power of 30 W/port and total PoE budget of 720 W. In addition to the standard equipment, the switch also has a 1.3" touch screen for providing information about the system, temperature, port statistics, PoE power supply and much more. The switch can be powered via standard 230 V but also via UniFi SmartPower RPS, which rather backs up power in the event of an internal power failure.
Management via UniFi Network Application
USW-Enterprise-48-PoE does not have web management but is managed centrally by UniFi Network Application with support for the UniFi mobile application. It offers an extensive set of advanced switching protocols and L2 functions, including operating mode (switching, mirroring or aggregation) per port. UniFi Network Applicationand mobile applications allow administrators to configure and monitor virtually all graphical user interface functions from anywhere.
Redundant power
This generation of switches supports redundant power supply via a special connector to the UniFi SmartPower unit in the event of a failure of the primary power supply at the switch.
Compare with similar products
 
Ethernet Ports
48 x 2.5 Gbps

12 x 1 Gbps, 12 x 2.5 Gbps

8 x 2.5 Gbps

24 x 10 Gbps

PoE Out Ports
48 x 802.3af (PoE), 802.3at (PoE+)

24 x 802.3af (PoE), 802.3at (PoE+)

8 x 802.3af (PoE), 802.3at (PoE+)

SFP Ports
4 x 10G SFP+

2 x 10G SFP+

2 x 10G SFP+

2 x 25G SFP28

Management
Ethernet

Ethernet

Ethernet

Ethernet

Max Power Consumption
870 W

550 W

150 W

100 W

Operating Temperature
-5 °C a 40 °C

-5 °C to 40 °C

-5 °C to 45 °C

-5 °C to 40 °C

Dimensions
442 x 44 x 400 mm

442 x 44 x 325 mm

200 x 248 x 44 mm

442 x 44 x 285 mm

Weight
6.3 kg

5.2 kg

2.44 kg

4.57 kg

Mounting Method
RackMount

RackMount

Wall Mount, Tabletop

RackMount

Environment
Indoor

Indoor

Indoor

Indoor
|   | | | | |
| --- | --- | --- | --- | --- |
| Ethernet Ports | 48 x 2.5 Gbps | 12 x 1 Gbps, 12 x 2.5 Gbps | 8 x 2.5 Gbps | 24 x 10 Gbps |
| PoE Out Ports | 48 x 802.3af (PoE), 802.3at (PoE+) | 24 x 802.3af (PoE), 802.3at (PoE+) | 8 x 802.3af (PoE), 802.3at (PoE+) | |
| SFP Ports | 4 x 10G SFP+ | 2 x 10G SFP+ | 2 x 10G SFP+ | 2 x 25G SFP28 |
| Management | Ethernet | Ethernet | Ethernet | Ethernet |
| Max Power Consumption | 870 W | 550 W | 150 W | 100 W |
| Operating Temperature | -5 °C a 40 °C | -5 °C to 40 °C | -5 °C to 45 °C | -5 °C to 40 °C |
| Dimensions | 442 x 44 x 400 mm | 442 x 44 x 325 mm | 200 x 248 x 44 mm | 442 x 44 x 285 mm |
| Weight | 6.3 kg | 5.2 kg | 2.44 kg | 4.57 kg |
| Mounting Method | RackMount | RackMount | Wall Mount, Tabletop | RackMount |
| Environment | Indoor | Indoor | Indoor | Indoor |