Omni AirMax 2G10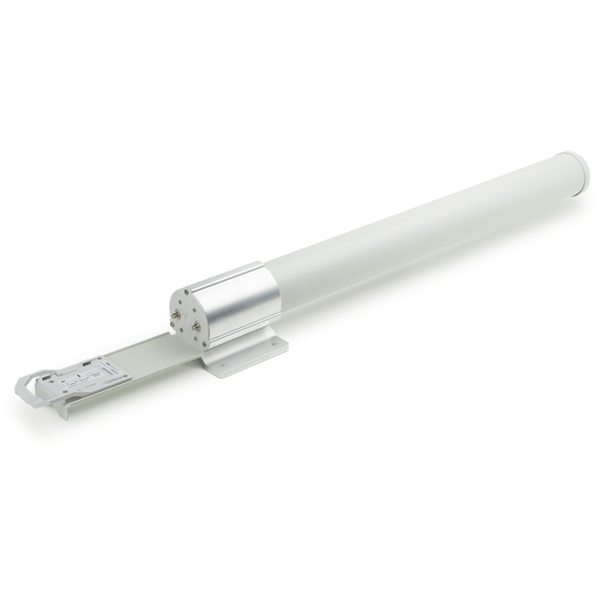 Ubiquiti Elite Distributor
Ubiquiti Elite Distributor
Available product variations
Detailed description
Powerful Omnidirectional Coverage
The airMAX® Omni Antenna is a carrier-class 2x2 dual-polarity MIMO omnidirectional antenna designed to seamlessly integrate with Rocket radios (Rocket sold separately). The airMAX Omni Antenna provides powerful 360° coverage, 2x2 MIMO performance in Line-of-Sight (LoS) or Non-Line-of-Sight (NLoS) applications.
Industrial-Strength Construction
airMAX® Antennas are designed with robust mechanical design for outdoor application use.
Plug and Play Integration
Every airMAX® Antenna has a built-in Rocket™ mount, so no tools are needed to install the Rocket BaseStation.
Compare with similar products
 
Wireless Antenna Frequency Range & Gain
2.35 - 2.55 (GHz) 10 (dBi)

2.35 - 2.55 (GHz) 13 (dBi)

5.45 - 5.85 (GHz) 10 (dBi)

5.45 - 5.85 (GHz) 13 (dBi)

Antenna beamwidth
360 °

360 °

360 °

360 °

VSWR
1.7

1.7

1.6

1.5

RF Connectors
2 x RP-SMA Female

2 x RP-SMA Female

2 x RP-SMA Female

2 x RP-SMA Female

Weight
2.1 kg

2.4 kg

0.68 kg

0.82 kg
|   | | | | |
| --- | --- | --- | --- | --- |
| Wireless Antenna Frequency Range & Gain | 2.35 - 2.55 (GHz) 10 (dBi) | 2.35 - 2.55 (GHz) 13 (dBi) | 5.45 - 5.85 (GHz) 10 (dBi) | 5.45 - 5.85 (GHz) 13 (dBi) |
| Antenna beamwidth | 360 ° | 360 ° | 360 ° | 360 ° |
| VSWR | 1.7 | 1.7 | 1.6 | 1.5 |
| RF Connectors | 2 x RP-SMA Female | 2 x RP-SMA Female | 2 x RP-SMA Female | 2 x RP-SMA Female |
| Weight | 2.1 kg | 2.4 kg | 0.68 kg | 0.82 kg |
Technical Specs / Datasheet