Ruijie Reyee 300Mbps Wi-Fi Extender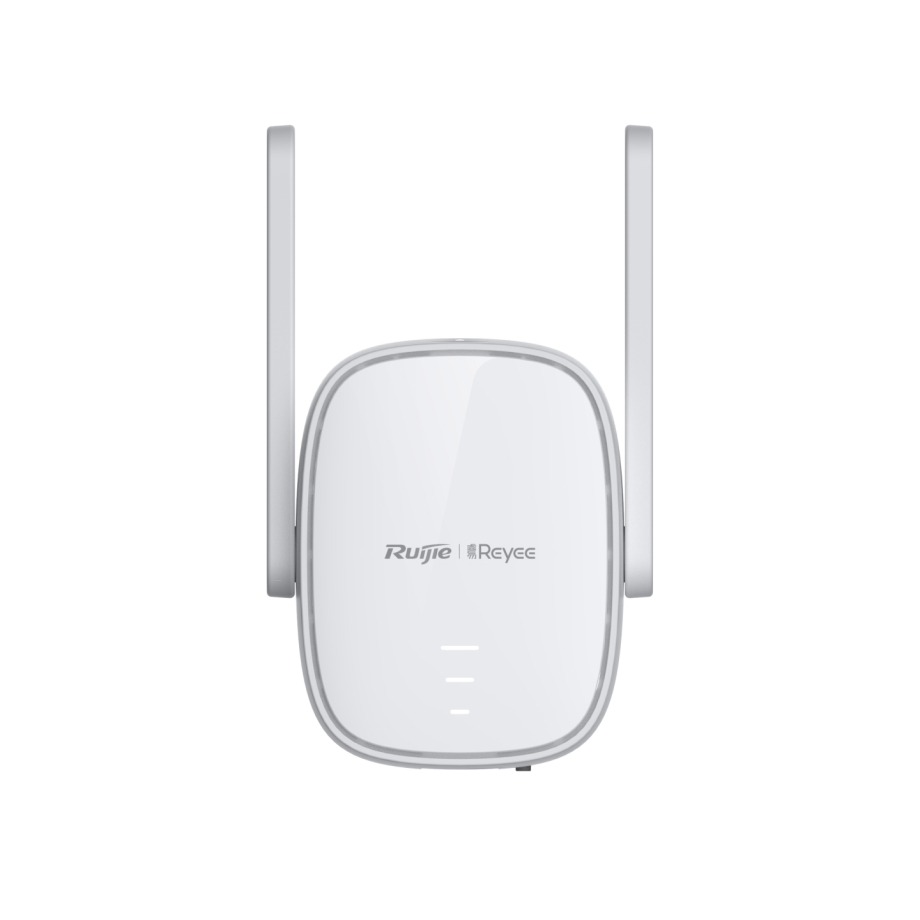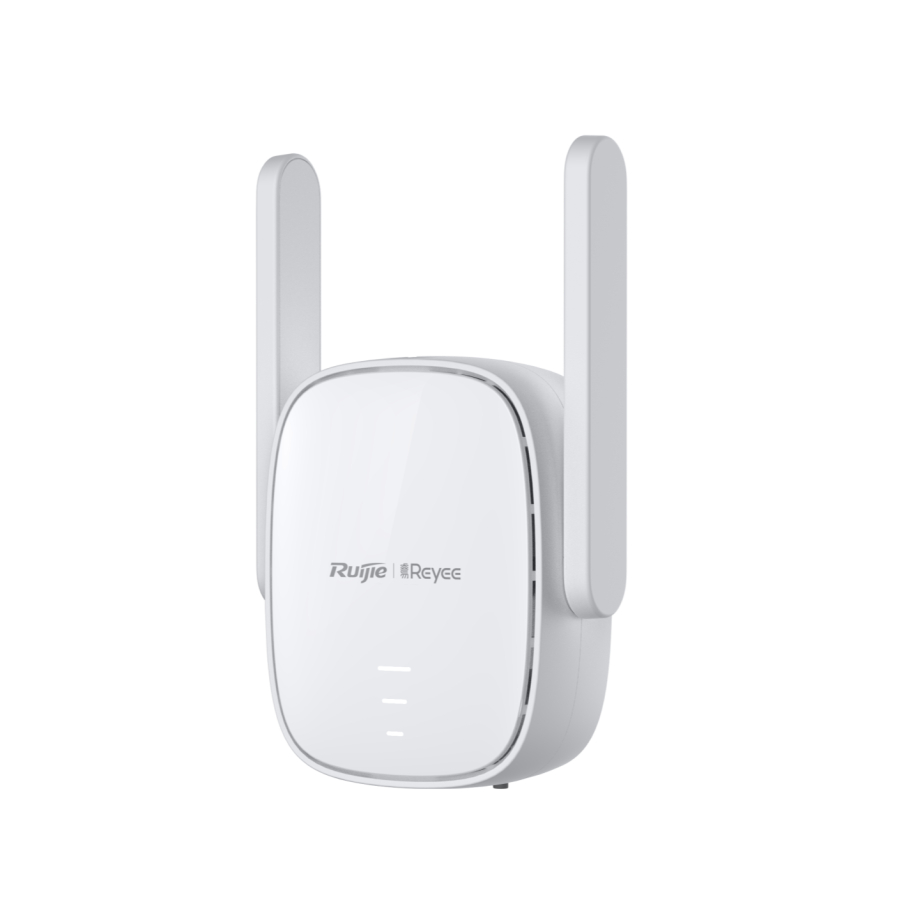 Short description
Wi-Fi Range Extender, 300 Mbps, 802.11b/g/n, 2.4 GHz 2×2 MIMO
Stock availability
out of stock
arrival date unknown
Detailed description
Plug and Play Wi-Fi Repeater
RG-EW300R is a powerful Wi-Fi repeater working at 2.4 GHz, 2x2 MIMO and providing data transfer rate up to 300 Mbps. The repeater is equipped with built-in signal amplifiers that boost a signal strength 2 times. The device is equipped with a LED indicator that shows the signal strength. This allows you to place the repeater in the most suitable location.
One-click Connection
Press the WPS button on existing router and on EW300R to easily connect to the network. Set up your home network in Reyee Router App in two minutes. Different wireless modes options allow to meet all your needs. For stable and reliable work you can use the device in an AP mode, but the repeater mode could be used for entertainment.
More Powerful than You Expect
Compare with similar products
 
Wi-Fi Standards
Wi-Fi 4 (802.11n)

Wi-Fi 5 (802.11ac)

Wi-Fi 5 (802.11ac)

Wi-Fi 6 (802.11ax)

Wi-Fi 6 (802.11ax)

Max. Wi-Fi Speed
2.4 GHz: 300 Mbps

2.4 GHz: 300 Mbps 5 GHz: 867 Mbps

2.4 GHz: 400 Mbps 5 GHz: 867 Mbps

2.4 GHz: 574 Mbps 5 GHz: 2402 Mbps

2.4 GHz: 800 Mbps 5 GHz: 2400 Mbps

MIMO
2.4 GHz: 2×2

2.4 GHz: 2×2, 5 GHz: 2×2

2.4 GHz: 2×2, 5 GHz: 2×2

2.4 GHz, 2×2 5 GHz, 2×2

2.4 GHz: 4×4, 5 GHz: 4×4

Max. Users
16

64

64

192

192

Recommended Users
8

24

32

60

60

Antennas
2

4

6

5

8

Antenna Gain
2.4 GHz: 4 dBi

2.4 GHz: 5 dBi, 5 GHz: 5 dBi

2.4 GHz: 6 dBi, 5 GHz: 6 dBi

2.4 GHz: 5 dBi 5 GHz: 5 dBi

2.4 GHz: 5 dBi, 5 GHz: 6 dBi

WAN Port(s)
1 10/100 Base-T Port

1 10/100 Base-T Port

1 10/100/1000 Base-T Port

1×10/100/1000 Base-T

1 10/100/1000 Base-T Port

LAN Port(s)
N/A

3 10/100 Base-T Ports

3 10/100/1000 Base-T Ports

3×10/100/1000 Base-T

4 10/100/1000 Base-T Ports

Operating Mode
Repeater, Router, AP, WISP, WPS

Repeater, Router, AP

Repeater, Router, AP, WISP

Repeater, Router, AP

Repeater, Router, AP

Advanced Technology

IPv6

VPN, IPv6

Ruijie DDNS, VPN, IPv6

VPN, IPv6

MESH

IPTV

Parental Control

APP Management

Firewall

Warranty
3 Years

3 Years

3 Years

3 Years

3 Years
|   | | | | | |
| --- | --- | --- | --- | --- | --- |
| Wi-Fi Standards | Wi-Fi 4 (802.11n) | Wi-Fi 5 (802.11ac) | Wi-Fi 5 (802.11ac) | Wi-Fi 6 (802.11ax) | Wi-Fi 6 (802.11ax) |
| Max. Wi-Fi Speed | 2.4 GHz: 300 Mbps | 2.4 GHz: 300 Mbps 5 GHz: 867 Mbps | 2.4 GHz: 400 Mbps 5 GHz: 867 Mbps | 2.4 GHz: 574 Mbps 5 GHz: 2402 Mbps | 2.4 GHz: 800 Mbps 5 GHz: 2400 Mbps |
| MIMO | 2.4 GHz: 2×2 | 2.4 GHz: 2×2, 5 GHz: 2×2 | 2.4 GHz: 2×2, 5 GHz: 2×2 | 2.4 GHz, 2×2 5 GHz, 2×2 | 2.4 GHz: 4×4, 5 GHz: 4×4 |
| Max. Users | 16 | 64 | 64 | 192 | 192 |
| Recommended Users | 8 | 24 | 32 | 60 | 60 |
| Antennas | 2 | 4 | 6 | 5 | 8 |
| Antenna Gain | 2.4 GHz: 4 dBi | 2.4 GHz: 5 dBi, 5 GHz: 5 dBi | 2.4 GHz: 6 dBi, 5 GHz: 6 dBi | 2.4 GHz: 5 dBi 5 GHz: 5 dBi | 2.4 GHz: 5 dBi, 5 GHz: 6 dBi |
| WAN Port(s) | 1 10/100 Base-T Port | 1 10/100 Base-T Port | 1 10/100/1000 Base-T Port | 1×10/100/1000 Base-T | 1 10/100/1000 Base-T Port |
| LAN Port(s) | N/A | 3 10/100 Base-T Ports | 3 10/100/1000 Base-T Ports | 3×10/100/1000 Base-T | 4 10/100/1000 Base-T Ports |
| Operating Mode | Repeater, Router, AP, WISP, WPS | Repeater, Router, AP | Repeater, Router, AP, WISP | Repeater, Router, AP | Repeater, Router, AP |
| Advanced Technology | | IPv6 | VPN, IPv6 | Ruijie DDNS, VPN, IPv6 | VPN, IPv6 |
| MESH | | | | | |
| IPTV | | | | | |
| Parental Control | | | | | |
| APP Management | | | | | |
| Firewall | | | | | |
| Warranty | 3 Years | 3 Years | 3 Years | 3 Years | 3 Years |