PoE Switches
Switches
Gigabit Switches
Switches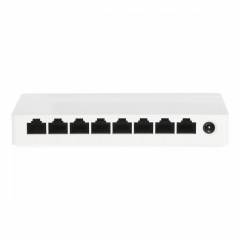 Buyers Info
The smart addition your networking infrastructure
When it comes to long-distance cables with cameras installed in faraway locations, nothing can be worse than losing connection inside of your own CCTV network. Hikvision Switches allow you to push data and electric power further than its competition with its range of PoE Switches. These devices feature long-range data transfer capabilities, a reliable power supply with built-in surge protection, and VIP ports. Long-distance data transfer allows you to simplify your network with fewer switches needed for deployment making this a very cost-effective way to utilize the resources.
VIP data transfer feature
HikVision switches have an inbuilt VIP-port-guarantee technology that prioritises the most important data flow in your network. In case of a data network 'bottleneck' scenario, the most crucial information is streamed as priority, giving you an option to choose the most critical information that you want to receive first. This feature comes in handy in a number of different networking scenarios. Additionally, an in-built PoE support provides reliable power and significantly reduces the power loss in long-distance transmissions.