Ubiquiti UniFi Building Bridge
Short description
60GHz Gigabit+ Wireless Bridge Kit, 5GHz Radio for Backup, Pre-Paired Radios for Quick Setup Using UniFi App
Stock availability
out of stock
arrival date unknown
Detailed description
60 GHz PtP link using 802.11ad with 5 GHz radio for backup. UniFi® Building-to-Building Bridge is the ideal solution for short-range, high-throughput connectivity with a range of up to 500 m. 1.7+ Gbps bi-directional Plug and Play 60 GHz Bridge with 5 GHz Radio Redundancy, UniFi Controller Management, and range of up to 500 m.
As a pack of two radios, UniFi Building-to-Building Bridge contains everything you need to get up and running within minutes. Enjoy simple, easy-to-use gigabit connectivity anywhere.
Easily Adjust for Best Signal Using LED
Use the LED indicator to adjust the UBB position for optimal signal to the other bridge device.
Easy to Set Up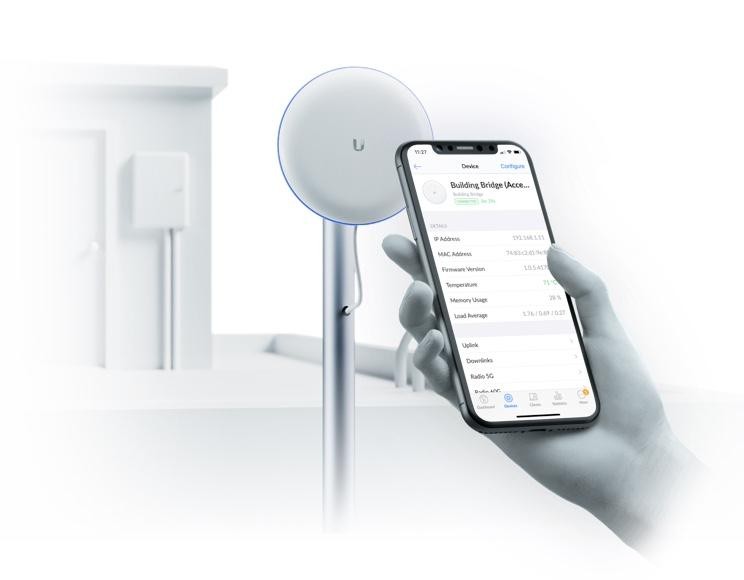 The UniFi Building-to-Building Bridge integration with the UniFi Controller makes bridging two networks seamless.
UniFi Building-to-Building Bridge (x2)
Ball joint mount (x2)
Lock ring (x2)
Metal strap (x2)
Gigabit PoE (48V, 0.32A) with mounting bracket (x2)
Power cord (x2)