Zyxel 5 Port Switch 100Mbps ES-105A v3
Short description
100Mbps 5 Port Desktop Switch
Detailed description
Connect Multiple Devices with High Speed and Reliability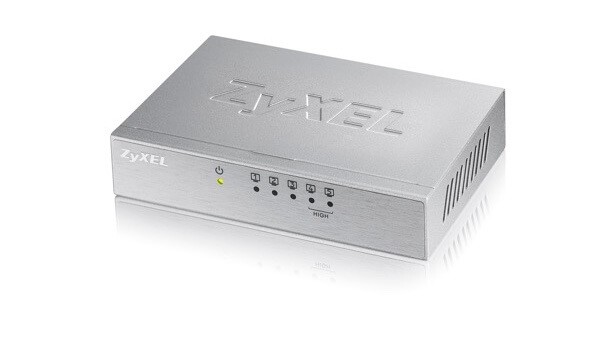 The Zyxel ES-105A v3, a five port desktop switch with plug-and-play design, can easily connect devices including PCs, network storage devices and print servers to your home network. The ES-105A v3 offers advanced High Priority ports to boost performance and user experience for Internet surfing, online gaming, multimedia or any application you prefer with prioritized bandwidth.
Compact, sturdy design with wall-mount alternative
The Zyxel ES-105A v3 fits any working environment. The stylish, compact metal housing with wall-mount installation design provides more flexibility for wired home networks. The affordable, reliable series comes with five ports to meet home network expansion needs.
Optimal bandwidth for media traffics through high priority ports
The Zyxel ES-105A v3 comes with two high priority ports. With the port-based QoS feature, the ES-105A v3 provides considerably enhanced download quality. Users can experience better performance for Internet surfing, online gaming and multimedia streaming through prioritized bandwidth settings. The ES-105A v3 features increased buffer memory to maintain smooth network transmission while the switch is handling heavy loads.
Easy to connect multiple devices
The Zyxel ES-105A v3 is designed to boost your home network with better performance and efficiency. With the N-way auto-negotiation function, the ES-105A v3 connects to network devices with the highest possible speed and activates full-duplex mode automatically, while the store-and-forward service offers low latency and error-free packet delivery.
The plug-and-play design allows you to easily connect devices such as PCs, network storage servers and print servers to the home network without manual configuration.
To protect the network from broadcast storms, the ES-105A v3 can immediately locate a port experiencing loop errors and then blink the appropriate LED light.